Embark on a quintessential Venetian experience with a private, serenaded gondola ride through the famed canals of Venice. Glide past ancient palazzos and magnificent cathedrals on a traditional handcrafted gondola, while musicians serenade you with mood-setting Italian ballads. Gondolas have room for up to four passengers, so it's the perfect opportunity for romance or an unforgettable family experience.
Highlights
35-minute private gondola ride with a singing gondolier
Glide around the Grand Canal, seeing colorful boats framed by gorgeous Gothic palaces
Sit back and relax as your private gondolier serenades you
Explore the myriad of smaller canals that lead off from the Grand Canal
Enjoy a gondola ride in the day or at night, at a time that suits you best
Recent Photos of This Tour
Private Tour: Venice Gondola Ride with Serenade
What You Can Expect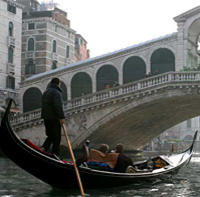 Gondolas have been used to navigate Venice's watery ways for more than 1,500 years and are still locally handcrafted using time-honored methods. Your romantic journey aboard one of these traditional vessels begins at Campo San Luca in central Venice, where you'll board a private gondola and meet your friendly gondolier. Choose from an afternoon or evening departure to suit your schedule.
Relax into the comfortable seats as your standing gondolier skillfully navigates the famed Grand Canal. Soak up the passing scenery of Gothic palaces and historic homes as you glide beneath stone bridges and into the quieter canals of Venice's backstreets. To add to the enchanting atmosphere, an on-board singer and musician (or, in some cases, your gondolier) will serenade you with a selection of Italian ballads. Musicians are usually guitarists or accordion players.
After 35 memorable minutes, say farewell to your gondolier back at the original departure point and continue on your own Venetian adventure with
amore
in your heart.
Price listed is per person based on four passengers per boat.
June 2016
The people from the agency walked us over to the where the gondola was and since we booked a private one for 2 they ensured that was what we got. the gondola people kept trying to put us a group gondola. the musicians were professional and great. this was truly a great experience
February 2016
Excellent! Great time! Enjoyed from start to finish; I highly would recommend!
September 2015
It was amazing. I did not expect an accordion player and a singer in addition to the gondola driver When we booked the tour, we thought it was just a singing gondola driver. It was our 50th wedding anniversary and we wanted a private gondola and we couldn't have asked for more. They played and sang beautifully. So romantic it still brings tears to my eyes.

August 2015
Although we would have wanted it to be longer, it was only because of how wonderful it was. We loved every second of it. It is a little bit pricey, but totally worth it.
August 2015
The ride and the serenade were first class. Did we need to prebook?? Not sure there were only about half a dozen people in the queue. The board said 41 Euros for a 30 minute serenaded gondola ride I paid about 233!!
July 2015
completly faultless. would highly recommend
July 2015
June 12th amazing
Once comfortable with so many eyes focused on you becomes the most romantic memorable experience.
Shall never be forgotten

July 2015
As sappy as the idea seems, this actually is a LOTof relaxing fun. Our oarsman was skilled and kind. Our musician and vocalist and oarsman were REAL troopers since we got hit with a very rare summer hailstorm and rain deluge. The oarsman manuvered us under a bridge, but the gondola was too long to be completely covered. The oarsman and singer were soaked. All of us got pretty wet, but we laughed about it and it cooled us off. The musician had to protect his accordian, so we tried to keep him in the middle. The storm, unfortunately, spawned a deadly tornado a few miles away. For us, the ride was memorable and silly fun. I really appreciate the attitude of the singer and the oarsman who were forced to sit in the downpour and still laughed about it. What can you do?
June 2015

June 2015
This gondola ride was amazing. The ride was about 35 minutes and went through both the main canal as well as some smaller side canals. The musicians were beyond amazing and had people coming to the bridges to take pictures as we cruised underneath.
Advertisement
Advertisement