See the best of Venice in a day on a combo tour that caps a guided walk with a cruise along the bustling Grand Canal. Hear the history of St Mark's Square and Rialto Bridge from a local guide, and visit St Mark's Basilica with a skip-the-line ticket to beat the long admission lines. Discover the tucked-away treasures of Venice's backstreets and charming canals, and then finish on a high note: a water taxi cruise on the Grand Canal.
Highlights
Three-hour combination walking and boat tour of Venice
Enjoy a two-hour walking tour including the famous monuments of St Mark's square, such as Palazzo Ducale (Doge's Palace)
Gain skip-the-line entry to St Mark's Basilica
See Campo Santa Maria Formosa, the home of Marco Polo and the Rialto Bridge
Explore small back streets, narrow passageways and piazzas as you learn about historical Venice from your guide
Relax while cruising along the Grand Canal as well as minor canals aboard a water taxi for one hour
Recent Photos of This Tour
Skip the Line: Venice in One Day Including Boat Tour
What You Can Expect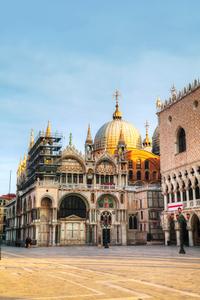 Start your Venice in one day tour with a 2-hour guided walk to learn about the city's key monuments. In St Mark's Square, hear the history behind legendary sights such as St Mark's Basilica and the Doge's Palace prisons.
Admission lines at top Venice attractions are long and no more so than at St Mark's Basilica. Use your skip-the-line ticket to bypass the lines and step straight inside. Then admire the acclaimed mosaics that adorn the basilica's interior as you explore with your guide.
From St Mark's Basilica, continue to Scuola Grande di San Marco (aka Ospedale Civile). Today the historic building is used as a museum and hospital, but, in its medieval heyday it functioned as a school that helped to lay the foundations for Venice's trade empire.
Leave the tourist crowds behind, and follow your guide around the winding alleyways that form the backstreets of Venice. Explore narrow passageways that cut between sun-bleached palazzos, and admire pretty bridges that cross the canals as you learn about Venice's tucked-away treasures.
Pass through Campo Santa Maria Formosa to admire its gothic palaces, and have your camera ready for Marco Polo's House. Other sights include an age-old merchants warehouse and a wellhead, which many say is the city's most beautiful.
Say goodbye to your guide at Rialto Bridge, and make the most of some free time before your 1-hour water taxi cruise along the Grand Canal.
As you glide down the waterway, listen to stories about the eye-catching palaces and churches that line your route, and hear fun facts about the famous residents that have lived on the equally famous street. Continue with a tour of the smaller, lesser-seen canals. Hop back on to dry land to finish your experience in central Venice.
Please note: On rare occasions, St Mark's Basilica may be closed due to flash floods.
April 2016
We thoroughly enjoyed our 3 days in Venice. The weather was great! This tour was an excellent way to start our weekend without having to queue as so many others did! Our guide was fantastic on our walking tour which made us go around so many places and having the enjoyement of appreciating the sites rather than read a tourist book.
The one hour boat tour was also very good.
A must do tour.
April 2016
Excellent tour, great value. The tour was very well organized, with mobile headsets provided for the walking portion. The walking tour covered a lot of central Venice very quickly and was very interesting. The boat tour was equally interesting. This was an excellent way to see a lot of Venice early in our trip to get the lay of the land. A lot of the city's history is explained, which was very interesting.
April 2016
Excellent guide Barbara was great
April 2016
Outstanding due in the main part to our guide Marco. He gets a 10/10 for his humour and wonderful personality! His knowledge of Venice is fabulous and you can tell he's so proud of his beautiful city. The boat tour was also just perfect.
April 2016
This tour is one which can be up to 25 people, but the use of headphones means that you can always hear the guide. Ours was Kristina, who was enthusiastic and very knowledgeable about Venice. It was really useful to have a brief history of Venice as we went round. It was a bit of a shame we could only be in St Mark's for 10 minutes, but that is not the tours fault, as it the policy of the church due to the number of groups visiting. We saw a lot of Venice in the walking tour, which would have been quite difficult to find by ourselves. The boat tour started back near St Marks so we had to make our own way back here, but there was 2 1/2 hours to do this allowing time to wander around the Rialto area first. The boat tour was extensive, going all the way up the Grand Canal as well as some smaller canals. The guide pointed out the key buildings, which was very helpful. Overall a very good introduction to Venice.
April 2016
Brilliant tour with an excellent guide!
The tour was really well done and very informative. The guide Marco was friendly and gave a great insight into the history of the city whilst adding some great comical comments to keep it light hearted and interesting for all.
April 2016
The main guide was nothing short of wonderful and I only regret that I somehow managed to forget her name. She was spectacularly good - informative, thorough, charming, witty and very knowledgeable. The second guide - for the boat tour - was pleasant but rather less informative and - I suspect - less knowledgable. However, overall this was a marvellous introduction to Venice.
April 2016
Great tour and boat ride. Headsets helped so much!
Ian S United Kingdom
April 2016
Great tour which started at 11am. 1 hour round the Basilica followed by another hour walking the streets of Venice. Barbara our guide was very knowledgeable and funny, which made the subject matter a lot easier to take in and remember. We then had a 3 hour break to do our own sightseeing before going on a small boat for another hour on the grand canal with another knowledgeable guide. Great organisation and well worth the money!
April 2016
Loved, Loved, Loved Venice!! We were skeptical to visit but were pleasantly surprised! Our tour was easy to find at St Mark's stop. You do need to buy a water ferry pass for the day if you come from the train station and it takes about 50 minutes to reach the main square. We walked all around the plaza, went inside the Cathedral in the early afternoon and then took a boat tour. Since the inside Cathedral lights are only lite from 11-12:30pm to really appreciate all the gold interior be sure to do the morning tour as you may miss a lot in the afternoon. We then walked all around the town and took a couple hours for lunch. We dined at Ristoranti Florida on the canal right past the Rialto Bridge. As soon as you cross take the Rialto Bridge away from the plaza take an immediate left onto the canal and the restaurant is a couple down. The tour also offers several times for the late afternoon boat tour so if you are limited on time then tell them. They were very accommodating and let us go an hour early so we wouldn't miss our train back to Milan. Note: Restrooms are impossible to find so plan your trips accordingly with your meals. Also don't feed the pigeons as there is a fine for doing this as they are unwelcome guests.
Advertisement
Advertisement