Discover the wines of Italy's Veneto region with a half-day trip to a historic winery housed in a 17th-century villa. Travel in a comfortable Mercedes minivan from Venice to a beautiful setting of rolling vineyards and charming gardens. Learn about the long winemaking history of Veneto, which dates back to the Roman Empire, and tour the grounds and barrel rooms of a family-run winery. Taste several different Veneto varietals served with house-made appetizers as you enjoy the social atmosphere of this small-group tour.
Highlights
Half-day small-group Veneto wine tasting trip from Venice
Visit a historical cantina in a 17th-century villa in the Veneto region
Enjoy a wine tasting and homemade appetizers such as fresh breads and cheeses
Tour the winery and see the huge wine barrels in the cellar
Learn about the Veneto's winemaking heritage and the grapes typically grown here
Travel in a comfortable, air-conditioned Mercedes minivan
Enjoy an intimate, small-group atmosphere on a trip limited to eight people
Recent Photos of This Tour
What You Can Expect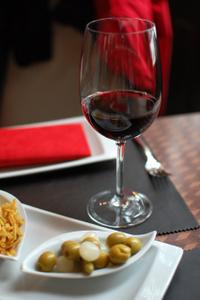 The Veneto winemaking region, just north of Venice, started producing wine as early as the 1st century, during the early rule of the Roman Empire. Explore the region's historic vines and varietals with this small-group tour, with numbers limited to eight people for an intimate experience.
Make your way to Piazzale Roma in central Venice, where you'll meet your local guide and hop aboard an air-conditioned Mercedes minivan. Along the way to the town of Treviso, your guide will share interesting facts about Veneto's history and wines.
You'll arrive at a charming 17th-century villa nestled among the rolling hills and vineyards of in the scenic Lison-Pramaggiore region. Meet the host of the 50-year-old winery housed here and learn how regional climate and soil conditions are ideal for producing grapes for chardonnay, pinot grigio, merlot and cabernet franc, plus other regional varietals.
Tour the on-site barrel rooms and learn about the winemaking process, and then head to a table on the winery's scenic grounds for a personalized tasting. Sample several different wines, and enjoy appetizers like fresh bread and cheeses to complement the wine's flavors. Before you leave, you'll have a chance to purchase a bottle or two to take home from the on-site wine shop.
Relax on the scenic return drive to Venice, where you'll be dropped off at the original departure point.
April 2016
Wonderful experience!!! well organised - the tour guide very informative and spoke excellent English - well worth the trip and would highly recommend it.
September 2015
Great tour. Very interesting. Tried some delicious wines with cheese, meats and breadsticks. Bought a bottle of wine before we left.
May 2015
October 2014
This is one of the best wine tastings we have attended. The wines were delicious and very reasonably priced. The facility was clean and decorated in vintage equipment and pictures. Will definitely be purchasing the wine in the US.
August 2014
A fantastic day out from Venice! Highly recommended!! After reading previous reviews I was concerned about not finding the pick up point at the Plaza Roma, however it is extremely easy to locate - just behind and to the right of the public toilets. You can see the Hotel Olympia from the pick up point. The drive out to the Paladin winery was very comfortable in an air conditioned mini bus. The tour itself was great, our guide showed us around the winery and was very knowledgeable on the process of wine making (although we didn't actually see nay of the wine making process). We then sampled 11 different wines, including prosecco, a liquor, and a sparkling red. We were given varieties of salami and 'drunk' cheese and crackers to have with our wine. The tasting was the highlight of the tour! We bought 2 bottles at a very reasonable price, which we enjoyed back at our hotel in Venice! The only negative comment about the tour would be that we didn't actually get to go out onto the vineyard itself, or see the wine making process. It would have been great if we could have picked some grapes, or had some pictures taken in the vineyard and around the grounds. Also our tour was only for 4 hours, we spent and hour or so travelling each way to the winery, then 2hrs at the winery itself. I would still recommend this tour to anyone who has time to do it whilst in Venice! We thoroughly enjoyed it!
June 2014
Excellent experience, highly recommended! :)
July 2012
We enjoyed the lovely Paladin Winery/vineyard. Our driver was excellent and was able to tell us a bit about the area. The Paladin representative showed us through the winery from making the wines, to aging them. Our wine tasting was a highlight of the tour with grissini, cheese and thinly slice sausage to cleanse the palate
June 2012
The trip was great! On time, courteous and a very knowledgeable guide. Clean vehicle and safe driving. The winery itself was wonderfully maintained and culturally unique and the wine tasting presentation was personalized. I would highly recommend this tour.
Valerie H USA
June 2012
Wonderful morning spent! Great Trip, and great wines!!
March 2012
This was one of the best bits of our holiday. We turned up to Pizzale a Roma to find it was just me and my husband doing the tour, fab! Our driver was a lovely man who ended up taking us on the tour of the vineyard and bringing us the wine to taste. It was really informative and we ended up getting a bit squiffy! We got given some salami and 'drunk' cheese (which was amazing) to have with our wine. We ended up buying 4 bottles of wine to bring home. An excellent day, you must do it.
Advertisement
Advertisement