Learn the history and skills of one of Venice's most iconic professions with a gondolier training! During this unique, 1.5-hour lesson, discover the ancient history of gondoliering and learn the basics of maneuvering the traditional wooden boats. Under the watchful eye of your professional gondolier instructor, practice standing up and paddling on a training 'gondoletto' through some of Venice's less-trafficked canals and out into the open Venetian Lagoon. Numbers are limited to six on this small-group activity for a personalized experience.
Highlights
1.5-hour gondolier experience in Venice
Learn how to be a gondolier from a local expert
Glide around the canals on board a sturdy gondoletto, a training boat
Discover how to stop, steer and row effectively

Hear tales about the lives of gondoliers and the history of the iconic gondolas in Venice
Private experience with a maximum of 5 people ensures a personalized experience
Why Our Insiders Chose This Tour
This is the only tour where you can learn how to be a gondolier! It's great fun and an interactive experience.
Recent Photos of This Tour
What You Can Expect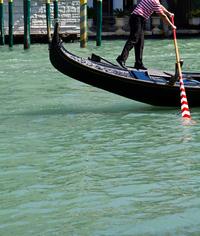 In the water-logged city of Venice, gondolas have been an important mode of transportation for about 1,500 years. The long wooden boats are still made by hand using time-honored methods, and gondoliers must complete a rigorous training program and apprenticeship before ferrying passengers. Get a taste of the tradition with a unique, hands-on lesson. Make your way to a harbor tucked away in a quiet corner of Venice to meet your instructor, a professional gondolier. Begin your lesson on solid ground while you learn some balancing moves and a short history of gondoliering.
Head out to a quiet canal where a
gondoletto
awaits. Similar to a gondola but more stable and easier to steer, this training boat is the kind used in professional gondolier training schools. Take your turn at the helm and learn how to row and steer the boat using a single long oar, while your instructor looks on and provides tips. Get your sea legs among Venice's quieter canals, and then head out into the larger canals and the open waters of the Venetian Lagoon for more practice.
After about 1.5 hours of maneuvering the gondoletto through the city's scenic waterways, return to the original departure point and bid a fond arrivederci to your instructor. You're sure to have a renewed appreciation for the skilled gondoliers when you see them cruising through Venice from now on.
June 2016
This tour was incredible! Our teacher was amazing! And very reassuring, as I and #39;m a little afraid of boats. She made it all possible and I felt comfortable enough to even try a little rowing! Incredible experience worth every penny and more!!!
This is a must!
April 2016
Gondola school was amazing! I'm so glad we did this. So much better than simply riding in one. Our teacher, Nan, said that you can't really understand Venice unless you get on the water, and we couldn't agree more. My husband and I both had such a good time learning to row, actually participating in something so vital to Venetian life. This was an amazing experience, and we'd do it again! Can't recommend enough. Get out there and row. :
November 2015
We want to tell you how wonderful our tour was with Caroline! She was fantastic, fun, patient, kind, very knowledgeable, and a great teacher! She made our tour fun and exciting! I have recommended this tour to everyone I know that goes to Venice. Even folks who go to Italy, I tell them to get to Venice, even if just for the day, and take this tour! Whenever I am in Italy, I will definitely be taking all my family and friends on this tour. This was way better than just taking a gondolier ride!
Caroline gave us a onceinalifetime, absolutely faaaabulous experience that we will always cherish! Don't miss out on this tour!
November 2015
This was my favorite thing I did in Venice! What fun! Why ride in the gondola when you can drive it? Everyone should do this!
September 2015
Was the perfect way to get quality time on a gondola, and appreciate the skill required. The instructor was magnificent.
September 2015
Going to Gondola school was a really different and special thing to do. My wife and I both had a go at rowing and we were expertly tutored by a female gondolier. She was very knowledgeable and patient with us both.
We will definitely do this again but you have to be fit!
September 2015
I was absolutely stoked about this activity. I cannot recommend it more. Eliza was fantastic and very personable. Making your way through the quiet canals with the mini gondola was simply amazing. Peaceful and beautiful, and you're driving it! Fantastic! Thank you!!!
August 2015
Really great! Julia was so patient with us, and managed to keep us relaxed throughout! We learned so much more about the way navigation is run in Venice, had the best time on the canals and then out in the open laguna. Absolutely memorable experience and a super bargain for the price considering the prices in Venice are high on all tourist attratractions. What a super idea you've had and I am so glad I found this activity by chance on the net.
August 2015
I highly recommend this tour to anyone who wants to know more about rowing and the importance of the canal in Venice. Ana was amazing, and inspiring. She was a passionate and knowledgable teacher. She instilled confidence enough to make me feel excited about rowing and not terrified of falling in. It was a wonderful picture of how Venetians use the canals for everything and how rowing can slow down the pace of the city in an extremely positive way.
June 2015
My instructor, Caroline, was amazing! On the day I arrived I was the only one rowing so she gave me lots of personal attention and was great with communication. It's a great experience to have and a unique spin on navigating the canals and lagoon of Northern Venice as a tourist. The company provides directions to the meetup spot and lets you know to allow plenty of time to arrive since Venice is tricky to commute in. Highly recommended experience.
Advertisement
Advertisement