Special Offer
HURRY! Book by May 31, 2016 to save up to 30% on select tours in Venice. This exclusive offer applies to all departure times and dates through December 31, 2016. Please note that this offer is available for new transactions only and cannot be applied to any existing booking
Enjoy magnificent views of the Venice islands on a 1.5-hour sunset cruise. Head out in the cool of the evening and float across St Mark's Basin, past the island of Guidance in the Venetian Lagoon, and out toward the age-old island monasteries. Admire the tranquil waters as you glide along, and as the sun sits heavy on the horizon, sit back and enjoy a glass of prosecco or soda.
Highlights
1.5-hour sunset cruise from the beautiful Italian canal-city of Venice
Soak up the atmosphere on the water at sunset as you glide out of St Mark's Basin
Enjoy magnificent views of the Venetian islands from the water

See the ancient monasteries on San Clemente and San Servolo islands
Sit back and relax with a chilled glass of prosecco or soda
Recent Photos of This Tour
What You Can Expect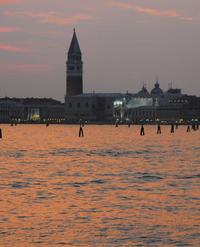 Step aboard your boat near San Zaccaria Church in Venice, and enjoy fine views of the city from the water as you embark on your cruise. Marvel at the ancient waterside buildings and bridges as you glide across St Mark's Basin, past the island of Giudecca and into the Venetian Lagoon.

Cruise gracefully past the ancient monasteries on San Clemente, San Servolo and San Lazzaro degli Armeni islands, as the sun's rays cast an orange glow over the Italian brickwork. These small islands sit a little south of the city itself and have been home to monks, pilgrims, crusaders and soldiers for centuries.

While on board, enjoy a glass of prosecco or a soft drink, and soak up the last of the day's sunshine. Cruise toward the small island of Sant'Andrea, home since the 16th century to a large fortress that was built to defend the city and protect it from attack. Let the crew navigate you expertly along as the sun sits heavy on the horizon, leaving you time to take advantage of the spectacular light to take as many photographs as you like.

Then, continue to the island of Vignole, a pleasant setting enjoyed by both the Romans and Venetians as a vacation destination. Finally, cruise towards its neighbor, Sant'Erasmo, a place once used as a port for the islands in the Venetian Lagoon. Today, Sant'Erasmo is best known for its fresh fruit and vegetables that are grown in abundance. After 1.5-hours out on the water, return to the start point where your cruise finishes.
August 2014
defintely a romantic cruise would reccommend to anyone and well worth the money.
Bonmich USA
August 2014
This cruise was so much fun! My husband and I arrived in Venice a little later than we expected, so we had to rush to get to this event on time. It was a great relaxed cruise and of course it was beautiful. The other people were so wonderful! They served lots of different snacks to munch on as well as good wines and soft drinks. Before leaving Michigan I read about this cruise. Some people were complaining about the appetizers. Good grief, it's supposed to be appetizers not a full course dinner. We thought we got a lot for our money. We were extremely happy with this beautiful sunset cruise of Venice.
July 2014
The tour and sunset were beautiful. However there was no staff person to welcome us or explain what we were doing. We also left without any food or drink, and had to go back to the dock to pick it up. The food -- cold french fries and unknown puff pastry -- were less than desired. But it was a beautiful night, and a pleasant evening overall.
October 2014
This seemed like such a wonderful thing to do, and it should have been. Unfortunately, it was not, but I want to say up front it was not at all Viator's fault. The meeting place and time were described well enough. Unfortunately, the tour Co. rep. was over one half hour late, causing a near panic to those of us trying to figure out what was going on. My husband and I happened on a group of others who were also clueless and looking for the rendezvous person. When she finally showed up, she had no explanation, apology- didn't even clearly identify herself, only held up a puny little sign and kept saying "stay with me" but didn't tell us anything about what was going on- very disorganized. While we were waiting, huge black clouds came in, all in a matter of minutes, and looked very ominous. Since this was supposed to be a sunset cruise with many sites to observe, it seemed they should cancel it, due to the sudden and ominous weather. This woman communicated absolutely nothing, just walked around, frantically pacing while she was on the phone. She then disappeared down the dock to a waiting boat. Next thing we knew, we were all being ushered onto the boat, in spite of it being nearly pitch-black due to the onset of the weather. But, the hors oeuvres/alcohol were on the boat, so we were going. The entire cruise was in darkness (night eventually did kick in, and we got nearly an hour late start, due to her lateness, etc.) and we were sailing in the midst of a raging storm- no exaggeration. Lightning and thunder were flashing every few seconds. Luckily, my husband and I decided to embrace this as a once-in-a-lifetime experience. The boat even ran aground for a few minutes, caught on a sand bar of some sort. He was great in getting us out, a real trouper driving this boat through this weather. The trip should have been cancelled when this weather came in- the fact that it wasn't showed how mercenary this tour company was, not to cancel. Too bad- a lovely idea handled badly.
July 2014
Disappointed.. No one to meet you at the meeting point..other travellers found the boat and came over to us.. Felt like we were going around in circles
July 2014
The cruise was nice.
However, the "appetizer" was tuna sandwiches and potato chips???
The wine was not very good either.
VERY DISAPPOINTING as I was hoping for some regional cuisine.
October 2014
We were late by 10mins, we arrived at 7:10pm but the tour had left. Our watertaxi took longer than usual. There were 4 of us and considering we were a group there might have been some flexibility and the tour wait.
Very disappointed, would not recommend to anyone as there is no flexibility for overseas clients who can take a little longer to arrive.
October 2014
when we left with the boat a terrible thunderstorm begun.
We saw nothing just two hours of darkness and terrible navy rainfall
September 2014
The tour guide was 40 min late. So by the time we got started sunset was halfway over. The second half of the trip was completely dark, we couldn't see anything but bugs flying around on the boat. The host put out appetizers and then sat at the front the whole time. Didn't even talk to us.
Kathy B USA
September 2014
It was not Viator's fault that it was overcast but all we did was go around in a circle in an old, loud and smelly boat and there was no guide to tell us about what we were seeing.
Special Offer
$45.50 Save $13.65
Advertisement
Advertisement