Take an artistic approach to Venice with this private photography walking tour. Whether you're a novice or expert photographer, you'll find endless opportunities for the perfect shot as you explore Venice's picturesque streets, squares and canals. A professional photographer guide will lead you on a 3-hour walking tour of magnificent landmarks and hidden backstreets, giving you tips on lighting and composition along the way. Bring your camera or smartphone and leave Venice with a collection of beautiful, print-worthy images to memorialize your holiday.
Highlights
Daytime or sunset photography walking tour of Venice with a professional photographer guide
Visit St Mark's Square and lesser-known districts to record their unique atmosphere and beauty
Take shots of the bustling Mercerie district and colorful Rialto markets on the daytime tour
Capture the Bridge of Sighs, Venice Lagoon and other twilit landmarks on the sunset tour
Learn about composition, lighting and reportage-style photography, plus inspiring tips
Improve your photography skills, whether you're a beginner or old hand
Enjoy the undivided attention of a guide on a private tour
Recent Photos of This Tour
Venice Photography Walking Tour: A Day in Life of Venice
What You Can Expect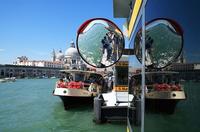 With historic
palazzos
, magnificent Gothic cathedrals and reflective canals, Venice is a photographer's paradise. Capture this amazing atmosphere with the expert guidance of a local professional photographer. All experience levels and types of photographic equipment are welcome, from smartphones to advanced digital and SLR cameras.
Choose from a 3-hour daytime or sunset tour, and list any special interests or requests at the time of booking so your guide can customize your experience. On all tours, learn photography tips and tricks suited to your experience level so you can leave Venice with an amazing collection of photos you'll be proud to print and frame.

Day in the Life of Venice Daytime Tour
Explore Venice's bustling public squares and quieter side streets and canals during the daylight hours. Stop at the historic open-air Rialto Market and the Mercerie shopping district for great shots of colorful stalls and bustling market activity. Learn tips from your guide on photographing people respectfully and skillfully to capture their movement and expressions. You'll also visit St Mark's Square and learn how to frame its magnificent landmarks in unique and eye-catching ways.


Sunset Tour

Meet your guide just before dusk and discover amazing photographic opportunities as the sun drops and Venice is bathed in the changing hues of twilight. Visit many of the locations on the daytime tour, plus spots ideal for capturing the golden light of sunset. As darkness falls, try your hand at capturing the glow of city lights reflected in the canals and the illuminated architectural masterpieces of St Mark's Square.
June 2016
This tour was amazing. The photographer was fantastic and gave us a wonderful experience. He asked us what we were after, my husband explained he would like off the beaten track, that is what we got. Places we would never have seen. He really assisted both of us with our photography skills.
June 2016
Vinicio Tassani was an excellent guide and helped us with our photo skills, too. He comes highly recommended and I would send friends and family to him. The experience was one of the best from our European vacation.
May 2016
My husband and I had a wonderful sunset Venice Photography Walking Tour with Vinicio Tassani on the 18th April. We arrived in Venice that morning so Vinicio was a major asset in both getting our bearings and also taking us out into the quieter neighbourhoods so we got a feel for the real Venice and some excellent photos away from the bustling tourist spots. The tour was for my husbands birthday present as a keen amateur photographer but Vinicio also helped me with tips to improve my iphone photos which I have since used back in Whitby in my home country. I cant recommend his expertise enough both as a knowledgeable tour guide for the city and also to improve your photography technique.

April 2016
Amazing tour .. even though me and my wife only used our mobile cameras to take pictures it was fun! We went to quiet and beautiful photo spots and learned about taking the right pictures using your brain and not the tool. We also had some information about Venice while walking, highly recommended!
April 2016
Fantastic morning spent with Vinicio - so worth getting up early to discover some of the real Venice before the crowds arrive. The tuition was excellent and I got some great tips for taking better pictures. So pleased with the shots I came away with. Can't recommend more highly if you love photography and want to go home with more than snapshots.
Anonymous
January 2016
fantastic tour learnt heaps and more importantly saw Venice very differently roaming all the non tourist districts. Beautiful place Venice
May 2015
Amazing tour ! Our tour guide was Vinicio Tassani who was very knowlegeable and friendly. I would recomend this for any photographer looking for those different photos you woud not get on your own.
March 2015
Mario was superb. I cannot recommend this tour highly enough. Both places visited and guidance on photography were excellent and he is a charming, professional, and informative gentleman.
When in Venice - this tour is a MUST!!!
October 2014
For me, this was the best tour we took. We met our guide nice and early and started as far away from the crowds as possible. We got to see some of everyday Venice, not just tourist Venice. And Mario was fantastic. He really helped me with the artsy side of my photography and was able to help me take better pictures of our holiday.

July 2014
We spent 3.5 hours with Mario yesterday, and were pleased the tour was just for our family of 4. The photography tour was a refreshing way to spend our time and we loved seeing some of the back lane ways of Venice. Mario also told us a lot about the areas we were walking through. Mario was fabulous with our children (15 and 12 years). Our daughter had bought a camera the day before the tour and Mario even set the camera settings for her and explained the principles of using a camera really well. We loved learning more about composing photos. This tour was a highlight of Venice.
Advertisement
Advertisement