Special Offer
Book this tour and save 10% compared to booking each attraction separately!
Experience the highlights of Venice on a full-day sightseeing tour that combines three best-selling Venice tours at a discount of ten percent! The action-packed sightseeing experience includes a skip-the-line tour of the public rooms and Bridge of Sighs at Doge's Palace, a skip-the-line tour of St Mark's Basilica with a walking tour of Venice, and a motorboat cruise around the famous Grand Canal. Learn all about the different landmarks from an expert guide, and enjoy a choice of timings to suit your schedule.
Highlights
Combine three best-selling Venice tours for a discounted price
Enjoy skip-the-line access to Doge's Palace and St Mark's Basilica
Explore Doge's Palace and see ornate public rooms, frescoes by Tintoretto and the Bridge of Sighs
See top Venice attractions such as St Mark's Square on a walking tour

Cruise around the Grand Canal in a motorboat and hear about many palaces that line the banks of the most unique avenue in the world

Choose from two different tour lengths to suit your schedule and preference
Recent Photos of This Tour
Venice Super Saver: Skip-the Line Doge's Palace and St Mark's Basilica Tours, Venice Walking Tour and Grand Canal Cruise
What You Can Expect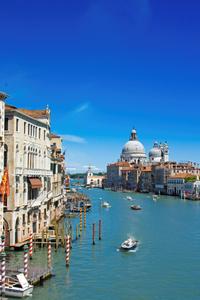 This Super Saver gives you two options for the length of your tour day. Both options include a Doge's Palace tour that starts at 9am, and then you can choose to have free time to enjoy the city or to go straight to your next tour to finish your day of touring an hour earlier
See the 'View additional info' link below for a map of the start point for your first tour.

Skip the Line: Doge's Palace Tour (2 hours):
Meet your guide at the entrance to the Royal Gardens in Venice and stroll to Doge's Palace, the magnificent Venetian-Gothic building from where the leaders of the former Venetian Republic ruled until the late-18th century. Head inside and explore the grandiose public chambers that the doges lavished with fine art and ornamentation. Masterpieces by Renaissance champions Tintoretto and Veronese adorn the walls and ceilings, framing the palace's grand staircases and arcade statues.

Learn about the doges as you walk around, and hear of the power and treachery that characterized their reign. Ruling the republic with iron fists, the doges established a network of prisons at the palace so they could keep a close eye on their foes. Wander across the Bridge of Sighs, built to connect the palace to the prisons, and pose for photos against the backdrop of the palace. Your walking tour then finishes outside the palace.

Skip the Line: Venice Walking Tour with St Mark's Basilica (2 hours):
Leave St Mark's Square and set off on your walking tour to discover Venice's highlights and its top attractions. Soak up the hustle and bustle of St Mark's Square, and head inside St Mark's Basilica to admire its interiors. Marvel at the marble floors and ogle the gilded mosaics that blanket the walls and ceilings. The canopy over the high altar dazzles with gold and gems, and the treasury room holds an array of Crusader spoils plundered from the ancient city of Constantinople.

Head out of the basilica and discover the canal walkways and pretty bridges that typify the city. Learn of legendary Venetians such as Marco Polo with his globe-trotting adventures and other famous landmarks. After two hours, your tour finishes near Rialto Bridge.

Venice Grand Canal Boat Tour (1 hour):
Hop aboard your small motorboat at the water's edge near St Mark's Square, and then cruise around Venice's impressive Grand Canal. The busiest stretch of water is also the city's most photogenic, and the Baroque churches and gondola stations that line the water provide elegant photo opportunities.

As you cruise through the Grand Canal, learn about the city, its beautiful architecture and buildings from your guide. Pass Gothic palaces and churches, hear stories about Rialto Bridge and medieval merchants warehouses, and explore the lesser-visited canals that comprise Venice's atmospheric backstreets. After an hour on the water, cruise back to the start point where your Super Saver tour finishes.
October 2015
We had a wonderful guide who took us to the Doge's Palace. She made the whole trip very interesting and funny and did not dwell too long on any one thing. I would definitely recommend this tour if visiting Venice as one not to miss.
October 2015
a comprehensive and interesting day which was well organised and facilitated by very knowledgeable guides.
Excellent value for money.
October 2015
5star the orhanization very good and the guide was very kind and friendly
October 2015
The guides were very good and nice. We got some added information from them about where to eat and shop. The tours were very informative and helped us acclimate to Venice, the most beautiful and romantic city. Grazze!!
October 2015
October 2015
This was a great tour. Our guide was amazing in telling us about the history of Venice as well as it's geographical influence in the 15th and 16th century. We started the day with the Doge Palace which was mind blowing. The paintings, the architecture, the history and so much more were a treasure to the eyes. We especially appreciated having a 15-20 minutes breaks between this visit and the visit of the Basilica since it gets a bit overwhelming to receive so much information at once and to completely appreciate what you see. Unfortunately, the visit of St Mark's Basilica was a bit crowded and too short. You have to follow a set path and you can't really spend time appreciating all there is to see. I would say we spent maybe 20 minutes inside which was not enough for us to feel satisfied. Then we moved on to our walking tour. This was an eye opening as we had been in Venice 3 days already and still were trying to find our way around those tiny alleys. It was great to have a guide that knows exactly where they are going and to see how intimate Venice can be.
September 2015
This is a wonderful tour package. We learned about the major attractions in Venice and the boat trip was in a water taxi with a max of 9 people with our own guide. A pleasant surprise!
September 2015
We had a great female tour guide. It saves a lot of time not having to stand in line to see the Doge's Palace, or St. Mark's Basilica. I was disappointed that the access to the basilica is greatly restricted at this time. The first time I was there, I was able to go to every corner. Now, there is a path you must follow. Maybe there are other tours of the basilica that allow you in other areas.
September 2015
We had 2 walking tours in Venice on same day. Both guides were knowledgeable and were careful to keep the group together. There is so much history here that it is truly an overview. The St Marks Basilica is huge and you only get a quick walk through.
These tours are worth taking.
September 2015
Great tour guides, very knowledgeable. And we had personal time to explore in each site.
Special Offer
$140.57 Save $13.37
Advertisement
Advertisement