201 Reviews
Location:

Versailles, France

Duration:

7 hours

(approx.)
Explore the UNESCO World Heritage-listed Palace of Versailles (Chateau de Versailles) and the Versailles Gardens (Jardins de Versailles) on a full-day tour. As you wander through the Versailles Gardens, your expert guide will bring French history back to life and also explain the stories behind Marie Antoinette's Estate. If you happen to be there on a Sunday, take the opportunity to watch the amazing fountain show in the gardens. For a more personalized experience, upgrade your standard tour to a small-group tour with a maximum of 10 people, ensuring a more personalized experience.
Recent Photos of This Tour
Skip the Line: Versailles Full-Day Tour
What You Can Expect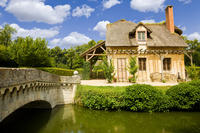 Start your full-day tour of Versailles, a UNESCO World Heritage Site, with a tour through the magnificent Gardens of Versailles, which contain about 210,000 flowers planted annually within the gardens' 1,977 acres (800 hectares). Your knowledgeable guide will tell you about the astounding 50 years of development of the gardens. Today, the Gardens of Versailles are one of the most visited sites in France.

Next, skip the long entrances lines and begin your guided tour through the Versailles Palace, where you'll discover the palace's history and significance. Learn how it functioned as the center of political power in France from 1682 to 1789. Explore the palace's unique and elaborate interior, including the king's and the queen's state apartments. Walk through the famous Hall of Mirrors, which served as both a passageway and meeting place, before heading to the Royal Chapel.
If you plan your trip for a Sunday, add something special to your day with the amazing morning fountain show in the Gardens of Versailles. Enjoy the fantastic display of water fountains and classical music while strolling through the gardens.

After lunch (own expense), your guide will accompany you to the Grand Trianon which Louis XIV had built in 1670 as a retreat from the formality of palace life. Moving on through the vast Versailles grounds, you will then be able to enter Marie Antoinette's Estate with your guide and discover the Petit Trianon, the French Pavilion, the Queen's Hamlet and more.

To get a more personalized experience at Versailles, upgrade to a small-group tour with a maximum of 10 people. This means your professional guide will completely focus on you to make the most of your time in Versailles!
October 2015
It was a great day. We especially enjoyed Claire ,our guide. She had many interesting stories which made the day memorable., very knowledgable but also funny. We were pleased we had done the full day.
October 2015
Fantastic tour. Very informative. Great guide.
September 2015
Rail travel to Versailles was easy and trouble free. The tour operator's office was directly across from the station and provided us with a simple and pleasant checkin. Our small group tour of 8 people and a very pleasant, personable and knowledgeable guide was the only way to see Versailles. Save for a minor hiccup on entry, which took 30mins to sort out with an over officious, arrogant, obstinate entry official, we had a wonderful day. Our tour guide deserves considerable credit for managing such a difficult person at the same time as managing the small group. Being in a small group with a very smart guide got us through the large crowds easily and into the best vantage points for seeing each room and taking photos. The Palace itself is stunning with the highlight being the Hall of Mirrors. We then went on a short bus tour to learn a little of the town of Versailles before a considerable amount of walking to tour the Petite Trianon, Marie Antoinette's Hamlet fabulous and the Grand Trianon. We then toured the gardens and viewed some of the better Groves. Our guide was quite outstanding in her knowledge and management of the group because of the considerable amount of walking - toilet breaks provided. A fabulous day and an easy rail trip back to Paris although very crowded. Good value for money.
September 2015
This was a great day! I highly recommend the tour. Our guide was extremely knowledgeable and fun. Logistics were easy. The park tour is so big that it would have been nice to rent a golf cart earlier in the day. Next time.
September 2015
It was excellent! Especially the part of the tour in the gardens. Natalie did a great job!
September 2015
Everything was on time. Isabelle was very nice. This tour requires a lot of walking in the gardens. The fountains appear to be working only on Sunday which is a shame.
August 2015
We do recommend this full day tour, in addition to skipping the long lines, you get access to Marie Antoinette states where you can get lost if you don't have a guide. Claire was very helpful and friendly and very patient.
July 2015
This tour was fantastic. It is very long, but well worth it. Our guide was Pauline, and she was wonderful. I had been to Versaille before, but not the fountains or the Petit Trianon or Hamlet. She had lots of information throughout the tour and was so pleasant. If you have the time and can come on a Sunday when they turn on the fountains, I recommend it. The fountains are great, but the stories Pauline tells you about what happened at these events is very interesting.
July 2015
Enjoyed to entire day with our guide. Lucked out and had perfect weather to enjoy all of the grounds. Tour guide, Claire, was great.
July 2015
Our tour was amazing and our guide was so knowledgable! The one drawback is that it is a bit too long for some people. Well worth the money.
Advertisement
Advertisement