28 Reviews
Location:

Versailles, France

Duration:

7 hours

(approx.)
Visit the UNESCO-listed Palace of Versailles, and then take a walking tour of the incredible Court of Scents (Cour des Senteurs) – it's a unique tour combination available nowhere else! After exploring the lavish palace at leisure, where you listen to commentary using an audiopen guide and interactive map, stroll around Versailles' sweet-scented courtyard with a guide. Learn of the role that perfume played in the days of King Louis XIV and visit the luxury perfumery Guerlain. This Viator Exclusive also includes a visit to the Royal Tennis Court and access to Versailles Gardens.
Highlights
Discover the Palace of Versailles and the Court of Scents on this Viator Exclusive tour

See the UNESCO-listed palace and Versailles Gardens at your own pace, using an innovative audiopen guide and interactive map
Explore Versailles' Court of Scents on a walking tour, a unique experience only available with this exclusive tour
Hear about perfume use in 17th and 18th century Versailles and visit luxury boutiques like Guerlain, Diptyque and Maison Fabre
Visit the Royal Tennis Court and learn of the oath that sparked the French Revolution
Why Our Insiders Chose This Tour
Step back in time with this exclusive tour and discover the role that French perfume played in the lives of the monarchy and early days of the French Revolution. It's a fantastic new take on a traditional Versailles tour!
What You Can Expect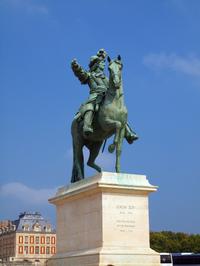 Meet your guide at the Court of Scents, located near the Palace of Versailles to start your Viator Exclusive – a unique tour combination that cannot be booked elsewhere. Receive your handheld audiopen and interactive map for your independent tour of the palace, and then skip past the entrance lines to explore the Palace of Versailles – a UNESCO World Heritage Site.

All of the palace's sites of interest appear on your map, so simply press your audiopen against the room you are in to hear a unique description. Explore the King's Grand Apartments as you hear tales of King Louis XIV, for whom the Baroque palace was built, and walk through the lavish Hall of Mirrors to admire its incredible mirrors and chandeliers.

After exploring the palace, head into the grounds or Versailles old town for lunch (own expense). Then, meet your guide and start your Court of Scents walking tour, discovering the importance of perfume throughout Versailles' history. Personal hygiene in the 16th century was poor by today's standards, so noblemen and ladies turned to decadent scents to mask unpleasant smells. An expensive commodity, perfume became a sign of wealth and extravagant King Louis XIV was an eager consumer.

Today, the Court of Scents is home to three big-name luxury brands: Guerlain – the perfumery – plus Diptyque and Maison Fabre. Another luxury boutique inside the site is Lenôtre, a famous confectioner that sells high-quality chocolates, macaroons and pastries. Your guide will point out the shops and you can return when your tour has finished to browse for souvenirs, if you wish.

Another highlight of the courtyard is the Royal Tennis Court, a 17th-century building where the Royal Tennis Court Oath of 1789 was signed. Here you'll learn about the historic oath that ended the monarchy and sparked the French Revolution.

Return to the palace estate and explore Versailles Gardens at leisure with your audiopen. The extensive gardens emulate the palace's opulence with miles of parkland. If you visit on a Saturday and Sunday, enjoy the fountain show accompanied by music. Similarly, if you visit on a Tuesday, enjoy a classical music broadcast as you amble around the palace gardens. The tour finishes when you hand your audiopen back at the Court of Scents.
September 2015
August 2015
Skip-the-line is the only way to go. We by passed miles and miles of people waiting to get in.
Our guide was only there to get us into the palace , after which we wondered around by ourselves using the audiopen guide.
The Court of Scents tour happened after the palace visit, at an establishment along the main road. It was very well conducted and highly educational.
August 2015
Nothing like the Palace of Versailles. We could not believe our eyes on how beautiful it is. It is a great joy to visit this palace. Gardens are impressive and very peaceful. Our tour guide was excellent and we learned so much of the history and beauty of this place. We will come back again soon.
August 2015
this tour was the best i have ever been
it is worth every dollar i spend on it
my wife love it very much
August 2015
June 2015
The tour was amazing. It was worth it to skip the line. The water show was fantastic.
June 2015
Amandine spellling? did a fantastic Court of Scents tour. We had a totally delightful day and would recommend both tours to anyone. The gardens are exceptional and we could have spent more time there.
June 2015
LOVED THIS! The palace and gardens were magnificent and I just couldn't get enough of it. The audio pen they give you is light and easy and covers pretty much every inch of the palace. The gardens were my favorite part though and if you plan to see them...wear comfy shoes! Marie Antoinette's quarters is a LONG way away so get a bike or start over there if you really want to see it.
The Court of Scents Tour was fascinating and if you take it you MUST stop at Le Notre and check out their macaroons. I'm not normally a fan but they have a lavender one in honor of the Queen so we had to try it out. It was very sweet but the pistachio and the chocolate and wine were divine! The tour itself was great and our guide was incredibly knowledgeable.
April 2015
The trip was great. Guidatour staff is just superb. They accommodated us being late and then their guide went out of her way to help us even though we didn't book a guide tour. Skip the line is highly recommended and needed for families with kids
October 2014
The skip the line aspect of the tour was huge at Versailles. It is so crowded and waiting in the line to get in would be extremely frustrating. The audio guide was the way to go. It was simple and easy to hear.
The Court of Scents tour was a great way to end the day. It was a short tour and the Guide was outstanding giving us some interesting facts on Perfume and the Revolution. Highly recommended.
Advertisement
Advertisement