Discover hidden alleys and local curios in Vancouver's Old Town and Chinatown districts on this 75-minute pedicab tour. Head through Victoria's Old Town and Chinatown districts with your guide, where old shops and boutiques line the winding alleyways. Hear hair-raising ghost stories from centuries past and learn of the settlers, immigrants and colonists who have shaped the city we see today. Along the way, watch skilled street performers plying their trade the way they have for centuries. Admire Victoria's traditional architecture and gain insight into the city's colorful past.
Highlights
Pedicab tour through Victoria's Chinatown and hidden alleys
Old Town Victoria
Victoria's history and architecture
Ghost stories
Professional guide
Hotel pickup and dropoff
What You Can Expect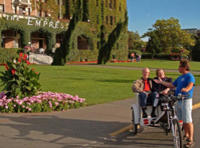 History and beautiful architecture are featured on this tour. From First Nations to stern British Colonists, rugged Klondikers, to hardy Chinese immigrants, Victoria has seen them all. Be entertained with a few ghost stories as you pass Victorian shops that have been in business for over a century.

The downtown flavor will come in the shape of street performers, fine chocolate, first class cigars, opium dens and gambling halls of the past. Discover Victoria's hidden secrets as you roll through the streets and alleys.

This tour is seasonal and only operates from February through to November.
Itinerary
FAQ's
Are the pedicabs safe?
Yes, very safe. All the cabs are professionally manufactured by Main Street Pedicabs in Colorado, U.S.A. Safety features include disc brakes, seat belts and reinforced frames. Victoria is a very bicycle oriented town. On many streets, there are specially designed bike lanes. Guests constantly remark about how courteous drivers are towards cyclists and pedestrians.
The tour operator is proud to announce that they have a perfect safety record since they began operations in 2001.
Is there a motor underneath the cab?
No. The operators have the horse-like strength but they smell better! Besides that, they know how to avoid the hills. A 75-minute tour typically covers 10 kilometers (6-7 miles).
June 2016
Better than taking the train- scenery, cemetery, water falls and baby bear!
July 2013
A great experience. The ship arrived late in the day, so we missed China Town. But the guides made up for it with a good time at the park and showing some historical houses and buildings then taking us to shop downtown.
Advertisement
Advertisement