Tour one of Victoria's most stately and popular attractions in a unique way with a pedicab tour to Craigdarroch Castle. Enjoy the fresh air and leisurely pace from aboard a comfortable cab while a friendly guide pedals you from your hotel to the majestic, 19th-century baronial estate. Along the way, pass through the neighboring Lt Governor's gardens and see some of Victoria's most opulent churches and homes. Admission to the inside of the magnificent castle is included.
Highlights
2.5-hour pedicab tour to Craigdarroch Castle
See where Queen Elizabeth has stayed at the Lt Governor's grounds and gardens
Pass by Victoria's oldest and largest churches
Learn about local history from a friendly pedicab driver and guide
Step inside the magnificent Craigdarroch Castle with included admission
Includes hotel pickup and drop-off
What You Can Expect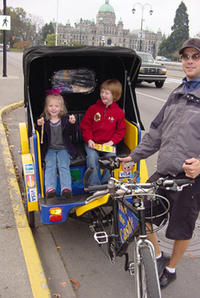 Craigdarroch Castle is an old Scottish baronial castle that sits atop Victoria's highest point. Built in the late 1880's for a wealthy coal baron, this castle displays the opulence of the late Victorian age. The castle is perched next to the Lt. Governor's grounds where Queen Elizabeth has stayed during her visits to Victoria. The stunningly remarkable gardens offer mountain views, a Japanese garden, Rhododendrons, a classic English rose garden and a myriad of West Coast garden scenes.

You will also visit Victoria's oldest and largest churches. The route passes by several character homes, offering guests a taste of Victoria's charm.

This tour is seasonal and only operates from February through to November.
Itinerary
FAQ's
Are the pedicabs safe?
Yes, very safe. All the cabs are professionally manufactured by Main Street Pedicabs in Colorado, U.S.A. Safety features include disc brakes, seat belts and reinforced frames. Victoria is a very bicycle oriented town. On many streets, there are specially designed bike lanes. Guests constantly remark about how courteous drivers are towards cyclists and pedestrians.
The tour operator is proud to announce that they have a perfect safety record since they began operations in 2001.
Is there a motor underneath the cab?
No. The operators have the horse-like strength but they smell better! Besides that, they know how to avoid the hills. A one hour tour typically covers 10 kilometers (6-7 miles).
October 2011
Our tour was great! The Pedicab driver/guide was fantastic and so much fun.
John C USA
July 2011
In addition to a personal tour of Craigdarroch Castle, a visit to the gardens surrounding Government House was spectacular. Walk at your leisure and smell the flowers, see deer, and sample the many herbs growing in the Herb Garden. The guide, Andrew, is most informative and makes sure you enjoy the tour. Highly recommended!!
Joanna 344 United Kingdom
August 2011
Good tour. Recommended only 4 stars due to high price and guide trying to encourage us to pay for additional time/tour.
Advertisement
Advertisement