Take a short walk from downtown Victoria and discover Craigdarroch Castle, an important part of British Columbia history, on this 1-hour self-guided tour. This Victorian-era architectural jewel was built for Robert Dunsmuir, BC's wealthiest man in the early 1900s. At your own pace, admire the stained and leaded glass windows, elaborate woodwork and Victorian décor.
Highlights
Admission to Victoria's famous Craigdarroch Castle

Visit one of the finest examples of Victorian-era elegance

Admire the exquisite woodwork and a large stained glass collection

Self-guided tour allows you to explore at your own pace

What You Can Expect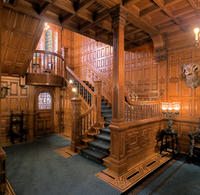 While in Victoria, make sure to visit the famous Craigdarroch Castle -- the premiere heritage and architectural attraction in Victoria, British Columbia. The castle was built as a lavish Victorian home for the wealthiest man in British Columbia in the early 1900s, Robert Dunsmuir, who owned coal mines, railroads and an entire fleet of ships! The mansion features exquisite woodwork, Victorian furnishings and one of the finest residential collections of stained and leaded glass windows in North America.

Tragically, Mr. Dunsmuir passed away before the home's completion, and only his wife, Joan, and some of their children and grandchildren ever actually lived in the home. After Joan's death in 1908, the entire contents of the Castle were sold at an auction and the property was subdivided. The castle subsequently served as a military hospital, a college, school board offices, a music school and finally as a historic museum.

Explore the castle on a self-guided tour that takes approximately one hour.
November 2015
A highly recommended self guided tour. Beautifully restored rooms give a real sense of life in turn of the century Victoria's high society. Spectacular stained glass windows in almost every room.
October 2015
The house is beautiful and the docents are the most informative and friendliest we have ever come across. They will spend as little or as much time as you want talking about the house, the history of the family, and their favorite items. Well worth the time and money to see this treasure from Canada's industrial rich!
October 2015
Friendly, informative and overall enjoyable experience. A must see!
August 2015
Beautiful home and well worth seeing. The history about the home is very interesting!
July 2012
It was great!! We really enjoyed the Castle.
September 2015
This was really cool. We loved the history throughout. We also enjoyed seeing it a little bit in the restoration process as well. We TOTALLY got out money's worth.
September 2015
Enjoyed seeing the Castle, would have been nice to have had a walk through talking guide.
August 2015
The castle was really cool to look at. There was so much history in it and it's amazing to hear all the different ways it was used.
October 2014
Grand old house in process of being restore. Got to take lots of pictures and learned a lot of history about the house
September 2014
Very interesting Victorian castle, beautiful restoration in progress. The stained glass windows were magnificent. Very elegant life style if you were the upper class.
Advertisement
Advertisement