The Royal BC Museum is one of the finest in Canada and a must-see attraction during your visit to Victoria. With ever-changing and evolving exhibits and galleries, this museum is perfect for the entire family. Explore British Columbia's natural and human artifacts in the museum's permanent galleries, plus prestigious traveling galleries.
Highlights
General admission to the Royal BC Museum

Enjoy fascinating, always-evolving galleries

Journey back in time to see, hear, touch and smell the history of British Columbia through world-class exhibits

Learn about BC's natural history from the present day all the way back to the ice age

Revolving visiting shows keep the collections fresh and interesting -- you'll want to come back again and again!

Located in the heart of Victoria's Inner Harbor

What You Can Expect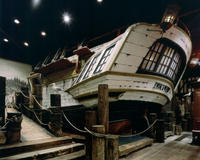 Established in 1886, the Royal BC Museum has collected and preserved British Columbia's most significant artifacts and specimens. Once housed in a single room, today this world-class museum is located in a multi-story, modern building right in the heart of Victoria's Inner Harbor. The museum received its 'royal' title from Queen Elizabeth II in 1987.

The permanent galleries of the Royal BC Museum focus on natural and human histories. The First Peoples Gallery gives you a dramatic glimpse into the lives of the native settlers before and after the arrival of the Europeans. See, hear and smell the past as you travel through 200 years of British Columbia's amazing history.

In the Natural History Gallery, you'll take a journey across time and see how British Columbia's natural environment has changed over thousands of years. Learn about the mammoths and giant bison that roamed this area during the ice age, and the animals of today, such as the iconic grizzly bear, sea lions and blue herons.

From May 17 through September 16, 'Dinosaurs: Ancient Fossils, New Discoveries' is visiting the Royal BC museum. From June 1 to September 3, the much anticipated 'Queen Elizabeth II by Cecil Beaton' will be featured.
October 2014
The exhibits were outstanding.
August 2014
June 2015
December 2014
December 2013
The Royal BC Museum is well worth the ticket price. We only had a few hours but could have spent a whole day wandering through the exhibits.
October 2012
excellent, and Victoria is beautiful
October 2012
Enjoyed Victoria. Did the Hop on Hop off bus tour and saw most of the city in a few hours. Then spent the next couple of days visiting the sites that interested us most.
September 2012
I had forgotten that I've been to this museum in 2006. I remembered the first people exhibits. I think the dinosaurs is new and it is very good. Another place similar is in Calgary.
Advertisement
Advertisement