Discover the native marine wildlife for which British Columbia is famous on this 2.5-hour bird and sea lion-watching tour from Victoria. Hop aboard your high-speed Zodiac vessel in Victoria and head out onto the Strait of Juan de Fuca's rolling waves your guide. Watch the water for sightings of graceful whales and porpoises, and gaze over the rocky coastline where playful seals and sea lions relax. Watch the skies for bald eagles, heron and other native birdlife, and gain insight into the animals' life cycles and hunting habits.
Highlights
Bird and sea lion tour off the coast of Victoria, British Columbia
Watch sea lions and bald eagles in their natural habitat
Recent Photos of This Tour
What You Can Expect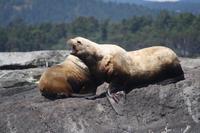 October through to April is still a little early to see the resident pods of killer whales or Orcas as they are still out in the open Pacific Ocean hunting salmon. However, because nature is unpredictable, there is always a chance that these majestic marine mammals will be in the area when you are out on your adventure. You might also be lucky enough to see some members of the transient killer whale population who are also known to swim in the waters near Victoria. But, regardless of the chances of seeing an Orca, there is a tremendous experience awaiting you.
California sea lions, weighing in at 500 pounds (225 kilos), lie on the rocks catching the last rays of the sunshine after a hard day of fishing. Dall's porpoise speedily dart to and fro off the bow of your boat. Bald eagles swoop down and land on a rock face overlooking the Strait of Juan de Fuca. Victoria BC, on Vancouver Island is surrounded by some of the most beautiful seascapes the west coast of British Columbia has to offer.
Marine birds, such as the great blue heron might be stalking prey in clear turquoise waters in a quiet cove. Seals with great brown eyes lazily watch as you quietly take their picture. Lighthouses, craggy rock archipelagos, and unique ecosystems are part of what contribute to make the Pacific Northwest so famous and you are about to be part of the experience.
Zodiac Vessel Information:
12 passengers per vessel
Open air ridged hulled inflatable vessel
Marine naturalists provide full commentary
Full-length cruiser suits for safety & comfort
Hats and Gloves also provided for your comfort


This tour is seasonal and only operates from October through to April
Advertisement
Advertisement