Hit the waves with expert naturalists in search of Canadian sea-life on this 3-hour whale-watching cruise from Victoria. Hop aboard your whale-watching boat and head out into the rolling seas with your guide. Gaze out over Victoria's attractive coastline and watch the waves for sightings of graceful orcas. Listen as the two expert naturalists on board explain the life cycles of the majestic creatures, and learn of their pivotal role near the top of the marine food chain. Enjoy fine views from the seating areas both inside and on-deck.
Highlights
3-hour whale-watching cruise from Victoria, British Columbia

Spot the majestic orca (killer whale) off the coast of Canada!

Learn about the Pacific marine ecosystem from 2 expert naturalists

Cruise on a comfortable vessel designed specifically for whale watching

What You Can Expect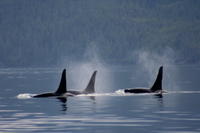 Take in the beautiful sights of British Columbia on an educational whale-watching adventure from Victoria ! Enjoy a three-hour cruise on the Pacific and spot majestic orcas (killer whales) while learning about Canada's marine ecosystem from two onboard naturalists. They'll answer any questions you may have during your whale-watching cruise and encourage you to search for native marine life!

Ron Bates, one of the leading orca researchers in the Pacific Northwest, may also be along for the ride! He conducts much of his research on board and can provide unique and detailed insight into the lives of these magnificent and intelligent mammals.

Every whale-watching adventure may be different depending on the day's marine activity. The cruise often starts with visits to the small islands off the coast of Victoria to begin the exciting search for whales. Listen as your expert crew explains the surrounding marine ecosystems of the Pacific. Learn about the important food chains in each area and the types of animals found there. Often, the crew will pull kelp on board and give you a chance to touch, feel and taste where many of the food chains begin.

This exciting whale-watching cruise is conducted on a boat designed specifically for whale watching, and provides a smooth, swift and stable ride. Enjoy the indoor and outdoor seating areas for great panoramic views. This tour is fun for the entire family!
June 2016
The tour was well organized!
The guides were friendly and answered all our questions !
Highly recommend it
Location was convenient at the Empress as we were staying right across
June 2016
The crew were very knowledgeable about the animal life.
June 2016
I had a nice tour with Five Star Whale watching. They were professional and I liked the boat, because when it gets cold you can sit inside. Also at end of trip you might be tired and you can rest. Was not a great sightings day, but we did see three Killer Whales one was a baby. We saw one meinke whale far off. No guarantees with nature, but I had a very good trip with them. Highly recommend this company.
September 2015
We were able to see several sightings of the L Pod family. It was very exciting.
Joan Australia
June 2014
Great crew and spectacular whale sighting. Could have spent more time watching them
December 2013
Excellent tour. We saw a number of whales. Our guide was excellent. We thoroughtly enjoyed this tour.
June 2015
I was nice , but i was expecting see more whales I got the chance to only see 2.
September 2013
No whales once again but the staff were knowledgeable.
Advertisement
Advertisement