Enjoy a comprehensive, 5-day tour of Austria from Vienna to Salzburg. Spend four nights in 3- or 4-star hotels and explore the country's top attractions and UNESCO-listed sites. See Mozart's birthplace and the Mirabell Gardens in Salzburg, and wander the grounds of Vienna's spectacular Schonbrunn Palace. Learn the rich history of each city from your guide as you soak up a stunning overview of Austrian culture and landscape. Your trip will conclude with round-trip transportation back to Vienna.
Highlights
5-day round-trip Best of Austria tour to Salzburg from Vienna
Learn about Austria's rich history and culture from your knowledgeable guide
Enjoy guided sightseeing tours in Vienna and Salzburg
Discover top Vienna attractions, including Schonbrunn Palace, the State Opera House and Hofburg Imperial Palace

See popular Salzburg sights from the movie The Sound of Music such as Mirabell Palace

Spend four nights in 3- or 4-star hotels in Vienna and Salzburg; breakfast included
What You Can Expect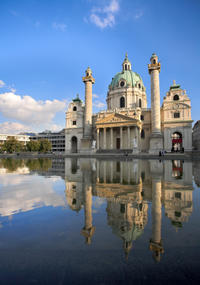 Spend an incredible five days exploring Vienna and Salzburg and soak up Austria's rich history and architectural masterpieces. With an impressive display of medieval, Baroque, Gothic and Renaissance influence, you'll see why so many of the cities' landmarks have been designated UNESCO World Heritage Sites.

Itinerary
Day 1
After arriving at Vienna airport, your included private transfer will take you to your centrally located Vienna hotel. Vienna, the capital of Austria, is a city of culture, music and classical architecture, and is known for being the home of infamous psycho-analyst Sigmund Freud.

You have the rest of the day free to explore the city on your own.

Day 2
After your buffet breakfast (included), you'll go on a 3.5-hour guided tour of Vienna, which will give you a thorough overview of the city's most significant historical sights. You'll see the State Opera House, Parliament, City Hall, the Burgtheater, the Votive Church and a few museums, including the Museum of Fine Arts. Schonbrunn Palace is another highlight of your sightseeing tour; it was the residence of Empress Elizabeth, affectionately known as 'Sisi' to the Austrians.

Day 3
After breakfast, make your way to the train station (own expense) to depart Vienna for Salzburg by train (departures every hour). During the 2.5-hour train ride to Salzburg, you'll be enchanted by the beautiful Salzkammergut landscape with its mountains and lakes.

When you arrive in Salzburg, check in to your centrally located hotel, and then take advantage of some free time to explore Salzburg on your own. This beautiful Baroque city is the birthplace of 18th-century composer Wolfgang Amadeus Mozart and has many historical landmarks to discover.

Day 4
After a delicious buffet breakfast (included), you will be picked up at your hotel in a comfortable coach for a panoramic and informative 2.5-hour sightseeing tour of Salzburg. See the most important sights of the city, such as Getreidegasse, where Mozart was born and lived; the old Bishop's Seat, including the cathedral ; Festival Hall; and St Peter's Abbey Church with its graveyard that is home to the tomb of Mozart's sister Nannerl.

You will also pass Mirabell Palace gardens with its famous statues. Fans of the movie The Sound of Music will recognize the location as the scene of the song 'Do-Re-Mi'!

In the afternoon, you will enjoy some free time for the rest of the day.

Day 5
After your included breakfast, head back to Vienna by train. When you arrive at Vienna train station, your included private transfer will take you to the airport for your flight home or elsewhere.

September 2013
EVERYTHING WENT AS PLANNED AND WE ARE VERY HAPPY...PICK UPS WERE IN TIME...HOTELS WERE VERY GOOD.
June 2016
We enjoyed both the Salzburg and Vienna city tours and found both guides were excellent. The hotels were located quite near transportation hubs, which made getting around the cities during free time very convenient. One word of advice to travelers: don't assume confirmation of your trip means your hotel pick-ups for city tours are confirmed. You must do a second re-confirmation by phone, which your hotel reception desk can easily do for you. In other words read all the fine print and bring correct vouchers with you for city tours. Working with Viator staff was very pleasant - we would take a Viator tour again.
May 2015
The tour was very well organised and all bookings/tours/transfers were on time and easily found.
October 2014
We were pleased with this. We felt it was a good value. It included two small tours: Vienna and Salzburg. We then booked other smaller tours in each of these cities (some through Viator, some on our own and some through our hotel)). I would call this more a 'package' that includes transportation, lodging and the two small tours. However, the convenience of Viator taking care of the details and the value of what was provided made it worthwhile. Would consider this arrangement again and recommend it - especially to new travelers
May 2016
Plus is being met at airport but Vienna hotel required taking subway into center. Hotel in Salzburg was convenient to train depot but required bus to city center. Viator staff were responsive to e-mails.
April 2015
Generally it is a good experience. However, the standard of the hotels was not at all as expected since my reservation was for 4 stars hotel, but actually there were only 3 stars. Also the package left to me upon my arrival has not included the paper ticketets for the city tour which had instantly caused an issue but could be rectified soon. Basically the standard of the hotels was the main issue.
Advertisement
Advertisement