Travel by train on a scenic route through Austria and Hungary, and enjoy guided tours of their capitals: Vienna and Budapest. The 5-day package includes 4-star hotel accommodation with breakfast as well as plenty of free time to explore the cities, which are full of fine architecture and steeped in history. Discover UNESCO sites such as Vienna's Schönbrunn Palace, and learn about key Vienna and Budapest attractions during the guided tours.
Highlights
5-day round-trip tour from Vienna to Budapest

Learn about Austria's and Hungary's rich history and culture

See popular Budapest sights, such as Parliament House, the Royal Castle, Margaret Bridge and the Andrassy area
Discover top Vienna attractions including Schonbrunn Palace, the State Opera House and Hofburg Imperial Palace

Spend four nights in 3- or 4-star hotels in Vienna and Budapest; breakfast included
What You Can Expect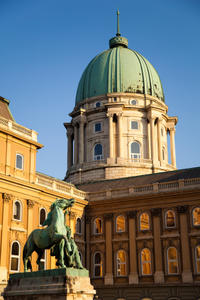 During your tour of Budapest and Vienna, gain an insight into the Gothic, medieval, Baroque and Renaissance features of the cities and discover many impressive monuments. Renowned architects and artists worked throughout the centuries to create these architectural jewels, many of which today are recognized as UNESCO World Heritage Sites.

You have the choice of staying your four nights at either 3- or 4-star hotels, both options including breakfast.

Please see the Itinerary section below for details on each day of the tour.
Itinerary

Day 1
When you arrive at Vienna airport, your included private transfer will take you to your centrally located Vienna hotel. After checking in, the rest of the day is free to explore Vienna on your own.

Vienna, the capital of Austria, is a city of culture, music and classical architecture, and is known for being the home of infamous psycho-analyst Sigmund Freud.

Day 2
After your buffet breakfast (included), you'll go on a 3.5-hour guided tour of Vienna, which will give you a thorough overview of the city's most significant historical sights. You'll see the State Opera House, Parliament, City Hall, the Burgtheater, Votive Church and a few museums, including the Museum of Fine Arts. Schonbrunn Palace is another highlight of your sightseeing tour; it was the residence of Empress Elizabeth, affectionately known as 'Sisi' to the Austrians.

Day 3
After breakfast, make your way to the train station (own expense) to depart Vienna for Budapest by train (departures every hour). During the 2.5-hour train ride to Budapest, enjoy the beautiful Austrian and Hungarian landscape.

When you arrive in Budapest, check in to your centrally located hotel, and then enjoy free time for the rest of the day to explore the city on your own.

Full of World Heritage Sites like Buda Castle, Andrássy Avenue and Heroes' Square , Budapest is an enchanting city, known as The Pearl of the Danube.

Day 4
After a delicious buffet breakfast (included), you'll be picked up at your hotel to embark on a panoramic and informative 1.5-hour guided tour of Budapest. See the main sights in both Buda and Pest, the two districts of the city. Pass by examples of some of Budapest's finest architectural achievements, such as the magnificent neo-Gothic Parliament building, home of the Holy Hungarian Crown.

Be impressed by the old Jewish "Golden Triangle" quarter, and then visit Matthew's Church and the Fisherman's Bastion, from where you'll enjoy a spectacular view over the whole city!

After your tour, have free time for the rest of the day to see more of Budapest at your own pace.

Day 5
After your included breakfast, head back to Vienna by train. From the train station, your included private transfer will take you to the airport for your flight back home or elsewhere.

Laura Brehm USA
November 2012
It was a whirlwind of a trip, but we thoroughly enjoyed ourselves. The four star hotels we stayed in were comfortable and clean, and staff were very accommodating. The tour guides were very knowledgeable and insightful. We got to see the highlights of the city and were able to figure out which areas we wanted to further explore on our own. A great way to spend a few days in both cities. The tour company also worked with our travel schedule and allowed us to have some freedom with planning the trip. I would love to return to Vienna for another look at the city if have more time, as well as BudaPest. It was a very pleasant surprise from what I expected.
December 2013
December 2014
The customer service on the part of Andrea from Viator was outstanding! All issues were resolved promptly and to my satisfaction. However, there were 2 disappointing items that resulted in me giving this experience only a 3-star rating:
1) No one picked me up at Vienna airport, contrary to the tour description. I arrived on time, yet the driver left after not even waiting 15 minutes. Had to call Viator to resolve the issue.
2) The Vienna sightseeing tour was disappointing in that it was restricted too much to the bus, and there is a certain detachment when you attempt to experience a city from behind the glass of the bus. The Budapest tour was much more engaging, in large part because we got out and walked more.
March 2013
The 3-hour Summer Palace tour is fine.
July 2015
The hotel was okay, but offered no dinner or snacks aside from breakfast and was outside of city limits. We found one Italian restaurant near hotel In Vienna that was open on the weekend. I asked for and paid for 4 star hotels but did not expect to be on the outskirts of city.
The lions garden hotel in Budapest is nice but still so far away that even the hop on hop off buses to not go close by. The taxis are very expensive and I feel I should have arranged for hotels, train and tours on my own. I feel I would have saved money and enjoyed the city more.
The train was not reserved and it is a nightmare finding seats...I feel this should be clearly explained and I do not think this tour is really well planned.
We loved the Vienna city tour but found the Budapest tour was only fair.
June 2015
Airport pickup was good. Vienna city hotel was excellent. Breakfast outstanding. City tour adequate,hotel pickup helpful .tour slow to get started but adequate but not fantastic. Budapest,train tickets arrived but seats should be reserved. Budapest hotel just about ok .it was not in a very nice location and services were simple ,clean but not great. Food was very disappointing, Budapest itself was also disappointing. 2 days was enough, the city tour was not as good as we expected.
Edward L USA
October 2013
This is billed as a "5 day round trip tour from Vienna to Budapest." What we got was airport pickup upon arrival (the driver had no idea what the agenda was for the next day), four star hotels for two nights each in Vienna and Budapest (the hotels were very nice, but nowhere near sites or transportation), one city tour each in Vienna and Budapest (we were picked up in Vienna, but had to fend for ourselves in Budapest) and a one way train ticket to Budapest from Vienna (travel from the train station to our hotel was at our own expense). The return train trip to Vienna was also at our own expense. For us, it would have been more cost effective and enjoyable, and much less frustrating, had we booked the hotels, tours and train separately on our own.
The limited information left at the Vienna hotel indicated we would be picked up at 9:00 for the tour of Vienna. We were picked up at 9:00 am, taken to the central tour bus location and informed by those in charge that our tour had started at 7:00 am. We called the tour operator who suggested we take the next City Tour, pay for it ourselves and they would reimburse us. Of course we had to present our paid voucher before they would reimburse. When we finally located their office, at our expense, tour operator company personnel were decidedly unhelpful. Somehow the train ticket to Budapest was not included in the packet delivered to our Vienna hotel. We were given the one way ticket and were informed, after much questioning from us, that the return trip would be at our expense (so much for the round trip tour). Additionally, we were informed we would not be met in Budapest and travel to the hotel would be at our expense, but they did give us a voucher for the hotel and Budapest City Tour.
We're trying not to be too judgmental, but frankly this event, as a tour, is not recommended. A definite NO STAR Rating.
Advertisement
Advertisement