Soak up the holiday spirit with a 4-course Christmas Eve dinner at Weikersdorf Castle from Vienna. Led by a local guide, travel from the capital city to the Renaissance-era hotel in the Austrian Alps to enjoy four courses of traditional specialties, accompanied by local wine and music. Afterward, head to the Church of St Christopher to experience a Christmas midnight mass.
Highlights
Traditional Austrian Christmas Eve celebration at Weikersdorf Castle in Baden

Admire the spectacular Alps scenery and soak up the dreamy winter wonderland atmosphere of the Vienna Woods
Enjoy a Christmas Eve dinner at Weikersdorf Castle with your family and friends
Savor a 4-course meal with wine while a live band plays traditional Austrian music

Attend a Christmas mass at the Parish Church of St Christopher

Round-trip transport from Vienna included
What You Can Expect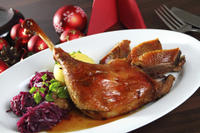 Your evening will begin with pickup from your hotel in central Vienna, where you'll meet up with your guide. Travel to Baden by coach, soaking up views of the majestic Vienna Woods as you come upon the Weikersdorf Castle. Pass the forested highlands that comprise the foothills of the Northern Limestone Alps.

Arrive at the 13th-century castle and learn about the structure's Renaissance architecture from your guide. Renovated in 1971, the castle is today part of the Vienna Woods Hotel.

Settle into your seat in the castle's dining area and indulge in a 4-course dinner of traditional specialties, such as Christmas goose with potato dumplings and pyramid cake. (See a sample menu in the Itinerary section.) Sip on fine regional wine and enjoy live Christmas music to keep the mood festive while you dine.

With your appetite sated, step out for a walk to the nearby Church of St Christopher. Attend a Christmas midnight mass and see an Austrian-style Nativity scene, for a unique holiday experience.

Your evening will conclude with transportation back to Vienna after the mass.

Itinerary
Sample Christmas Eve Dinner Menu
4-Course Meal:
Crab rolls on a grapefruit a ragout (appetizer)




Oxtail essence with ravioli




Christmas goose and red cabbage with apples and potato dumplings




Pyramid cake with chestnut mousse and a baked apple sauce



Drinks:
White wine (

Grüner Veltliner, Weingut Fritz Salomon)




Red wine (Blauer Zweigelt, Weingut Reinisch)




Coffee



** Please note that no vegetarian option is available **
July 2010
Your Christmas tour to the Baden Schloss was the best Christmas I have ever had. I want especially to thank our guide, for her excellent guidance. She deserves a big thanks from all our friends. The zither player was special, and the food wonderful. I am an old man now, and I will remember your tour always as the epitome of generousity and friendship. Thank you sll so much, and Happy New Year.
SHAMS E Egypt
July 2010
Thoroughly enjoyable experience! However, I didn't get a real castle feel since the place is a hotel and spa with a medieval interior look and feel. The mass was held in a nearby parish and not a cathedral. Aside from these slight differences than the expectations, the overall experience is great and the Austrian hospitality is great.
aida United States of ...
December 2014
Not GOOD explanation of the Tour by Conductor
Not good dinner served, if it was "over sold" it should have been planned for...
NOT a good experience for a special night
January 2013
It was nice to have something organized for Xmas Eve. The food was very good. The location was nice, but not your fairy tale castle . The music was great, but should have been only Xmas. Attending a local midnight mass was special, but the church was not ready to accommodate all these extra people.

January 2013
Really overpriced and guided by someone who really didnt care. We knew we would find it hard to find somewhere for xmas eve so for that reason it was still worth it, but the romance of the castle was really not all that. Renovated beyond recognition.
Susan J Hong Kong
July 2010
The food was a dissappointment,but the venue was quite fun.Not really a typical castle I had pictured it to be .I was surprised there was very little entertainment to give the night more of a christmas mood.The mass after dinner at the chapel was a highlight .
February 2015
This was a very unorganised tour. We were picked up on time and taken to the castle to have warm wine. When it came to seating it was a mess, we were left standing with my family of four without a table to sit together, along with a few other families. We were told to take a seat with strangers. There were only single seats left at each table. Eventually we were taken to another room with three tables, so I could sit together with my family on Christmas and so could some of the other patrons. Service by wait staff was good, food was ok, but we could not hear the music from the room we were in. At the church mass I felt for the locals, as their church seats were mostly taken by us, the tourists. The bus ride home was also unorganised as we stopped at two hotels and no one got off the bus. When we were dropped off the bus was not allowed in that street so we had to walk for five minutes in the dark and the cold to get back to our hotel. I would not recommend this tour - a dinner at a nice restaurant in town would have been better and more value for money. Not a nice memorable Christmas dinner at all!
December 2013
The dinner was not in a palace but rather in a convention center right next to an apartment complex.. The church was not in the woods but right in town. Very disappointing and over priced.
Catherine H United Kingdom
October 2013
This was a very expensive trip that started in a long wait in the car park, followed by a very poor dinner - cold salty soup, dry turkey, over sweet desert. The 'present' was a small cake that had been forgotten on our table and we had to fight to get a coffee. This was made worse by constant nagging from our tour guide about timings. The church was boiling, despite the fact that we were told to dress up warm so we had to try to get the layers off during the service. Very, very disappointing - except for some good company on our table!
Samer G Egypt
October 2013
It was a mass of two hours in German. Why is it in German if it is for foreign tourists? Why was the mass was not mentioned clearly in the program? The dinner was not good! The lady guide was so aggressive! A very expensive trip for nothing!
Advertisement
Advertisement