Learn the famous Viennese waltz in its city of origin with this 45-minute dance lesson. Led by an instructor, pick up the basic steps of this elegant dance with a partner. Move to the waltzes from Viennese composer Johann Strauss and bring this memorable piece of Austrian culture back home.
Highlights
45-minute Viennese waltz dance lesson for two in Vienna
Learn the basics of the graceful and centuries-old Viennese waltz
Dance to the sounds of classical music by Johann Straus, the Viennese composer known for his waltzes
Fun-filled way to experience more of Vienna!
What You Can Expect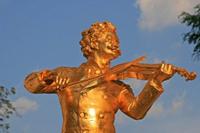 The oldest of today's ballroom dances, the Viennese waltz dates back to the 18th century. Arrive at your dance school in the heart of the city to master the basics in just under an hour.

Your instructor will guide you as you learn the steps of the waltz to music from Karl Michael Ziehrer, Joseph Lanner and the prominent Johann Strauss, whose classical compositions brought fame and attention to the Viennese waltz around Europe.

Move to three-quarter time around the dance floor with your partner while your instructor shows you how to follow the pattern of the steps. After your 45 minutes are up, you'll have a basic knowledge of this centuries-old dance to take back home with you.
February 2016
It was a nice experience learning the basics of Viennese waltz dance. We were just two couples and our instructor explained us the rules very patiently with his good English language. We hope to take the class again the next time we travel to Vienna in order to learn some other rules of Viennese waltz dance.
November 2015
This was a lovely experience. Our instructor was clear, patient, and provided interesting tidbits of information on the dance and on the balls of Vienna. The class was just the 4 of us, the classroom pure Vienna, and we learned to walz!
November 2015
Spent a most enjoyable dance session with Aga in the beautiful new studio which was only opened about 3 weeks ago. As we were the only couple who had booked for that particular time we had a private lesson.
We would definitely recommend this tour to anyone interested in the techniques and traditions of Viennese Waltz. Aga was an excellent instructor with perfect English and made this a most entertaining experience. She even added a new word to our dance vocabulary 'schunkeling'
September 2015
My fiancee and I decided to try the waltz while we were in Vienna. It was a great experience that I only wish we could repeat! We were the only couple who signed up for our particular session, so we were upgraded to a private lesson. On top of it, our instructor gave us history on the background of the dance as well as the culture surrounding it. 10/10, would definitely recommend to anyone even considering it.
June 2015
My Viennese Waltz was a mixture of the history of the dance and some practical technical applications regarding the traditional versus American style of Waltz. My instructor, Aga Chochorek, was excellent in her presentation and instruction and all in all this lesson in Vienna was a highlight of my trip through Europe.
June 2015
This experience was lovely. The instructor was gracious and graceful. She was able to apply her knowledge of dance in a manner specific to our ability and manner. The elegant environment and music were great.
May 2015
Excellent fun ...patient teachers ....great instruction!
April 2015
As the only ones there we had a private lesson which lasted longer than scheduled. Really good fun as a complete novice dancing with a more experienced partner so suitable for all. The instructor was wonderful escorting us to the underground when we asked for directions and recommend places to visit.
January 2015
We had a blast.
This is a must do if you're ever in Vienna.
December 2014
Extremely good teacher. Excellent event
Advertisement
Advertisement