Sip and swirl fine Austrian wine on this 1-hour private tasting in Vienna. Make your way to the Augustinerkeller, a historic wine cellar and restaurant run by the Bitzinger family. One of the last remaining monastery cellars, the Augustinerkeller dates back to 1884 and serves as an intimate setting for your tasting. Settle into your seat and sample four local blends as you learn the unique characteristics of each. A traditional snack will be served alongside your tasting.
Highlights
Private wine tasting in Vienna at Bitzinger's Augustinerkeller
Enjoy tastings of four different wines – two whites and two reds
Soak up the historic ambience of the traditional Augustinerkeller, partially located in the vaults of Vienna's old city wall
Learn a bit about the wines, including the different grape varieties that go into them like riesling and merlot
Discover what makes Austria's wine country a good grape-growing region
What You Can Expect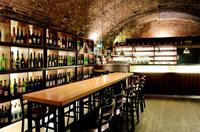 A historic spot in central Vienna, the Augustinerkeller is one of the last remaining wine cellars once used by monks. Transformed into a restaurant in 1924, the Bitzinger family has been keeping Austrian hospitality alive there since 1954.

Make your own way to the Augustinerkeller to begin your wine-tasting experience. Located beneath the Albertina museum, the restaurants sits inside the well-preserved vaults built into Vienna's old defense wall.

Head to the wine-tasting shop, where you'll enjoy an atmosphere of rustic brick walls and a crystal chandelier, designed by renowned architect Hans Hollein. Settle into your reserved seat and enjoy a sampling of a chardonnay, a white blend, a merlot and a pinot noir, all hailing from the region. Learn about the wines from your server as you sip, and nibble an accompanying snack of bread with pepper spread.

If you'd like to stay for a meal after your tasting (own expense), notify your server to continue your afternoon or evening with more wine, traditional dishes and live music.
Leslie H United States of ...
February 2016
So glad I did this! So worth the time and money. Great host, wonderful vineyards, fantastic meal at the end.
January 2014
Casual wine tasting-nice environment-god wines.
We have used Viator in Austria, Italy, Japan, Hong Kong, and expect to use then again in The Holy Land in December. This is a company with a good track record that we trust.
S Bina Rai S Malaysia
June 2016
I was the only person on this and wished I had not signed up for it. The Auugustinekeller was interesting enough to just walk in for a glass of wine. Here I was offered 4 glasses and a sheet of paper describing the wines. there was absolutely no other interaction. Not something I would recommend. I was vegetarian so they were kind enough to substitute the salami for some vegetarian option.
March 2016
The wine was good, but the staff didn't present it. They only gave us a printed out sheet to describe the wines and they didn't pour it for us. We're a younger crowd and didn't feel like they treated us with the professionalism that they would use for an older group. They rushed the experience also they didn't even give us enough time to finish the previous glass of wine before setting down the next jug, and were eager for us to go when we were done. I would not recommend this tour.
February 2016
Really don and #39;t bother it is basically 4 very small glasses of wine and a bit of ham. It would have helped if someone had actually talked to us but we got shown to a seat handed a piece of paper in German (apparently saying what the wines were) and they bring the glasses again not saying anything.
Michael C United States of ...
October 2015
Not as expected had to call to find where to meet to told to go into restaurant. Sat down given 4 wines to try no explanation of the wines.
March 2015
No guide or conversation, only 4 wines slapped on table! Go elsewhere..
June 2014
The venue seemed to have no idea what I was talking about when I showed up with my voucher. They put us at a table in the corner, forgot about us for a long time. I finally had to go find someone to actually bring us wine. They gave us a printout of 4 wines - dropped off glasses with a tiny amount of wine in them (only enough for one sip) - didn't tell us which was which. Then I asked when our 'snack' would be arriving - after several more minutes, they brought some dry bread and a pickle.
As far as I can tell, you provided no service - there was nothing special, no tour - nothing as I expected. It was probably the worst hour of my entire trip. I would never recommend your company or this tour to anyone - in fact, I would tell them never to use you after my last two interactions with your company.
January 2014
This was not a great experience. Indeed it was probably the worst experience we had on our whole trip. We were excited to get to try wines and learn a little bit about them. When we presented our voucher the host seemed very confused. After some talk with the bar tender he came over and slapped down a piece of paper (written all in German) that I think was supposed to tell us about each wine. He then poured us tiny, tiny (even by tasting standards) "glasses" of wine, without telling us which one on the sheet we were supposed to be tasting. It is also worth noting that we requested the tour in English- and thus the paper was useless anyway. After our four "glasses" which amounted to about 4 ounces total of wine we left, very unhappy. This was not only a gigantic waste of money, but not at all what it was advertised to be. We found other Kellers in the city with much more reasonable prices, and that were much friendlier and actually told us about the wine we were drinking... they even gave us real glasses of wine! I wouldn't recommend this to anyone visiting Vienna... Very unsatisfied. Will not be booking anything through Viator again.
January 2014
Upon mentioning to the staff that we were there for the wine tasting, they appeared confused at first and then sat us down and gave us one sample of the four wines although there were two of us. I mentioned that I had paid for two people, to which the waiter responded that he would bring the second round after. I said that this was unacceptable after which he begrudgingly brought the second serving. The only explanation was a small piece of paper listing the four wines, available only in German. There was zero input from the staff, no explanation, and we were completely left to our own devices. There appeared to be absolutely no infrastructure in place to run a professional wine tasting. This was by far the most unacceptably poor tour I have booked through this site.
Advertisement
Advertisement