Explore the vibrant city of Vienna on a 3-, 5- or 7-hour private tour. Led by an expert guide, travel along the famous Ringstrasse to see the Vienna Rathaus and other top attractions, while learning the rich history behind the Austrian capital from your private guide. Pass the multi-hued Hundertwasserhaus and the opulent grounds of the Schönbrunn Palace. Opt for the 7-hour tour to include a trip to the wine town of Grinzig and to Belvedere Palace.
Highlights
Private Vienna sightseeing tour with an expert local guide
Choose from three different itineraries with a duration that suits you best: 3 hours, 5 hours or 7 hours
Learn about Vienna's Imperial history on a tour of the Ringstrasse, seeing sites like Vienna Rathaus
See the lavish former home of the Habsburgs – Schönbrunn Palace
Explore Vienna's historical center on a 2-hour walking tour and visit attractions like St Stephen's Cathedral (5-hour and 7-hour tours only)
Visit Belvedere Palace and the village of Grinzig (7-hour tour only)
Why Our Insiders Chose This Tour
There's no better way to discover Vienna than on a private tour where the guide only shows attractions that you are interested in. My absolute favorite is Hundertwasserhaus – one of a kind!
What You Can Expect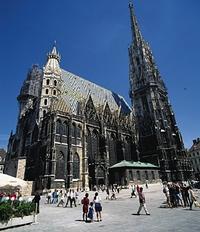 Your private tour will begin with pickup from your hotel in central Vienna. Travel by luxury minivan around the city, spotting top attractions and soaking up commentary from your guide. See the Itinerary section for details on each of the three tour options, all of which can be specially tailored to your interests. Your 3-, 5- or 7-hour tour will conclude back at your Vienna hotel.
Itinerary
3-Hour Tour:
Get to know the glory of Imperial Vienna – once the center of the powerful Habsburg Empire – on a route around the city's famous Ringstrasse. Home to palatial monuments a plenty, the ring road boasts grandiose buildings like Vienna Rathaus, the city's beautiful town hall.

Travel through Vienna's chic Vorstadt Lanstrasse neighborhood, seeing quirky sights like Hundertwasserhaus – a funky apartment building designed by the radical Viennese designer Friedensreich Hundertwasser. Then, contrast its cutting-edge architecture with Roccoco resplendence on a visit to Schönbrunn Palace -- Vienna's must-see site. Entrance is at your own expense but once inside, your guide will introduce you to the best of the palace's 40 public rooms, and regale you with little-known tales of the eccentric Habsburg residents.

5-Hour Tour:
After seeing the sites of the 3-hour tour by minivan, head into Vienna's historical center to explore by foot. On a 2-hour walking tour, your private guide will lead you through the heart of the district to see attractions like Hopfburg Imperial Palace -- where the Habsburgs ruled for centuries -- and St Peter's Church, Vienna's Baroque masterpiece. Explore the cobblestone lanes of the old Jewish quarter while learning about the Jewish community in the city, and then finish up with a visit to St Stephen's Cathedral.

7-Hour Tour:
Start your day with a 2-hour walking tour of Vienna's historical center, seeing all the sites visited on the 5-hour tour, as well as the Greek Quarter (Fleischmarkt), where you'll stop to visit the city's oldest church – St Rupert's. Rest with a coffee in the prestigious Café Demel on Graben Street, and then take a break for lunch (both at your own expense).

Meet back at a pre-arranged time, and then tour the Ringstrasse by minivan while learning about its Imperial monuments. Head through Vorstadt Lanstrasse to see Friedensreich Hundertwasser's eye-catching Hundertwasserhaus building, and then visit Schönbrunn Palace to marvel at its splendour – Vienna's answer to Versailles! Continue to Belvedere Palace, and explore its Baroque complex that comprises an Orangery building and the Palace Stables.

Finally, travel to the nearby village of Grinzig, famous for its heurigen -- Austria's traditional wine taverns. Stroll around, learning about the country's wine production, and then hop back into your minivan for a drive through Vienna Woods to Kahlenberg – the city's highest hill – to admire picture-perfect vistas of beautiful Vienna.
June 2016
Natalie was absolutely superb in her role as our private guide. Her knowledge, delivery, joie de vivre and ebullience ensured we had the greatest value received for our time together. Vienna is a must see bucket list city and, like New York, Paris, Florence and others, it's one that takes multiple visits to fully appreciate. Natalie ensured we were able to see everything one could see in a day and yet still take enough time in each place that we were able to appreciate what was there to be seen and experienced.
June 2016
Loved our tour. Anna was a wonderful guide!! It was a though we were with a wonderful friend who was incredibly knowledgeable about her topic. Our driver was terrific too!! You have a devoted client!!
May 2016
Our guide was knowledgeable and personable. She was timely and her commentary was not rote.
May 2016
AnnaLisa was an excellent guide! She was friendly and gracious. She had an amazing grasp of history and art. Vienna's past came alive through her recounting stories and insights not just name and dates.
May 2016
While the cost of this tour is not cheap, the tour was worth every penny of the cost. Our private guide yes, it was a private tour for my wife and myself met us at our hotel with a Mercedes van and a driver. Our guide was Cornelia Madl and she was terrific and full of little known detail about the sights of Vienna. She was careful not to take us to sights that we had previously seen and we found many real gems with in the city. We had the van and driver for 3 hours and our guide Cornelia for five hours. I would recommend this tour.
May 2016
This was a wunderbar way to start our stay in Vienna!!! We booked the 5 hour tour and the combination of private car and walking was perfect. We were only staying in Vienna for 3 full days and this tour helped us cover a lot of terrority in a short amount of time. Our driver Mario provided us a safe and comfortable ride. But most of all our guide, Andrea, was VERY knowledgeable and provided SO MUCH information on Vienna sites and the history. We cannot thank her enough for making this tour the best!
April 2016
Excellent tour! Our guide was very informative and shared many sites and places that we would not have seen on our own. This a great way to see Vienna if you have limited time.
April 2016
Alex delivered exactly what we wanted. His depth of understanding on the historical and the current gave us an excellent idea of what we wanted to tour in more depth. Gained a great appreciation of the city and its current. Wouldn't have done it any other way
Debra L United Kingdom
February 2016
Verygood value for money. Our Personal Guide was exceptionally informative, very accommodating to any of our requests and did his upmost to make our afternoon in Vienna one to remember.
Punctuality was excellent and the vehicle used spotlessly clean and roomy. Would not hesitate to recommend this Tour.
October 2015
I could not wait to write this review given how great it was. Cornelia, our amazing guide, was so kind, patient and courteous. She allowed us to customize the tour as we like. Also, she was careful to use every minute without wasting any second. The driver was also so kind and was in no hurry to drop us off. At the end of the tour we have seen almost all of Vienna, learned lots of information and realized how sweet, polite and cooool the Viennese are, as Cornelia was.
Advertisement
Advertisement