Discover Vienna's coffee culture with this tasting experience at the Augarten Palace and Café Museum. Sample different coffees and desserts at the Café Museum, a coffeehouse over a century old and formerly frequented by Gustav Klimt. Then, enjoy a tasting at the Augarten Palace, topped off with a tour of the prominent Augarten Porcelain Factory. This Vienna experience can be enjoyed over the course of two days (consecutive or non-consecutive) and includes a coffee poster for you to bring home.
Highlights
Vienna coffee-tasting experience over two days
Discover Vienna's famous coffee culture!

Sample three different coffees, plus a trio of desserts, at the historic Café Museum
Tour the renowned Augarten Porcelain Factory on the grounds of Augarten Palace
Enjoy another cup of coffee and piece of cake at Augarten
Receive a souvenir coffee poster

Small-group tour of the porcelain factory is limited to 15 people, ensuring a more personalized experience

What You Can Expect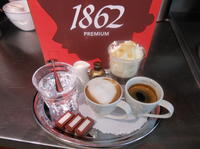 Soak up Viennese culture as you treat your taste buds to an array of traditional cakes and coffees at two unique locations. This small-group tasting tour can be enjoyed over two days and is limited to 15 people to ensure an intimate experience.
Itinerary
Day 1: 11am at Cafe Museum
Make your own way to Café Museum, a five-minute walk from the State Opera. When you arrive at the legendary coffeehouse, simply hand over your voucher and sit down to enjoy a selection of three coffee specialties (an espresso, a melange and a 'Mozart coffee') with an explanation of each from your waiter. While you sip and compare your coffees, soak up the sophisticated cafe atmosphere and indulge in your accompanying Viennese Trio – an assortment of three Viennese desserts! When you're finished, you'll receive a souvenir poster displaying different types of coffee.

Day 2: 10:15 am or 11:30am at Augarten Palace
After making your way to Augarten Palace, a Baroque stunner set amid a lovely park, meet your guide and take a one-hour tour of the on-site Augarten Porcelain Factory. One of Europe's oldest and most famous porcelain manufacturers, Augarten is known for its delicate and graceful shapes, clean lines, and exquisite details. During your small-group tour, learn about its history, which dates back to the early 1700s, as well as the production process, from the raw material to the finished, painted product.

Following your tour, relax with a cup of coffee and piece of cake at the Augarten restaurant Décor, where you can enjoy the elegant ambience of the terrace.
March 2014
Great way to taste desserts and coffee.

July 2013
This tour gets 4 stars from us because of the Cafe Museum. We had a hard time finding the place, but that wasn't their fault. But by the time we found it, my husband was in a less than pleasant mood, so I was apprehensive that it would get better. However, the manager of the cafe came over, sat us in a reserved booth, and have us a wonderful introduction to the history of the cafe and the owners. We had a lovely time, tasted several amazing coffees, which he explained how they were made and what made them different from other coffee. Vienna has lots of different styles of coffee, and all of them were explained. We really had a lovely time. I could have spent the rest of the day there. We were made to feel welcome, and comfortable, like you were one of the family. Loved it. Since the family that owns this cafe also owns many others in the city, we would have loved to have visited the others since they are all different. I would recommned to Viator to see if that could be put together. As for the Porcelain factory, it was an interesting tour,but it was not easy to get to, and we had a hard time finding a cab to come back. they gave us a coupon to have coffee in their cafe, but it really lacked the style and warmth that the Cafe Museum had, so it was a bit of a disappointment after visiting there.
August 2015
This is a self guided tour over two days. You make your own way to a lovely coffee cafe and sample coffee and cakes. Really excellent. Anytime during the next five days you go for a tour of a porcelain factory and get coffee and cake after.
August 2015
This was a little disappointing. The first tasting was very unremarkable- the waiter seemed surprised to see us despite having pre-booked the time, and then three coffees and pastries were just delivered to the table with no explanation of which was which. The poster was interesting however. The second day the porcelain tour was a little disorganized as well. It took a while to explain why we were there, although it was at the appointed time for the tour we were instructed pre-booking was not needed. They did manage to find an English speaking guide however and the tour was well worth it and informative. The setting for dessert and coffee outside was lovely and worth going as well.
Advertisement
Advertisement