35 Reviews
Location:

Vienna, Austria

Duration:

2 hours

(approx.)
For a typical Viennese experience, book your tickets for the Vienna Mozart Concert at the Vienna State Opera. Dressed in historical costumes and wigs, the Vienna Mozart Orchestra brings the 18th century to life - it's the perfect way to enjoy a little Mozart while you're in Vienna!
Highlights
2-hour performance at the Vienna State Opera House

Enjoy music from 30 musicians from top Viennese orchestras

Choose from five seating categories for your concert

Upgrade to the VIP package and enhance your evening with a pre-concert meal and best category seating

Recent Photos of This Tour
What You Can Expect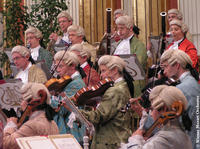 Likely to Sell-out! Performances at the Vienna State Opera House regularly sell out weeks in advance. Book ahead of time to avoid disappointment.

The Vienna State Opera House was opened in 1869 with a gala performance of Mozart's Don Giovanni. It has since become one of the world's leading opera houses. Many great musicians have held the post of director, among them Gustav Mahler, Richard Strauss, Herbert von Karajan, Karl Bohm and Lorin Maazel.

Choose from Category A, B, C or Superior tickets. Or indulge in the VIP package which includes the following:
Gourmet menu at the Restaurant Bristol at Mahler Strasse
Fiaker drive from the restaurant to the concert hall
Best-category seating for the concert
Glass of sparkling wine or soft drink in the VIP area of the concert hall
Backstage gathering with the performers
Attendance by a Mozart page
Cloak room fees
Itinerary
The program of the Vienna Mozart Concerts is characterized by a very accurate selection of the works. The artistic conception giving ground to the musical sequence of overtures, arias, duets, movements of symphonies and concerts offers powerful insight in the titanic works by Wolfgang Amadeus Mozart.
Performers
The Vienna Mozart Orchestra includes 30 musicians from the best Viennese orchestras; 2 opera singers (soprano and baritone) from the Vienna State Opera and Volksopera; and 1 soloist for piano, violin and flute.
Orchestra, conductor and singers perform in period costumes
Formerly the winter residence of the Habsburgs, the Hofburg has a unique situation among the great festive halls in Vienna. It was here that the Emperor entertained his guests. Modern technical systems, such as air-conditioning have been successfully integrated into this magnificent hall.
History of the Vienna Mozart Orchestra
The Vienna Mozart Orchestra was founded in 1986 by musicians from the best and most famous Viennese orchestras and from various chambers music ensembles. The artists all shared the aim of preserving the musical tradition and the cultural of Vienna by dedicating themselves to the cultivation and representation of symphonic chamber music of the Viennese Classical Period.
As the name Vienna Mozart Orchestra implies, the 30 musicians devote themselves exclusively to the works by Wolfgang Amadeus Mozart, the most accomplished representative of that period who, though born in Salzburg, found his home in Vienna. The orchestra's repertoire ranges from all of Mozart's symphonies to a great variety of his instrumental concertos (for violin, piano and wind) to arias and duets from his most famous operas.
Below is an example of one of the 80 different programs:
WOLFGANG AMADEUS MOZART
"Don Giovanni", K. 527
Overture
Duettino Zerlina - Don Giovanni
La ci darem la mano
Donna Elvira's aria: Mi tradi
Don Giovanni's aria: Finch' han dal vino
Posthorn-Serenade, D Major, K 320
6th movement: Menuetto
Violin concerto No. 5 A Major, K. 219
1st movement: Allegro aperto
2nd movement: Adagio
3rd movement: Rondo, Tempo di Menuetto
* * * * I N T E R V A L * * * *
"The Marriage of Figaro", K. 492
Overture
The Count's aria: Hai gia vinta la causa!
Duet Susanna - Count: Crudel! perche finora
Symphony No. 40, g minor, K 550
1st movement: Molto Allegro
"Cosi fan tutte", K 588
Fiordiligi's aria: Come scoglio
Eine kleine Nachtmusik, K. 525
1st movement: Allegro
"The Magic Flute", K. 620
Papageno's aria:
Der Vogelfanger bin ich ja
Duet Papageno - Papageno: Pa - pa
JOHANN STRAUSS:
"The Blue Danube" - Waltz
Radetzky March
Please note this is a sample program which is subject to change without notice
September 2015
This was incredible. Beautiful theatre, wonderful show.
July 2015
Show was excellent, with the soprano being stellar. Seats were fabulous.
Selections were light and enjoyable for all ages. A wonderful memory of our trip.
July 2015
Excellent experience. The orchestra was excellent with a very animated director. Sometimes the music was accompanied by one or more singers and for a while, there was a choir as well. Overall, excellently done. A couple of caveats. First, pick up your tickets an hour before. If you wait until 15 minutes before, as intimated on the paperwork, you will be in a horrible, not particularly well organized, line. Second, when booking tickets take care not to sit in the first 5 rows unless it will be in the very center. We were first row, but far left, so we really couldn't see anything that was happening on the right side.
September 2014
This was an excellent evening. The dinner was superb, the concert excellent, and the volunteer who shepherd us through it was wonderful. A hotel pickup would have been nice.
September 2014
very uplifting concert! lovely night out.
I think that online description of Electronic Vouchers failed to explain that these vouchers have to be presented in the ticket office across the road from Opera House, so that you get SEAT NUMBERS.
We discovered it just by chance. Seat numbers are important - we were presented with available choices and selected the best available at the time ( morning of the concert day).
August 2014
Very interesting concert in a great location, with an amazing orchestra! Good selection of Mozart masterpices. A magic experience to do in Vienna. I totally suggest it!
September 2013
Great experience and more than worth it!
August 2013
It was an interesting experience! The concert at the State Opera of Vienna shouldn't be missed!
August 2013
It was amazing as far as the music goes. Our seats were in a good location but the only problem was seating as we were in the second row so that we had to stand up to see the stage.
July 2013
Advertisement
Advertisement