Special Offer
Book this Vienna Super Saver and save up to 14% compared to booking the two tours separately!
See the best of Vienna by bike and by foot with this Super Saver, combining two popular tours at a 15% discount. Begin your morning with a guided walking tour through the Austrian capital, passing sites like the Hofburg Palace, Heroes' Square and St Stephen's Cathedral. Then continue your exploration in the afternoon by bike, following your guide around the famous Ringstrasse and to the Prater amusement park.
Highlights
Combine two bestselling tours and save 15%
Discover Vienna by both foot and bike in one day
Start your day with a morning walking tour, learning about Vienna's history and culture from a friendly guide
See top Vienna attractions like Heldenplatz, the Spanish Riding School, St Stephen's Cathedral and Hofburg Palace
Cycle around the Ringstrasse in the afternoon, passing Vienna Opera House
Ride around Prater, Vienna's famous park, and pose for pictures in front of the Riesenad Ferris Wheel
Recent Photos of This Tour
What You Can Expect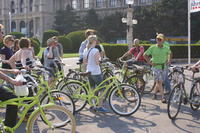 Vienna City Walking Tour (2.5 hours):
Your morning will begin in central Vienna, where you'll meet up with your guide and set off on a walking tour. Travel at a relaxing pace as you pass Heroes' Square, where Hitler delivered his 'Anschluss' speech in 1938, and Sacher Café, celebrated for its delectable chocolate cake. You'll also see St Stephen's Cathedral, Hofburg Palace and the Spanish Riding School, home to Lippizzan horses practicing classical dressage.

As you journey around the city, learn about each historic site and architectural gem. Your guide will regale you with stories of the city's Roman roots, involvement in the World Wars, rich culture and more.

Your tour will conclude near St Stephen's Cathedral. Enjoy a 2-hour break to purchase lunch and relax before your bike excursion begins.

Vienna Highlights Bike Tour (3 hours):
After enjoying some free time, join up with your guide in the center of the city and listen to a brief safety overview. Then, hop on your bike and follow your guide toward the Ringstrasse. Cycle around this famous street and see stunning Viennese architecture, including the House of Parliament, City Hall and Vienna University.

Admire the Neo-Classical design of the Vienna Opera House, and spot the bright hues of the Hundertwasserhaus, a vibrant apartment building designed by Friedensreich Hundertwasser.

Top off your tour with a stop at the Prater amusement park, where you'll see the Giant Ferris Wheel, an iconic structure in the city's skyline. Your tour will conclude at your original departure point.


June 2016
Amazing tour! Great Guide. Helpful Info. Saw a lot of Vienna you cannot see on a regular walking tour.
Recomendid !!
Be sure to do walking plys cycling because it givee you an insight on interior and around of vienna.
Both gudies amazing!!
Good break in between two tours for some rest and food.
June 2016
Both the walking tour lead by Cornelia and the biking trip lead by Horst was fabulous! Highly recommend them both but the cycling was a great way to see more of the city.
October 2015
Our Family of Four took the 3 hour afternoon bike tour with Kaspar. This was the perfect way to see the city, and we got to see many things, we would have otherwise missed, like the hotel with all the nuclear discussions in the news. Kaspar loves Vienna and his enthusiasm is infectious. Everyone enjoyed the exercise of cycling, not too challenging physically. Kaspar gave the perfect amount of historical information and stopping at the sights interspersed with the cycling. We loved the experience, and will ask for Kaspar, when we visit Austria again. Highly Recommended.
September 2015
Great guide. Very nice to use the bike in the city!
September 2015
If you want to get to know vienna these tours are the business both guides were good and you get a real understanding of vienna and it's history

September 2015
This was an excellent tour Walter is a great guide very knowledgable with good sense of humor we covered so much but only scratched the surface this tour is must see in if you are visiting Vienna highly recommended
August 2015

August 2015
Awesome, enthusiastic guide with good information on some great stops. I especially enjoyed our ride along the Danube River bike trail....an unexpected bonus!
July 2015
Fabulous tour! Good way to be introduced to main city highlights by foot and then by bike!
June 2015
My wife and I did this tour in May 2015. The Walking Tour was about 4 hours long. We walked around many parts of the city, our guide explaining us the history of the place, along with tons of snippets. We covered much more than the main city attractions, including some spots which otherwise as a tourist we'd never know/visit. For ex. the wine cellar, which was underground and was huge inside. The tour ended up at Stephansplace which is a big touristy square bustling with shops, restaurants, etc. We had an hour before the bike tour, so this was a perfect place to grab lunch.
The bike was in the second half of the day. Our guide Walter was an energetic, loud and quite entertaining. Having walked for 4 hours earlier, it felt good riding around town. The bikes were comfortable with bins at the rear of the bike to put your backpacks while riding. We rode through an amusement park, which had the oldest Ferris Wheel, then through a large city park, along the Danube canal, to the Hofburg Palace, to the public quarters apartments, then to Mozart, Beethoven's house, the Parliament, etc. The list was endless and we ended up riding for over 4 hours. It felt we'd seen every street of Vienna.
The best part was that there was very little overlap of places between the walking tour and biking tour. Else it would've been redundant and boring. The walking tour was ok but the biking was a lot of fun. We must have covered thrice the distance compared to the walk. The weather was beautiful and Vienna by bike is simply amazing. By the end of the day we were quite tired but it was total value for the entire day's time. Highly recommend the biking tour !! In one day what we covered by walk and bike, individually would've taken us 3-4 days for sure. Value for time and money, must do !!!
Special Offer
$50.75 Save $6.77
Advertisement
Advertisement