Discover a remarkable collection of Soviet-era sculptures on a 6-hour private tour of Grutas Park. As the Lithuanian independence movement toppled Soviet statues across the country, many were transported to this 50-acre (20-hectare) garden, also known as 'Stalin's World.' Walk between the park's poignant 'spheres,' whose themes include totalitarianism, occupation, terror and death, and learn the painful history of the Lithuanian SSR.
Highlights
Private tour of Grutas Park

Discover the history behind Lithuania's sculptures

Learn about Lithuania during the Soviet period

Explore many of the parks Soviet Sculptures

What You Can Expect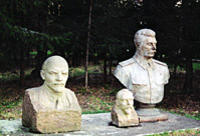 Monumental sculptures and bas-reliefs displayed were erected in majority of Lithuanian cities and towns during the Soviet period.
Advertisement
Advertisement