At over 400 km2, Lithuania's first national park (1974) offers a breathtaking break away from it all. Thirty rivers, over one hundred lakes, large wooded areas featuring 200-year-old-plus oaks, marshes, and villages entirely overlooked by the creeping claws of progress all make for the ideal antidote to life in the last lane.
Highlights
Experience a breathtaking tour of Aukstaitija National Park

Walk along some of the parks 30 rivers, lakes and woods

Visit the Ancient Beekeeping museum

Taste and sample some of the museums delicious honey

What You Can Expect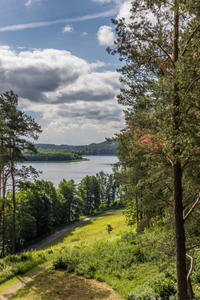 What is interesting to see in the National Park? Ginuciai Water Mill - supposedly haunted by the devil, and nearly 200 years old, the water mill is the only one in the region that has preserved all its original working apparatus and visitors are free to look around. Ladakalnis - with a peak that measures an impressive (for Lithuania) 175 m, Ladakalnis offers sensational panoramic views of the dense forestland and lakes below. Ancient Beekeeping Museum - founded in 1974 by Bronius Kazlas the Beekeeping Museum is one of the oddest things you'll ever come across.
Attracting around 10,000 visitors annually the museum, situated in a rustic cottage, depicts the art of bee-keeping throughout the ages, as well as exploring its spiritual links. Guests are welcome to sample their honey at the end of their visit.
October 2014
October 2014
The guide and driver got lost a number of times. We sent a lot of time stopping and asking others where we were and how to get to the places we were to see. The countryside was beautiful, so it was nice to see the countryside, but the the other stops were just ok.
Advertisement
Advertisement