Discover the rich historical heritage and stunning natural surroundings of Trakai, an idyllic island home to an ancient architectural array, on a full-day private tour from Vilnius. With a knowledgeable private guide, discover the 15th-century Trakai Castle and enrich your knowledge of the lakeside resort's varied ethnic groups and culture. Admire the glittering surface of Lake Galve and stroll past antique monuments scattered through the city. Receive the undivided attention of your guide on this private tour.
Highlights
Private tour of the historically rich Trakai

See some of the most historical-achitectual monuments in Lithuania

Visit a 15th century castle and museum

Discover the only island based castle in Eastern Europe

What You Can Expect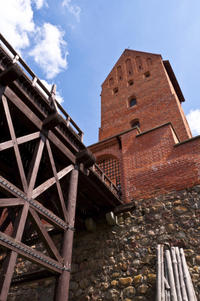 Depart from your centrally located Vilnius hotel in a comfortable, air-conditioned vehicle destined for Trakai. Relax during the 18-mile (29-km) journey to the island and admire stunning Lithuanian scenery as your guide shares intimate knowledge of the area.
On arrival, head straight to the 15th-century Trakai Castle to explore Eastern Europe's only island castle. Delight in the ancient majesty of one of Lithuania's most popular attractions and hear of the fortress's rich historical heritage as you enjoy a guided tour of the castle.
Enrich your knowledge of Trakai's cosmopolitan culture by learning of Karaites, a small Turkish ethnic group whose influence is evident in distinctive structures. Spend some leisurely time strolling the picturesque island resort and bid your guide farewell after drop-off at your Vilnius hotel.
August 2015
This was an excellent tour to take. The guide, Natalia, was very informative and helpful. Being able to choose a pickup time was very nice - we chose a 9am pickup, and the guide/car was prompt. Arriving early at Trakai was advantageous due to the crowd that arrived later in the day. I highly recommend this tour.
August 2015
What a beautiful picturesque spot! Just wish we had more time there. Maybe in the future Viator will offer a full day trip there. Just a short ride for Vilnius. Great guide and driver!!!

YOLANDA CORTES Puerto Rico
May 2015
Eduard K USA
October 2014
October 2014
Beautiful place! The guide was very informative and a delight. We had time to walk around the area and our guide recommend a very nice place for lunch.
October 2013
Victoria, our guide, made our trip to Trakai memorable...full of information and commentary. Loved it.
February 2015
A great tour from the City and into the countryside. Again my guide was fantastic the same as I had on the Vilnius City Sightseeing Tour and provided me with plenty of time to explore Trakai after showing me around and giving me a good overview of the history. Well worth the day trip.
Antonio Portugal
September 2014
The place requests more than a couple of hours to visit. It was a quite good guide but we had to rush
Rebecca M USA
July 2010
Our guide was great! Very knowledgeable and helpful. She is a great asset to the tour company.
Advertisement
Advertisement