See the best of Warsaw on this 4-hour city sightseeing tour. Hop aboard a comfortable bus and travel past major landmarks including the Ghetto Memorial, the Grand Theatre and more. Take a ride along the Royal Route and spot the impressive architecture of the aristocratic residences and historic churches. After a half day of exploration, you will be returned to your Warsaw hotel.
Highlights
Half Day City Sightseeing Tour of Warsaw

Admire historical landmarks such as the Ghetto Memorial and Chopin's Monument

Visit the Tomb of the Unknown Solider

Walk along the Royal Route, home to Warsaw's aristocrats
Recent Photos of This Tour
Half Day City Sightseeing Tour of Warsaw
What You Can Expect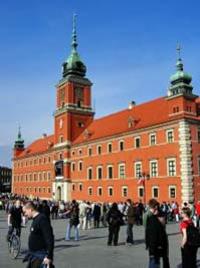 Your 4-hour tour will depart from your central Warsaw hotel. Hop on your bus and journey through the city streets, passing the Monument of Warsaw Uprising, the Belvedere Palace and the Tomb of the Unknown Soldier. You'll also see other historical sites such as the Ghetto Memorial, Grand Theatre and Chopin's Monument.

When you arrive in the historic Old Town, step out on foot for a walking tour of the city. Admire the Castle Square, St John's Cathedral, King Sigismund's Column, the Old Town Market Square and the Barbican.

After a full morning of discovering Poland's capital city, you will be returned to your Warsaw hotel.

November 2015
This tour gave you a great overview of Warsaw and the tour guide was very knowledgeable and interesting. There were several opportunities to get off the bus and explore further, which gave you a much more in-depth view.
A word of warning to those who have difficulty walking - there were two 45 minute walks during this tour, which were at a reasonably slow pace but may cause issues for those who can't walk that far. I have a back condition and was a bit concerned when this was mentioned, as I had thought it was a bus tour but in actual fact I was fine on the walks and the tour guide only took it as fast as the slowest person so you didn't miss out on anything.
The first walk was around Lazienki Park which was beautiful and well worth a visit, including the monument to Chopin and the Palace on the Water. The second walk was around the Old Town which again was lovely and definitely worth seeing. You could stay in the Old Town at the end of the tour rather than return to your hotel and if the weather had been better this would have been nice to do. However, on our tour there was torrential rain for the latter half, so most of us chose to go back to the hotel!
You also got the chance to get off the bus at the monument to the Jews in the old Jewish ghetto, which was very moving and the tour guide was excellent in describing the horrors of war for this population. The tour gave a really good insight into the history of the city and the country itself.
Overall, I would highly recommend this tour for those new to Warsaw who want a good overview of all the key sights, so you can decide what you want to explore further yourself at a later time. Moreover, the pick-ups and drop-offs at the hotel were very smooth and even though I was one of the first pick-ups you didn't feel like you had to wait for your tour to start until everyone was there, as the tour guide started explaining things and pointing out interesting sights immediately.
November 2015
Very good value for the money. Our tour guide is very knowledgeable and provided a lot of good information about the places visited.

October 2015
This was a great tour and learning experience about Warsaw. My guide was excellent and told many stories of life in Warsaw during the war and communist rule. I would highly recommend you taking this tour.
October 2015
Artur was superb. This was a well-planned tour with an excellent guide.
September 2015
This was a very scenic and educational tour of Warsaw. Great guide who was passionate about sharing the history of this great city. I would highly recommend this tour to anyone visiting Warsaw.
July 2015
Excellent tour, excellent organization and very friendly tour guide

tmorizuka Japan
July 2015
As we were five in the group, each of us got more personal attention from our guide.
I found our tour covering so many and so much and so interesing that I would not mind paying more for 4-5 hour.
DougallGoogle Australia
September 2014
Great tour guide...and a really interesting city.
February 2014
very personalized tour/ One of the best. can recommend to friends

December 2013
The bus picked me up quite promptly. We had a lovely tour guide who took us through all over Warsaw including memorial sights for the holocaust. Our tour ended with our group walking through Old Town. The bus then took us to everyones hotel.
Lovely tour and really got to see the sights of Warsaw. Highly Recommended.
Advertisement
Advertisement