Learn about Poland's communist history from a private guide on a 4-hour tour of Warsaw by Nysa 522 car. The colorful communist-era cars are a much loved sight in Warsaw, so enjoy the admiring glances from locals while traveling around town learning about Warsaw's socialist roots. See fascinating examples of communist architecture such as the Palace of Culture and Science (PKiN building); hear the history of sites like Constitution Square (Plac Konstytucji); and visit a communist-era flat to sample snacks reminiscent of bygone days.
Highlights
4-hour private communist Warsaw tour by Nysa 522 car
Hear about significant events in Poland's communist history, like the soviet-run elections after the Second World War
Walk through Constitution Square (Plac Konstytucji) and learn about its socialist architecture
Visit key communist sites such as the Palace of Culture and Science (PKiN building)
Head inside a typical communist-era flat and sample snacks reminiscent of Poland's socialist days
Enjoy personalized attention from a private guide

Why Our Insiders Chose This Tour
If you are a history enthusiast, this tour is an absolute must-do experience! You will gain an insight into Warsaw's communist days that no history book can provide.
What You Can Expect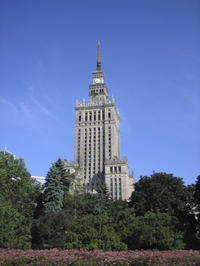 Start your afternoon tour with a pickup from your central Warsaw hotel. Meet your friendly private guide and hop inside your colorful Nysa 522 – Poland's much-loved communist-era car – and relax as your guide navigates the streets of Warsaw.

As you travel, learn all about the city and its fascinating communist past. Poland became a communist regime following the end of WWII in 1947, after a series of Soviet-run elections. After nearly a decade, the suppressed citizens of Poland started to riot, yet it wasn't until 1989 that Poland's communist regime actually fell.

Hear tales of prominent communist-era figures who were pivotal in the country's history, like Lech Walesa – the leader of the Solidarity Union party – while exploring key sites around town. Visit Constitution Square a showpiece of socialist architecture, and then stop for photos in front of the grandiose Ministry of Agriculture building at Wspólna Street.

Next stop is the Palace of Culture and Science (or the PKiN building), an imposing Stalinist skyscraper that remains unpopular with the Poles. As you explore inside, hear about its nickname, the 'elephant in lacy underwear,' a tongue-in-cheek moniker that attests to the building's size and elaborate architecture.

Travel further into town and stop to see the old seat of the Central Committee of the Polish United Workers' Party (Dom Partii), home to the once-dominant political party of Poland's communist days. After hearing about the politics that were debated out inside its walls, continue your tour to a typical communist-era housing estate.

Head inside one of the area's flats and sample snacks that would typically have been eaten during the 1950s and 60s. Down a neat shot of vodka alongside (nicer-than-it-sounds) bread with lard and pickles while watching a few short communist propaganda films. After looking around the flat and learning about life under socialist rule, hop back inside your Nysa 522, and then finish your tour at the start point.
December 2015
Best experience ever. Highly recommended. A guide with knowledge AND skills to tell us the stories in a way available for us all. Ie no need to have a history phd. Fun, easygoing and at the same time a fascination journey through a time in history that most of us outside Poland never really knew a lot about. Thanks!
October 2014

September 2015
car ride was jerky, but tour was good. Guide was informative
Advertisement
Advertisement