Enjoy a more intimate look at the vibrant city of Warsaw on this 3-hour walking tour, led by a private guide. Explore the Old Town, admire the Royal Castle and pay a visit to the former Jewish ghetto. As you travel from each attraction, learn more about the city's rich history and the imprint left by the communist era and World War II. Soak up extra attention from your private guide and a flexible itinerary, customized to your interests.
Highlights
3-hour walking tour of Warsaw with personalized attention from a private guide
Learn of key events in Warsaw's history, like WWII and the communist era
Explore Warsaw Old Town (Stare Miasto), admiring the Royal Castle and Mermaid monument
See the Ghetto Heroes Monument in the city's former Jewish ghetto
Stop for photos outside the Palace of Culture and Science, a building that symbolizes the communist era
Why Our Insiders Chose This Tour
This is a perfect tour in terms of quality and value for money! As long as two people book, you won't pay more than a regular tour. Your guide can cover all the subjects that you are interested in, be it communism, Jewish history or Polish royalty.
What You Can Expect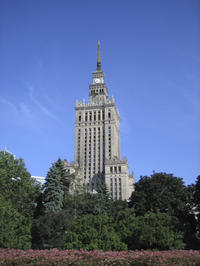 Much of Warsaw was destroyed during World War II, but the resilient city rebuilt it all, including the 13th-century Old Town. While the buildings you'll see appear timeworn, they were in fact constructed in the postwar era.

Begin your tour near Warsaw Central Station, where you'll join up with your guide and hit the streets. Head first through Castle Square to gaze up at the Royal Castle. Admire the Baroque and Renaissance architecture in Old Town Square, stopping to stroll around the Mermaid statue, a symbol of the city represented on the coat of arms. Then, head to Pilsudski Square to spot the Tomb of the Unknown Soldier, dedicated to those who have lost their lives for their country.

Continue to the former Jewish ghetto to learn more about Warsaw's Jewish community. Pay homage to the lives lost during the Holocaust at the Umschlagplatz Monument and the Ghetto Heroes Monument.

Afterward, soak up a piece of the city's communist history as you head to the Palace of Culture and Science. See the place where the party once ruled and witness other examples of Stalinist architecture.

After three hours of history, culture and top attractions, you'll conclude at your original departure point.


May 2016
Walked for 3 and 1/2 hours with Bart, who was very friendly and knowledgable about the city and its history. He was kind enough to ask what our interests were prior to starting the tour so he could tailor it to suit us best. Warsaw is a very walkable city, but has cobblestones like most European cities, so comfortable shoes are a good idea. One thing I would warn against....don't sign up for a pierogi cooking class that same day. Nearly everyone in our cooking class had had a tour earlier that day, and because e cooking class involves 4 hours of standing, I would not recommend it after 4 hours of walking the city.
All in all, every Vistor private walking tour that I have taken has been the highlight of my trip. If you have not done one yet, you ar missing out.
Jill
February 2016
A brilliant tour, our guide Jak was amazing, he was very knowledgeable and his humour was great also lovely and friendly. The time went by so quickly but was one of the best parts of our visit
December 2015
Excellent walking tour with a talented tour guide called Agata!
dheaberlin United States of ...
October 2015
Great tour of Warsaw. Warsaw old town is a fascinating city that has been completely rebuilt just as it was before WW II. Guide was knowledgeable did a great job and was flexible to arrange our private tour to cover whatever we wanted to see.
March 2015
The tour in Warsaw Old Town was amazing! and the tour's guide was knowledgeable, interesting and able to answer your inquires.

HTravelerUK United Kingdom
October 2014
Warsaw is the most fascinating city I've visited in Eastern Europe! The history is mind-blowing, and my guide certainly did it justice. He was so knowledgeable: I was totally engrossed in his fascinating and often awe-inspiring stories about World War II, the terrible impact of the holocaust and Warsaw in the communist era, but also about the famous Chopin and Poland's wonderful cultural traditions. I saw everything I wanted to see, and asked so many questions; the guide was friendly and gracious throughout. Can't recommend this tour enough!
August 2014
Our guide was very good and very informative. He was very knowledgable and considerate. Well commendable. Thank you Paulo!!
August 2014
I absolutely enjoyed the walking tour of Warsaw! Our guide, Pawel was a passionate and knowledgeable young man. His passion for Warsaw made us delve into the great story of this incredible city. I'm happy that we did the tour!
August 2014
Our guide, Pawel Szczerkowski, was excellent. His knowledge and love of Warsaw shone like a beacon. His English was exceptional and he was everything you could wish for in a guide.
Glenda B New Zealand
August 2014
We thoroughly enjoyed our tour with Pawel. He was so knowledgable about Warsaw and it's history that the three hours went quickly. He even took us to his favourite donut shop which was wonderful after 2 hours of walking. Being in a group of three made it more personal and of course easy to hear.
Advertisement
Advertisement