14 Reviews
Location:

Warsaw, Poland

Duration:

3 hours

(approx.)
Discover Warsaw's history and sights on a 3-hour private walking tour, led by a friendly local guide. The must-do tour takes in the city's pristine Old Town, former Jewish ghetto and sites linked to Warsaw's old communist regime like the Palace of Culture and Science. Hear stories of World War II, and then see how the communist party left their mark on the city. The itinerary is flexible and tailored to your interests, so if there is something you want to see more of, just let your guide know!
Highlights
3-hour walking tour of Warsaw with personalized attention from a private guide
Learn of key events in Warsaw's history, like WWII and the communist era
Explore Warsaw Old Town (Stare Miasto), admiring the Royal Castle and Mermaid monument
See the Ghetto Heroes Monument in the city's former Jewish ghetto
Stop for photos outside the Palace of Culture and Science, a building that symbolizes the communist era
Why Our Insiders Chose This Tour
This is a perfect tour in terms of quality and value for money! As long as two people book, you won't pay more than a regular tour. Your guide can cover all the subjects that you are interested in, be it communism, Jewish history or Polish royalty.
What You Can Expect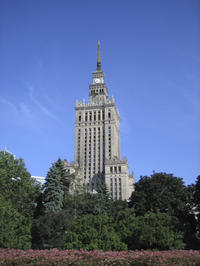 Meet your private guide near Warsaw Central Station, and then set off on your 3-hour walking tour of the city. As you amble through the streets, your guide will talk to you about Warsaw and also about the things that what you want to see in the city.

Much of Warsaw was destroyed during World War II, but the resilient Varsovians rebuilt it all, including the 13th-century Old Town. While the buildings appear old, they are all relatively new, having been built after WWII. Many of Warsaw's trophy sites can be found within the Old Town's defensive walls, and your guide will show you them while walking around.

Amble through Castle Square, and then admire the Royal Castle – an identical copy of the original 14th-century building. Stop for photos in Old Town Square with its Renaissance and Baroque-style buildings, and take a walk around the Mermaid – a monument that symbolizes the city. Marvel at Warsaw's cathedral and take photos of Poland's Tomb of the Unknown Soldier in Pilsudski Square.

Continue walking around the city's former Jewish ghetto, seeing sights such as the Ghetto Heroes Monument and the marble Umschlagplatz Monument – a poignant memorial commemorating the Jews that met their fate in Treblinka concentration camp. Learn of the chilling fates of the Warsaw Jews, and then take a look at the neighborhood's last remaining synagogue.

After WWII, Warsaw endured some 40 years of communist rule – another fascinating layer of the city's history. See Stalinist structures while learning about the culture and day-to-day life of the Varsovians during the communist era. Pose for photos in front of the Palace of Culture and Science (PKiN building) from where the party once ruled, and then start to work your way back to the start point. Say your goodbyes to your guide as you finish your tour near Central Station.
December 2015
Excellent walking tour with a talented tour guide called Agata!
dheaberlin United States of ...
October 2015
Great tour of Warsaw. Warsaw old town is a fascinating city that has been completely rebuilt just as it was before WW II. Guide was knowledgeable did a great job and was flexible to arrange our private tour to cover whatever we wanted to see.
March 2015
The tour in Warsaw Old Town was amazing! and the tour's guide was knowledgeable, interesting and able to answer your inquires.

HTravelerUK United Kingdom
October 2014
Warsaw is the most fascinating city I've visited in Eastern Europe! The history is mind-blowing, and my guide certainly did it justice. He was so knowledgeable: I was totally engrossed in his fascinating and often awe-inspiring stories about World War II, the terrible impact of the holocaust and Warsaw in the communist era, but also about the famous Chopin and Poland's wonderful cultural traditions. I saw everything I wanted to see, and asked so many questions; the guide was friendly and gracious throughout. Can't recommend this tour enough!
August 2014
Our guide was very good and very informative. He was very knowledgable and considerate. Well commendable. Thank you Paulo!!
August 2014
I absolutely enjoyed the walking tour of Warsaw! Our guide, Pawel was a passionate and knowledgeable young man. His passion for Warsaw made us delve into the great story of this incredible city. I'm happy that we did the tour!
August 2014
Our guide, Pawel Szczerkowski, was excellent. His knowledge and love of Warsaw shone like a beacon. His English was exceptional and he was everything you could wish for in a guide.
Glenda B New Zealand
August 2014
We thoroughly enjoyed our tour with Pawel. He was so knowledgable about Warsaw and it's history that the three hours went quickly. He even took us to his favourite donut shop which was wonderful after 2 hours of walking. Being in a group of three made it more personal and of course easy to hear.
June 2014
Our guide Pawel was the best. Knowledgeable, nice young man. His passion on and optimism for Poland was wonderful.
January 2014
My guide, Pawel was ver knowledgable of the entire area. He related not only significant points of the history of Warsaw, but also personal thoughts as well. It was very informative, and well worth the price
Advertisement
Advertisement