430 Reviews
Location:

Washington D.C., District of Columbia

Duration:

Varies
Special Offer
Book your ticket to explore Washington DC and receive free admission to Madame Tussaud's Wax Museum, a USD$21.50 value!
On this Big Bus hop-on hop-off tour through the heart of Washington DC, you can explore the monuments and museums on your own schedule. Take in the panoramic, 360-degree views while riding in an open top bus, and when it's time to visit your next stop—whether it's the White House, the Washington Monument, or the Smithsonian—it's easy to exit and re-board the bus at any time.

Highlights
Explore the city at your own pace with a Big Bus Washington DC hop-on hop-off bus tour

Visit the National Mall, historic Georgetown, Arlington Cemetery and much more

Travel easily between landmarks like the Smithsonian, Washington Monument and the White House

Experience unparalleled views from the vantage point of an open top double-decker Big Bus
Hop on and off at any of the 57 city-wide stops, and tour four different routes

Choose from a 24-hour or 48-hour pass

Recent Photos of This Tour
Big Bus Washington DC Hop-On Hop-Off Tour
What You Can Expect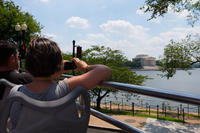 The hop-on hop-off buses all have state-of-the-art technology and an on-board guide. The double-decker bus allows you to enjoy the sun on the top level, or relax in the climate-controlled, lower level as you move between Washington DC sights. Explore must-see places like the White House, Washington Monument, and the Smithsonian at your own pace.

Choose either a 24-hour or 48-hour ticket. The buses leave Union Station every 30 minutes, allowing for ample time to discover each attraction. The Red Loop, which includes the city's top sights, runs every 20 to 30 minutes.

Explore all the corners of Washington DC at your leisure on the four routes options. The Red Loop visits the city's classic landmarks, or try the Blue Loop, where you'll cross the Potomac River and see Arlington Cemetery and the Pentagon. On the Yellow Loop, check out the historic city of Georgetown, plus several museums; or, on the Green Loop, you'll have the chance to board a traditional trolley to the National Cathedral.

For a full list of Washington DC stops, see the Itinerary below.

Itinerary
Washington DC Hop-On Hop-Off tour stops:

Red Loop

1. Union Station
2. U.S. Capitol
3. U.S. Capitol & Botanical Garden
4. American Indian Museum
5. Air & Space Museum
6. Hirshhorne Museum
7. L'Enfant Plaza
8. Smithsonian Castle
9. National Mall
10. Washington Monument
11. Bureau of Engraving & Holocaust
12. Jefferson Memorial
13. FDR & MLK Memorial
14. Lincoln Memorial & Korean War Memorial
15. Vietnam Memorial
16. WWII Memorial
17. American History Museum
18. Natural History Museum
19. National Portrait Gallery
20. Ford's Theater
21. White House
22. National Aquarium
23. National Archives & National Art Gallery
24. Liaison & Hyatt Hotel
25. Union Station
Yellow Loop

26. Union Station
27. Ford's Theater
28. White House
29. US Treasury
30. White House North
31. Mayflower
32. Dupont Circle
33. Washington Hilton
34. Georgetown Inn
35. Georgetown Canal/Shops
36. Georgetown Harbor
37. Four Seasons
38. Hotel Stop
39. Lincoln Memorial
40. WWII Memorial
41. American History Museum
42. Natural History Museum/Old Post Office
43. Marriott Metro Center
44. Convention center
45. Union Station
Green Loop

46. Washington Hilton
47. Woodley Park/National Zoo
48. Washington National Cathedral
49. Embassy Row
50. Washington Hilton
Blue Loop

51. Washington Monument
52. White House
53. WWII Memorial
54. Lincoln Memorial
55. Arlington Cemetery
56. Pentagon City Mall
57. Washington Monument
June 2015
June 2015
This was a great way to see the city!
June 2015
By taking this tour you get to see EVERYTHING! What a great tour. The buses were clean, the drivers very easy to understand when telling you about what you are seeing - take this tour!
June 2015
June 2015
We had an awesome time, were very impressed with the security measures taken in certain places. The people are very friendly and communicative with you. The only thing we suggest is to travel more in the spring or fall because it was really hot, but overall we made it work just fine. The tours were on time and no hassles whatsoever. The hotel was amazing, great spot and good service along with the hospitality was very good. The Lombardy Hotel I highly recommend it.
June 2015
The Big Bus is the best way to go my husband and I highly recommended it and you want be disappointed at all.
June 2015
Easy way to see the sites. Buses were very fast in pick up so you never wait long. Tour guides were great and very knowledgable. Highly recommend!!
June 2015
It was great. Buses were frequent and drivers were friendly.
June 2015
The routes were perfect, every guide was knowledgable and personable. Even when it rained we had a great time! Word of advice... Start with the first pickup time- the day goes quick!
June 2015
This Tour Was Amazing! We enjoyed every bit of it! Great transportation to every spot in April 16-17th were the days we visited DC! The roof made the spring ride amazing! Will do the big bus again!
Advertisement
Advertisement