Discover Colonial Williamsburg and experience all the Revolutionary City has to offer with a day pass or unlimited admission for the remainder of the year. Learn about life in colonial America and the American Revolution. Enjoy the historical reenactments and theatrical performances, the vibrant gardens and art museums, plus guided and self-guided tours of the original 18th-century buildings and homes and personal interaction with the townspeople. Food is available at a mixture of restaurants, bars, lounges and cafés. Parking is included.
Highlights
Admission to Colonial Williamsburg for 1 day or unlimited days until the end of the calendar year

Learn about life in colonial America and the American Revolution
Tour 18th-century government buildings and family homes
Watch crafts people practicing as blacksmiths, printers, milliners and more using methods from the 1700s
Travel back in time as you watch historical reenactments by expert interpreters
Visit two excellent art museums to see artifacts and folk art from colonial America
Recent Photos of This Tour
What You Can Expect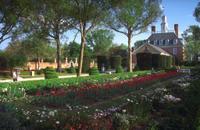 To begin the adventure, select a 1-day pass or a multi-day ticket for access until the end of the calendar year. Admission to all of Colonial Williamsburg's historic sites, trade shops and art museums, with complimentary shuttle service and parking, are included.
A day at Colonial Williamsburg begins at the Regional Visitor Center.
Find the latest information on current activities and events and plan the day in the Revolutionary City. Watch the film Williamsburg—the Story of a Patriot for an introduction to the history of Williamsburg.
From here, it's a short walk across the pedestrian bridge to life in the 18th century.
Colonial Williamsburg covers more than 300 acres, with 88 original 18th-century buildings, plus hundreds of homes, stores and public buildings that have been rebuilt on their original foundations.
Meet the townspeople, tradespeople, shopkeepers, political figures, women and the enslaved who call Williamsburg home. Learn about their hopes, struggles and fears in these uncertain times. Explore the challenges of daily life set against the backdrop of revolution and look for opportunities to play a role as a citizen of the Revolutionary City.
At the Governor's Palace, enter the years immediately before the Revolution and experience the grandeur of royal government in Virginia just before its collapse. Step into the tumultuous year of 1776 at the Capitol, colonial Virginia's seat of power. Experience the stark contrasts of freedom and slavery at the house of one of the most prominent families in Virginia at the Peyton Randolph House. Watch a blacksmith take a red-hot iron from the fire of his forge and, with hammer in hand, beat it into a variety of tools, hardware and weapons at Anderson's Blacksmith Shop and Public Armoury.
See how and where the residents of Williamsburg made a living. Explore the buildings where revolutionary ideas were born, discussed and disputed. Get an intimate glimpse into 18th-century life with an invitation to enter local homes and gardens.
Hungry? Enjoy a mixture of restaurants, bars, lounges and cafés, located in and around the Revolutionary City, for a historically inspired family meal or an intimate evening of creative cuisine. There are also more than 20 unique stores for the perfect gift, souvenir or addition to any home.
May 2016
It was so nice to have the 7 day pass to go whenever we wanted, to any 3 of the cities. Price was reasonable also
June 2015
Cant wait to return. It is such a charming area and the tour was very nice.
December 2014
Our tour was outstanding! We were able to see so many sites with ample time at each stop. Our bus driver was very knowledgeable and enhanced the trip for us. I would highly recommend this tour to anyone interested in viewing our nation's Capital with a limited window of time.
April 2016
November 2015
The tour was fine - most enjoyable.
I was a little disappointed to find that prepaying for the tour neither saved any money same price as at the door nor saved time when entering the facilities separate but equally long lines,
May 2015
Loved it! Although we took a 2 and 3 year old with us, we still we able to enjoy everything. The girls enjoyed the horse and buggy ride, although I think the price 20pp for anyone over 18 months was very high for a 15 minute ride.
October 2014
Fealt like it was so real, was really awesome!
September 2015
It had been 35 years since I was in Williamsburg. I grew up going on field trips there. I was disappointed to see how commercialized it's become. My husband and I were looking forward to some of the historical presentations but were told they sold out the day before we arrived. If you want to take full advantage of the trip, make reservations early!
Advertisement
Advertisement