Get an in-depth experience of colonial America and the Revolutionary War when you delve into Colonial Williamsburg's interactive world. Visit colonial-era government buildings, family homes and craftsman shops as you explore the extensive exhibits at this living museum. Meet interpreters in period costume who bring history to life as they speak as George Washington, Thomas Jefferson and other famous and common people.
Highlights
Admission to Colonial Williamsburg for 1 day or unlimited days until the end of the calendar year

Learn about life in colonial America and the American Revolution
Tour 18th-century government buildings and family homes
Watch crafts people practicing as blacksmiths, printers, milliners and more using methods from the 1700s
Travel back in time as you watch historical reenactments by expert interpreters
Visit two excellent art museums to see artifacts and folk art from colonial America
Recent Photos of This Tour
What You Can Expect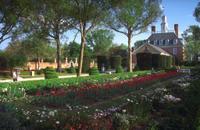 When you arrive, head to the Colonial Williamsburg Regional Visitor Center where friendly and informative staff orient you to the day's attractions and demonstrations. More than 20 guided and self-guided tours are offered every day. Some programs require pre-registration, so be sure to look at the options as you plan your visit.

Colonial Williamsburg's historic area covers more than 300 acres, with 88 original 18th-century structures, plus hundreds of houses, shops and public buildings that have been rebuilt on their original foundations.

Highlights include the Governor's Palace, the mansion where seven British governors lived during colonial times, followed by Patrick Henry and Thomas Jefferson; the Capitol, colonial Virginia's seat of power; the Magazine, where weapons and gunpowder were stored for the militia; and the Bruton Parish Church, an Anglican Church from 1669 that is still active today.

In addition, you can catch a performance of the Fife and Drum Corps; see the collections at the The DeWitt Wallace Decorative Arts Museum and The Abby Aldrich Rockefeller Folk Art Museum; and learn how 18th-century crafts were made in trade shops including an apothecary, silversmith, blacksmith, tailor and wigmaker. Colonial Williamsburg also boasts a number of excellent dining options as well as small shops.

Choose from two of the following admission tickets, which are valid from one day to unlimited visits depending on the option. Colonial Williamsburg and the surrounding area offers so much to do and see that many people return time after time!
June 2015
Cant wait to return. It is such a charming area and the tour was very nice.
December 2014
Our tour was outstanding! We were able to see so many sites with ample time at each stop. Our bus driver was very knowledgeable and enhanced the trip for us. I would highly recommend this tour to anyone interested in viewing our nation's Capital with a limited window of time.
November 2015
The tour was fine - most enjoyable.
I was a little disappointed to find that prepaying for the tour neither saved any money same price as at the door nor saved time when entering the facilities separate but equally long lines,
May 2015
Loved it! Although we took a 2 and 3 year old with us, we still we able to enjoy everything. The girls enjoyed the horse and buggy ride, although I think the price 20pp for anyone over 18 months was very high for a 15 minute ride.
October 2014
Fealt like it was so real, was really awesome!
September 2015
It had been 35 years since I was in Williamsburg. I grew up going on field trips there. I was disappointed to see how commercialized it's become. My husband and I were looking forward to some of the historical presentations but were told they sold out the day before we arrived. If you want to take full advantage of the trip, make reservations early!
Advertisement
Advertisement