Travel to George Washington's popular plantation home in Virginia and one of the nation's most beloved historic sites for this private, guided, 6.5-hour cruise and tour. Travel along the Potomac River to Mount Vernon, a National Historic Landmark. Learn about Washington's life as a founding father and first president of the United States. Explore his home of more than 40 years, including the 21-room mansion, the Colonial-era buildings, the beautiful gardens, a working distillery and gristmill and the museum and education center.
Highlights
6.5-hour Mount Vernon tour from Washington, DC

Learn about the Potomac River and its notable landmarks during a leisurely river cruise

Explore President George Washington's former home and gardens
Enjoy three hours of free time to tour the 45-acre estate
Why Our Insiders Chose This Tour
You've seen DC's main city landmarks — now enjoy an intimate slice of history by touring the first US president's home with the added bonus of cruising down the Potomac.
Recent Photos of This Tour
In the Footsteps of George Washington: Day Cruise to Mount Vernon
What You Can Expect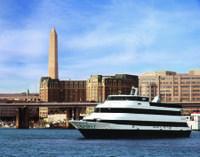 Beginning at Pier 4 in Washington, DC, climb aboard the Spirit of Mount Vernon and travel along the historic Potomac River, taking in the view of some of the nation's greatest landmarks while listening to historical facts and figures from the onboard guide.
Upon arrival at Mount Vernon, explore the grounds and Washington's 21-room mansion.
Learn about the 18th-century, English-style garden, where Washington the landscaper reshaped walks, roads and lawns, cut vistas through the forest and planted hundreds of native trees and shrubs. Visit the 4-acre Pioneer Farm on the banks of the Potomac near the wharf. This is where Washington tested and implemented his progressive farming practices. Also, learn about the lives of some 100 field slaves who put his ideas into practice here.
Visit the Donald W. Reynolds Museum and Education Center for a self-guided tour. This building features 23 galleries and theaters where visitors learn about Washington through interactive displays, an action adventure movie, short films produced by the History Channel and more.
Food is available on site (own expense). Enjoy classic American favorites in a Colonial-inspired setting at the Mount Vernon Inn Restaurant or grab a quick meal or snack at the Mount Vernon Food Court.
The tour ends with a return cruise to Washington, DC.
Kamal Weerakoon Australia
June 2016
The boat ride was fun and scenic. Mount Vernon is amazing. The house and grounds are very well preserved and there are actors moving around talking about life in Washington's time. There is an xlnt interactive museum of Washington's life and times that.
June 2016
What a great way to get to Mount Vernon..by boat!! It was a beautiful day so we were spoiled. There was a small hike up to the house but a very well maintained dirt road. My 11 year old boy 7 girl both loved the house but were thrilled with the outside buildings and grounds. What a view Washington had from his back porch!

Traci G United States of ...
June 2016
May 2016
Had a great cruise up the Potomac even though the weather was damp. Mt. Vernon was a fantastic place to visit. Great museum, great history. Would recommend taking this vs. driving.
May 2016
We loved the boat trip done the Potomac though felt we should have been told we needed ID to collect the tickets. Mount Vernon is a wonderful place and the staff and guides are so engaging we thought this was good value as there is a lot to see.
Barbara R USA
May 2016

May 2016
La visite de la maison de Georges Washington à Mount Vernon est l'occasion de faire une petite croisière sur le Potomac qui borde Washington DC. La maison du maître est très richement décorée contrastant avec les petites maison des employés et esclaves de Washington. C'est un lieu magnifique avec une vue splendide sur le Potomac. La croisière est également très instructive autant que belle.
May 2016
January 2016
This was a very nice trip well worth the ticket price. Mount Vernon is a beautiful place to visit. We went on Columbus Day so we were not able see everything of interest during the 3 1/2 hr stay. Staff said non holiday visits are less crowded. The museum is unbelieveable, right down to Washington's dentures. The river is calm with scenic views. Highly recommended.
December 2015
The day cruise down to Mount Vernon was very well done. Just enough info from the crew on what we were passing but still time to carry on a conversation with fellow passengers on the way down and way back to DC. The tour of Mt Vernon itself was good as well. You were given the right amount of time to tour the buildings as well as get a snack if you wanted as well. Got back to the dock in plenty of time for the relaxing sail back to DC. Weather was great for that time of year as well.
Advertisement
Advertisement