Learn the story of spies, intelligence operations and deceptions that changed the course of history with an admission ticket to Washington, DC's International Spy Museum. See the largest collection of international espionage artifacts ever placed on public display — more than 200 gadgets, weapons, bugs, cameras, vehicles and technologies. Travel back in time to learn about past spies and unlikely undercover agents. Adopt a cover identity and self-test spy skills along the way. Also, be sure to check out the interactive James Bond exhibit — 'Exquisitely Evil: 50 Years of Bond Villains.'
Highlights
Admission ticket to Washington DC's International Spy Museum

See more than 200 gadgets, weapons, bugs, cameras, vehicles and technologies used for espionage

Adopt a cover identity and test your spy skills throughout the museum
Travel back in time to learn about past spies and unlikely undercover agents such as Julia Child!
Follow in the footsteps of mega-spy James Bond at the all-new 'Exquisitely Evil: 50 Years of Bond Villains' interactive exhibit

Suitable for all ages!

Why Our Insiders Chose This Tour
Take a break from all the monuments and memorials with a visit to this interactive museum where you can step into the shoes of a spy. See all kinds of sophisticated spy gadgets, listen to accounts from real spies, and learn how to break codes and keep a cover.
What You Can Expect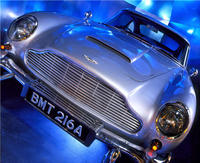 The International Spy Museum in Washington, DC is the only public museum in the United States entirely dedicated to espionage. It's also the only one in the world that provides a global perspective on an all-but-invisible profession that has helped to not only shape history, but also have a significant impact on world events.
Upon entering the building, adopt a cover identity and learn why an agent needs one. Then self-test spy skills while browsing the museum's artifacts, spy gadgets and mystery-revealing photos. Audio and video presentations will teach how to keep that cover along the way.
Browse the many themed rooms, enjoy interactive activities and hear real stories about past spy missions. For example, in the School for Spies, examine more than 200 spy gadgets, weapons, bugs, cameras, vehicles and technologies. Then learn the stories behind the spycraft and self-test skills of observation, analysis, surveillance and disguise at the interactive stations.
In the Secret History of History, uncover the stories behind the famous men and women who were considered above suspicion — and doubly effective as spies, like George Washington and Joseph Stalin.
Also, in the interactive James Bond exhibit 'Exquisitely Evil: 50 Years of Bond Villains,' meet Bond's villains, uncover their schemes and explore their exotic lairs and weapons in this special exhibit commemorating the 50th anniversary of the Bond film franchise.

June 2016
June 2016
May 2016
I found the museum to be fascinating.
February 2016
Interesting activities and presentation of intelligence methods and equipment, but by far the standout is the James Bond collection and activities. Well worth a visit for fans - expect to spend at least two hours examining everything.
December 2015
Such a cool museum. We learned a ton and were fascinated. Will visit again.
Conny United States of ...
October 2015
September 2015
We enjoyed our visit and learned lots of new things. It sure makes you stop and wonder when you are walking down the streets of DC who may be a spy. Fantastic museum.
September 2015
Great place with lots of interesting information! I was there for 1:30 h, but wished I had had more time...
September 2015
Good Museum but think kids enjoy it more than adults.

Ro United States of ...
August 2015
So much fun, made me feel like a kid all over again. Worth the price of admission!
Advertisement
Advertisement