107 Reviews
Location:

Washington D.C., District of Columbia

Duration:

Varies
Special Offer
Book and travel between June 1st 2015 and August 30th 2015 and save 31% off our previously offered adult price!
At Washington DC's International Spy Museum, enter a world of gadgets, weapons, cameras, vehicles and technologies used for espionage throughout the world. Hear stories of secret missions, examine artifacts and mystery-revealing photos and enjoy a slew of interactive displays, putting you right in the action! Don't miss out on the newest exhibit, 'Exquisitely Evil: 50 Years of Bond Villains,' which celebrates fiction's greatest spy, James Bond.


Highlights
Admission ticket to Washington DC's International Spy Museum

See more than 200 gadgets, weapons, bugs, cameras, vehicles and technologies used for espionage

Adopt a cover identity and test your spy skills throughout the museum
Travel back in time to learn about past spies and unlikely undercover agents such as Julia Child!
Follow in the footsteps of mega-spy James Bond at the all-new 'Exquisitely Evil: 50 Years of Bond Villains' interactive exhibit

Suitable for all ages!

Why Our Insiders Chose This Tour
Take a break from all the monuments and memorials with a visit to this interactive museum where you can step into the shoes of a spy. See all kinds of sophisticated spy gadgets, listen to accounts from real spies, and learn how to break codes and keep a cover.
What You Can Expect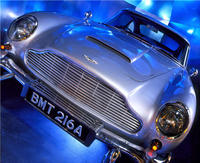 When you arrive at DC's International Spy Museum, adopt a cover identity and test out your spy skills as you browse artifacts, spy gadgets and mystery-revealing photos; plus, visual and audio presentations will teach you how to keep a cover!
Browse themed rooms, enjoy interactive activities and hear real stories about past spy missions. In the School For Spies™ gallery, trace more than 50 years of spy technology developed by agencies from the OSS to the KGB, some of which is still in use today.
Travel back through the centuries and uncover tales of famous men and women who unexpectedly doubled as undercover agents, such as Josephine Baker and Julia Child!
Through 2014, you can immerse yourself in the museum's latest addition, 'Exquisitely Evil: 50 Years of Bond Villains,' commemorating 50 years of James Bond films. On display, see exclusive vehicles, props and costumes on loan from the original production company, many of which are on public display for the first time!
Wind through the maze of interactive exhibits such as 'Spy vs. Spy,' where outside visitors can lay traps to thwart the 'spies' within. Decode the riddles, test your bravery in a shark tank, or hold on for dear life at the 'Hangtime' display. You'll also hear recounts of real spies that have had their share of real-life 'Bond moments'!
It's not all about Bond, though -- you can also learn about the hero's enemies. Get an in-depth historical context of Bond's adversaries and learn how they have changed over the years to reflect the times. Watch classic film clips, listen to interviews, and browse psychological profiles of the villains for a look at the famous series from a different angle.
Itinerary
Exhibits include:

School for Spies: This section provides an introduction to the world of espionage and describes many of the skills and tools essential to be a successful spy. It explores the different motivations that lead people into the clandestine world, and shows how they are recruited and trained.

The Secret History of Spying: This series of galleries chronicles the history of spying from ancient times to the early 20th century. It explores such phenomena as the institutionalization of spying in the early years of the Soviet Union and traces the rise of espionage technology, such as spy photography. It also examines the role that women have played in espionage and reveals well-known historical figures who were also spymasters, including George Washington and author Daniel Defoe.

Spies Among Us: These exhibits, films and videos examine espionage through World War II, showcasing real-life spy stories. They explore the role of code-making and code-breaking operations and teach various ways to create, break and hide coded messages through interactive exhibits. An exhibit on celebrities includes singer Josephine Baker, chef Julia Child, movie director John Ford and actress Marlene Dietrich.

July 2015
The Spy Museum was wonderful!
June 2015
Very interesting. The kids love this museum.
June 2015
Great experience, A unique experience.
June 2015
loved it -- was so interesting --have been before but new information now.
June 2015
A great museum of James Bond ,
May 2015
May 2015
August 2014
This museum is super fun. My family loved picking their secret identities, the briefing room, crawling throught the secret duct, and just checking out all the cool gadgets that spies use. The James Bond exhibit was cool too. This is one museum you want to add to your list when visiting Washington DC!
August 2014
FANTASTIC! highly professional, informative and very well presented. We did the "spy mission", which was more like a theme park attraction than a museum. A great morning for my 16 year old son and me!
August 2014
Tour was even better than description. Fun for everyone in family. Highly recommend.
Special Offer
$23.21 Save $7.33
Advertisement
Advertisement