Get to know Thomas Jefferson and travel to his hometown of Charlottesville, Virginia, on this guided, educational, full-day tour from Washington, DC. Learn about the history of Jefferson as not only the third President and a founding father of the United States, but also as a surveyor, a musician and an artist. Stop at the historic Michie Tavern in Charlottesville for a tour and lunch. Then explore his Monticello home, a stately 1769 mansion and plantation with a museum full of exhibits, galleries and more.
Highlights
Day trip to Thomas Jefferson's home, Monticello, from Washington DC

Tour Monticello and learn about Jefferson's life from informative exhibits

Visit Mulberry Row, where Monticello slaves once lived, and learn about the operation of the plantation

Drive past the University of Virginia, which was founded and designed by Jefferson

What You Can Expect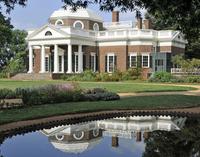 This full-day Monticello tour begins from Union Station in Washington, DC. Climb on board a luxury motor coach for a historical sightseeing adventure to Charlottesville, Virginia, home of US President and founding father Thomas Jefferson. Enjoy the scenic, 2.5-hour drive southwest, watching an educational video about Jefferson's life along the way.
Upon arrival in Charlottesville, stop for lunch (own expense, if desired) and a tour of Michie Tavern, a Virginia Historic Landmark and family style eatery with a menu full of southern favorites. Afterward, drive to Monticello, Jefferson's lavish mansion and plantation home, as well as the Thomas Jefferson Visitor Center and Smith Education Center, for several hours of self-guided touring. Discover Jefferson's life, times and lasting legacies through an introductory film, four innovative exhibits and a hands-on discovery room. The Café at Monticello is also available for a snack or beverage (again, own expense), if desired.
The day concludes with a drive around the campus of the University of Virginia, which was founded and designed by Jefferson, followed by a return trip to Union Station in DC.
May 2016
Our driver was great and so was the lunch. Had plenty of time at Monticello as they have removed the visit to the University of Virginia -- Good call. Loved the day and had a great trip!
May 2016
This was a truly fun, relaxing and enjoyable way to get to see Monticello. During the 2 hour ride, we watched a DVD about Thomas Jefferson and on the way home, we saw a most amazing DVD about the Lewis and Clark adventure. We were treated to a surprise stop at the University of Virginia and had a chance to take a quick walk around to see the Rotunda, the Chapel and the old classrooms and dorms. Continuing on up the road for a trip into the past to the Michie Tavern for a delicious lunch and tour of the beautiful grounds. Our bus driver was really great, caring and we all felt very safe with him at the wheel. In minutes, we got to Monticello and had a few hours to walk around to see all there is to see, including a guided tour of the inside of this amazing home. I would certainly recommend this to anyone wishing to visit DC and all that it has to offer.
October 2015
A great trip and most fabulous experience.
October 2015
Excellent trip .... the driver was outstanding, especially in troubleshooting and fixing a problem with the bus ... the film of Jefferson was excellent prep for the visit ... plenty of time to walk around and explore ... the movie shown on the return trip was stupid faux history and way too loud .... lunch at the Inn was fun ...
October 2015
Very enjoyable tour. My complaint is that there just isn't enough time.
August 2015
The tour was exceptional. The tour bus was comfortable, and the video during the ride was very informative. Once we arrived at Montecello, the docents on site were great.
NewTravler United States of ...
July 2015
Great tour and day trip! I've always wanted to visit Monticello and glad I finally did. I read the reviews on Viator prior to booking and now I am paying it forward. The bus ride was comfortable with a friendly bus driver. The drive there featured a DVD on Thomas Jefferson and the ride back featured a movie. The tour of Jefferson's house was awesome and the tour guide was very informative. The Monticello grounds and surrounding views are amazing. I was able to catch most of one of the two free tours of different parts of the grounds. While we were given several hours at Monticello, I personally could have used a bit more time...but then again I am a history buff and tend to take a while soaking everything in. In summary, it was a great day trip and tour. Highly recommended!
June 2015
Our driver was very professional, friendly, and courteous. Enjoyed both the tavern good guide tour, and excellent meal. Montecello was lovely good guide, and I have a renewed appreciation for this truly unique, conflicted, and intelligent man. I am proud to call Thomas Jefferson one of our founding fathers.
June 2015

Tracy L United States of ...
May 2015
Incredibly beautiful and awe inspiring. Love the home tour and the additional tours of the grounds were a pleasant surprise -
Advertisement
Advertisement