Experience the beauty of the Potomac River and Old Town Alexandria on this independent bike tour along the Mount Vernon Trail. Check out the historic estate, which was once home to George Washington, and wander through the grounds, galleries and hallways of this stately mansion. Opt for a tour upgrade and kick back for your return trip on a narrated Potomac River cruise to Alexandria. This independent tour offers plenty of flexibility and is one of the best ways to explore Mount Vernon.
Highlights
Independent bike tour of Mount Vernon
Cycle along the historic Mount Vernon Trail and enjoy views of the Potomac River
Explore beautiful Mount Vernon Estate at your own pace to see how George Washington lived
Admire stately 18th-century architecture, walk through the gardens, and browse fascinating historical exhibits
Upgrade to enjoy a relaxing, narrated Potomac River cruise
Option to come back to the shop next day to pick-up a bike rental for a second consecutive day at no extra cost
Recent Photos of This Tour
What You Can Expect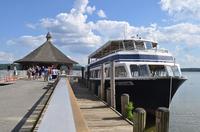 Your Mt Vernon independent bike tour with optional Potomac River Cruise kicks off mid-morning departure from an Old Town Alexandria bike shop. Use the provided map to navigate on two wheels through scenic paths to historic Mount Vernon. This easy ride tops out at 9-miles (14.5 km) and is perfect for all levels.
You'll arrive at George Washington's famed estate and enjoy time to explore at your leisure after locking up your bikes. Marvel at the décor of this 18th-century landmark, and enjoy historical exhibits at the Donald W Reynolds Museum and Education Center. Take time to wander the grounds, which once covered some 8,000 acres (3,237 hectares) and pay a visit to Washington's tomb.
This morning of activity is sure to work up an appetite, so tuck into lunch at the Mount Vernon Estate food court (own expense) before making the journey back to Alexandria on the Mt Vernon Trail. You'll arrive in Old Town Alexandria by 5:45 p.m. to return your bike.
Upgrade: Potomac River Cruise
Travelers can opt for a scenic river cruise on the Miss Christin after exploring Mount Vernon Estate. Meet your boat at 4pm at the Mt Vernon dock and take in the sights on this relaxing river ride on the Potomac River. This optional upgrade is perfect for travelers who prefer to bike 9 miles (14.5 km) instead of 18 miles. (29 km).
Optional: Extended Bike Rental
Travelers who want the freedom of a longer stay at Mount Vernon can extend their bike rental for a second day at no charge with this popular tour option.
April 2016
FANTASTIC
the whole thing was so great I can not stop talking about it. Clear directions, Val, our bike renter was incredible and so helpful. The ride is beautiful and ending with a cruise up the Potomac was the best. The guides on the boat clearly love what they do and shared their knowledge of the wildlife and history of the river. Would do it again in a heartbeat and am telling everyone I know to give it a go.
September 2015
The trail from Alexandria to Mount Vernon is really lovely. Most of it is shaded and fairly level. There are beautiful water views and the surrounding neighborhoods are all excellent. We parked the bikes when we arrived and ate in the dining room, which was surprisingly good. The gift shops and all the facilities at Mt. Vernon are top notch. After the tour we meandered down to the river and took the boat back to Alexandria where we had dinner. It was a perfect day.
July 2015
Due to weather issues we had to move the ride to July 5th and the guys from Bike and Roll were terrific about helping us with that and giving us directions to get to the starting point in Old Town Alexandria. Beautiful bike trails and the Mount Vernon tour was really interesting.
June 2015
Excellent tour. Biked one way. Boated back. Peanut-chestnut soup and bread pudding at Mt Vernon restaurant were great complements to the tour. Three hours went quick at the estate.
June 2015
We really enjoyed the Tour. The bike trail was great and the tour of Mt. Vernon was very enjoyable.
The bike company was very helpful and attentive to our needs.
Thanks for a great time!
August 2014
Great bike trail along the Potomac - good bikes- we were able to go to the front of the tour line at Mt.Vernon with our passes. Liked everything about the tour. Alexandria is charming. Maybe could have had better directions for finding the bike sho originally- but smartphone got us there.
May 2014
Perhaps the funnest part of our trip! We had not biked in YEARS - it was a moderate trail but challenging at times. However, lots of laughs and such beautiful scenery along the Potomac. We truly enjoyed ourselves. I highly recommend! Take the cruise back to relax and enjoy the sights!! A+++
January 2014
Having biked most of the 200 or so kilometers of the Hawkes Bay (NZ) bike trails, which are wonderful, I have to say, this is my new favourite ride. We arrived early in Old Alexandria town so we were able to wander the beautiful cobbled streets and soak up the ambience of this lovely town before arriving at the Bike and Roll depot near the waterfront at 10 am. We were soon dispatched with our bikes and clear instructions and followed the track through the city and out into the beautiful Virginian countryside along the Potomac river. There were a few lumps (small hills) but our bikes dealt with them admirably. We travelled there in the middle of October so the fall colours were just showing through. We thoroughly enjoyed the tour of Mt Vernon but felt a little rushed as the ferry was not available and we had to bike back to be in time for the 5 o'clock closing (apparently it usually closes a bit later). The trip back was a little easier and just as spectacular.We travelled with our 23 year old son who enjoyed it just as much as we did and I would unreservedly recommend this trip to anyone wanting to get a little exercise while sightseeing. I should mention there is a free trolley bus that travels up and down King Street from the train station, which we thankfully discovered on the way back.
December 2013
Bike shop staff were extremely helpful in sizing the bikes for everyone in our group, making sure we all felt comfortable (including those who hadn't been on bicycles for decades), and provided very clear directions for our self-guided tour. The ride was challenging without being overwhelming, and Mt. Vernon was magnificent. I only wish we had had more time to explore - but that's only because we spent too much time enjoying lunch!
July 2013
Wow! I have never rented a bike and had it so expertly fit to me. Even the helmet was sized for me! The trail was well marked and absolutely beautiful! It was a hot day, and I just wish we had started out a little earlier. We were very glad that we took the Potomac River Cruise option for coming back because of the heat. The cruise was relaxing however there was not much information given by the moderator on the cruise.
Advertisement
Advertisement