Special Offer
Book a bike tour by July 11 and receive a FREE bike rental redeemable the following day!
Washington, D.C. is full of historical sites and while it's easy to explore on foot or by bus, this two-wheel tour option gives travelers access to some of the city's most popular landmarks. Check out the Lincoln Memorial, White House, Supreme Court and the Capitol on this three-hour Capital Sites Bike Tour. Your friendly guide will share plenty of history, facts and city knowledge on this easy bike ride through the nation's capital.
Highlights
Washington DC capital sites bike tour
Sites you will see include the Lincoln Memorial, White House, Supreme Court and the Capitol
Learn the history, interesting facts, and a love for the city with an easy bike ride
Get the latest information on Smithsonian exhibits, special events, and other local insider tips
Recent Photos of This Tour
Washington DC Capital Sites Bike Tour
What You Can Expect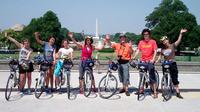 Enjoy all of the city highlights on this Washington DC Capital Sites Bike Tour. Find the perfect fit bike for your capital ride and listen to your local guide share history, insight and information about the city's most popular destinations.
You'll get an up-close look at some of D.C.'s famous sites, like the National Mall, White House, Supreme Court, Lincoln Memorial and Capitol. Your guide will share insider tips about special events and new exhibits as your tour the town on two wheels. This city highlights afternoon adventure is perfect for all levels of riders.
May 2016
My flight arrived at 9am in DC, and I went straight to the 10am bike tour with time to spare. This tour was a fantastic way to see a LOT in a few hours. The biking was comfortable, and our guide Andy was knowledgeable. The weather even cooperated, which certainly helped! My only wish was that we could swing closer to the white house on our trip.
May 2016
Fantastic way to get orientated to the city, in which the monuments are well spread out. On a bike, they are easy to get to and of course, the guide makes all the difference by adding to your knowledge with his witty repartee. Thank you Andy for the history and anecdotes.
April 2016
Really good informative tour of all the museums and top places of interest. Ride was easy, no big hills. Highly recommended.
April 2016
Great way to see D.C. We did the 3 hour bike tour the first day we arrived with the option for a free bike rental the next day. A perfect way to get the lay of the land, then the next day we had bikes to go back see each site at our own pace. Bikes are the BEST way to travel.....we passed tour buses stuck in traffic and zipped by tired walkers.
January 2016
This was the most fun we had in our five-day stay in DC. Our guide was extremely knowledgeable, the biking was pleasant, each stop was sufficiently long, and we just exactly what we wanted to visit. The only suggestion might be to quickly introduce the different parties -- these are the Compteurs from France and Eli is from Israel, etc -- so that the group has some cohesion.

October 2015
LOVED this tour, the guide Emily was really friendly and full of facts about the city. It was easy to cycle around Washington, there was only one hill up to the Capitol Building, the rest was flat. A really good few hours spent learning about Washington!
October 2015
GREAT TOUR!! Highly recommend!!
September 2015
We appreciated a lot. It was fantastic and it's probably the best way to visit Washington.
September 2015
Michael was awesome! The others in the group did not show so ended up having a wonderful private tour. Doing this tour your first day in DC is the way to go.
August 2015
Great experience and a super way to see the Capital Sites!
Advertisement
Advertisement