27 Reviews
Location:

Washington D.C., District of Columbia

Duration:

2 hours

(approx.)
Experience the nation's capital on a scenic lunch cruise! On this Washington DC cruise, not only will you indulge in an all-you-can-eat buffet, but there will also be live entertainment! Enjoy a colorful cast of performers, including a DJ to play your favorite songs and lively narration of the endless stream of city sites you pass, including the Washington Monument, the Potomac River and the Woodrow Wilson Bridge. Lunch is served Monday - Saturday; Brunch is served on Sundays.
Highlights
2-hour buffet lunch and dance cruise in Washington DC

See Washington DC's highlights, including the Washington Monument and Admiral's Row
Cruise under the Woodrow Wilson Bridge, the only active drawbridge on the Potomac River

Pass by Alexandria, first settled in the 1600s by Scottish and English tobacco merchants

Recent Photos of This Tour
Washington DC Scenic Lunch Cruise
What You Can Expect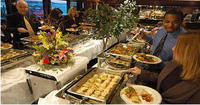 Step aboard the sleek cruise ship and get ready to be pampered and entertained on a 2-hour cruise along Washington DC's Potomac River. Take in spectacular views of the city's downtown and enjoy a grand buffet with drinks served by the attentive wait staff. It's a great way enjoy all the highlights of Washington DC as you dine and dance the afternoon away!

Some highlights you will see along the way include the 555-foot (169-meter) Washington Monument, the world's tallest free-standing stone sculpture. Pass by the Reagan National Airport, one of the busiest airports in the US with an average of one flight every 30 seconds during peak periods!

You'll also cruise by Alexandria, Virginia. Alexandria was first established in the 1600s by tobacco merchants from Scotland and England. Additionally, you'll see the Torpedo Factory, pass by Admiral's Row, cruise under the famous Woodrow Wilson Bridge, view the US Naval Research Lab and more!

Please see below for a sample buffet lunch menu.
Itinerary
Sample Menu (subject to change):
The Salads
Organic Mixed Field Greens: Grape Tomatoes | Cucumbers | Carrots | Corn | Feta Cheese | Black Olives | Kidney Beans | Sunflower Seeds | Herb Croutons | House-Made Ranch and Balsamic Vinaigrette | Low Fat Italian
Organic Spinach and Kale Salad: Parmesan Cheese | Peppers | Red Onions | Roast Garlic Lemon Dressing
Mediterranean Couscous and Chickpea Salad: Green Onions | Cumin-Paprika Vinaigrette
The Entrées
Roast Salmon and Tilapia: Garlic Parsley Crust | Tomatoes | Shallots | Capers
Maple & Mustard Glazed Pork Loin: Dijon Mustard | Garlic | Fresh Rosemary
Herb Roasted Chicken: Olive Oil | Rosemary | Sage | Parsley
Baked Ziti: Cream Spinach Sauce | Parmesan Cheese
Roast Broccoli: Olive Oil | Garlic | Chili Flakes
The Desserts
Mini Pastries | Cookies | Brownies | Seasonal Fruit

*Menu subject to change. Please inform your server if anyone in your party has a food allergy.
August 2015
Wonderful people and service.
August 2015
Very professional crew and dining staff. Buffet was exceptional! Beautiful day and experience.
June 2015
We really enjoyed this lunch cruise. The food was very good. The staff was extremely friendly and very accommodating. The DJ narrated the sightseeing and played music. Everyone on board seemed to be having a good time.
September 2014
I am so glad you asked. We were 5 adults, 1 four and a hall year old and twin two year olds. I was celebrating a big birthday with my family in the DC area.and thought the cruise would be a lovely way to end a fun weekend . It was a great choice for us! I don't recall seeing that there would be reserved tables on you r contact info but, it was welcomed when we went on board not to have to search for an empty table and manage the kiddies. By the way, they absolutely adored the flights of steps and would rate their ascents and descents a solid 5 STARS. As a family we had been eating out all weekend and found the food in many places very good but the service lacking. You were all very organized, friendly and totally customer service oriented. From the photogs on deck and then Drew on board , all servers and the Baquet Manager helped to assure on cruise was great fun and exceeded my expectations. PS the food was yummy , too. Thank you all for a wonderful birthday celebration!! Andrea P. And family
August 2014
The lunch cruise tour was awesome. My entire family really enjoyed the time we spent on the boat. The employees were great, the food was marvelous. And the DJ was wonderful, he had a dynamic voice, he can dance and d j at the same time. He help made to trip magnificent. So I thoroughly would recommend this tour, it was worth while. We enjoyed it so that the time just flew by us, that was just how much fun we had. My hat's off the cook, the DJ, and the whole staff. If I ever travel to D C again, this will be one of my stops. Oh, we were from Mississippi, and it was my birthday and they really made me feel special. Thanks again!
March 2014
Excellent. The crew, the music and the food was excellent.
December 2013
This tour was our Thanksgiving family outing with our Daughter, her husband and our three year old granddaughter. The food was delicious, the scenery was super and the dancing with my grand daughter was awesome. We had a awesome time and recommend this cruise to all.
December 2013
Good food...great boat...friendly crew....fabulous weather....
July 2013
This was a real shocker! When we got up to get ready for our lunch cruise it was pouring down rain and it was still raining when we go to the boat. But the cruise was still on, and all the people did an incredible job; the food was great, the boat was great, the service was great, and the entertainment was great! In fact, everything was GREAT!! Oh, and it did stop raining and turned out to be a nice day. Every person who lives in D.C. or visits D.C. should do this lunch cruise it's GREAT!!
June 2013
Having never been in Washington before I thought this day time lunch cruise would be a good way to get the lay of the land and river.
The food was very nice,Plenty of it, some good choices and your encouraged to go up as often as you like. My erstwhile vegetarian friend also found plenty of tasty delights. The waitress, Nakeda, who looked after us, was an ambassador for the cruise line and she is a service star, juggling drinks, having fun, clearing tables and finding time to help the DJ belt out a tune, in rather fine form.
Now for the DJ, chatty, LOUD and always there, so be ready for that, it's not every ones cup of tea, but he kept the party going, though for a Sunday Cherry Blossom Festival lunch cruise I personally found it to much, I would have been happy with more sights highlights and peaceful tunes. But I bet this is a real fun cruise at night. It did take me back a few times to my Disco days of the 70's, so for those moments of nostalgia it was pleasant.
This is a well run cruise with good food and service, and whilst it wasn't what I was expecting, I didn't not enjoy it. Thank you Nakeda you made us feel really welcome and special. The Chanel guy.
Advertisement
Advertisement