Enjoy food, fun and entertainment with a view of Washington, DC on this narrated, 2-hour lunch cruise along the Potomac River. On board the elegant Spirit of Washington, choose to cruise from three air-conditioned interior decks or the rooftop lounge. Either way, the view is spectacular, there's a delicious buffet lunch to enjoy and a DJ is spinning the latest Top 40 hits on spacious dance floors. Look and listen as the captain points out DC's fascinating history while drifting past the Washington Monument, Reagan National Airport and much more.
Highlights
2-hour buffet lunch and dance cruise in Washington DC

See Washington DC's highlights, including the Washington Monument and Admiral's Row
Cruise under the Woodrow Wilson Bridge, the only active drawbridge on the Potomac River

Pass by Alexandria, first settled in the 1600s by Scottish and English tobacco merchants

Recent Photos of This Tour
Washington DC Scenic Lunch Cruise
What You Can Expect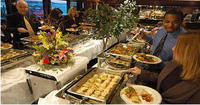 Enjoy a leisurely lunchtime sightseeing cruise along the Potomac River and Washington, DC's beautiful waterfront, departing from Pier 4 at 6th and Water Streets. This excursion covers the Potomac River with fascinating views of DC's great landmarks and the city's historic waterfront. No trip to the nation's capital is complete without a view from the deck of this festive ship.

The Spirit of Washington is a modern dining ship with both inner and outer seating areas. The three inner dining areas offers plenty of comfortable seating with large picture windows to see the sites, while the topside outer deck provides fresh air and an open view of the landscape. There are also spacious dance floors and full service bars on board.

Before or after eating, grab a drink from one of the onboard bars and dance the afternoon away as a professional DJ spins the latest Top 40 hits.
Throughout the cruise, listen as the captain provides anecdotes and stories about the history and happenings of the nation's capital while passing the Washington Monument, Reagan National Airport, the United States Naval Research Laboratory, Old Town Alexandria in Virginia, the Woodrow Wilson Memorial Bridge and much more.
Itinerary
Monday – Saturday Lunch Menu
Sample Menu (subject to change)

Tasting Duo
Roasted Summer Vegetable Salad: Yellow Corn | Zucchini | Caramelized Onions | Heirloom Tomato| Arugula | Herb Vinaigrette
Whipped Goat Cheese: Candied Pecan Herb Crust | Balsamic Strawberries | Crostini

Entrées
Oven Baked Atlantic Salmon Filet: Lemon Orzo with Red Onions & Sun-Dried Tomatoes | Citrus Dill Sauce
Maple & Mustard Glazed Chicken Breast: Fingerling Potatoes & Chives | Haricot Verts | Dijon Mustard Cream Sauce
Braised Beef Short Rib: Idaho Potato & Horseradish Mash | Baby Carrots | Pearl Onions | English Peas |Cabernet Sauvignon Sauce
Greek Zucchini Fritters: Lemon Orzo with Red Onions & Sun Dried Tomatoes | Spring Onion & Cucumber Tzatziki

Desserts
Duo of Sorbet: Seasonal Sorbet | Fresh Fruit
Granny Smith Apple Parfait: Cinnamon Spiced Apples | Almond & Oat Crumble | Candied Chili Bacon
Chocolate Decadent Cake: Mixed Berries | Raspberry Sauce
Odyssey Signature Warm Butter Cake: Vanilla Bean Ice Cream | Blackberry Sauce

Sunday Brunch Menu

Early risers
Seasonal Fruit: Watermelon | Cantaloupe Melon | Pineapple Mixed Berries
Breakfast Pastries: Croissants | Muffins | Bagels | Fruit Preserves | Butter
Scottish Smoked Salmon: Cream Cheese | Shaved Red Onions | Roma Tomatoes Capers
Scrambled Eggs: American Cheddar Cheese | Diced Tomatoes & Chives
Breakfast Meats: Applewood Smoked Bacon | Sweet Maple Sausage
Sausage & Roasted Pepper Frittata: Vidalia Onions & Thyme
Breakfast Potatoes: Caramelized onions, American Cheddar Cheese & italian parsely
Build Your Own Belgian Waffle Station: Caramel Sauce | Hot Fudge | Strawberry Sauce | Almonds |Mini Chocolate Chips | Sprinkles Whipped Cream

Late risers
Caesar Salad: Romaine Lettuce | Aged Reggiano Parmesan Cheese | Traditional Caesar Dressing | Herb Croutons
Shrimp & Farfalle Pasta Salad: Basil Pesto | Grape Tomatoes | Aged Reggiano Parmesan Cheese
Roasted Potato Salad: Fingerling Potatoes | Scallions & Chives | Mayonnaise & Mustard Dressing
Cauliflower & Tomato Gratin: Aged Goat Cheese | Parmesan Topping
Roasted Cedar Plank Oregano Salmon: Cajun Cream Sauce
Maple & Mustard Glazed Chicken: Dijon Mustard Cream Sauce
Hand Carved Strip Loin, USDA Choice: Odyssey Signature Spice Rub | Horseradish Crème | Au Jus

Desserts
Odyssey Signature Dessert Station: Mini Pastry Cups | Cakes | Pastries | Seasonal Fruit
June 2016
I booked Friday morning for Wed at 12. At 11:45 Wed morn my status was still pending. I called and the lady was panicked for me asking where I was. I told her a Pier 4 (loading area) so they called and had them wait. A crew member came to get us and escorted us to the ship. DJ played nice variety.
August 2015
Wonderful people and service.
August 2015
Very professional crew and dining staff. Buffet was exceptional! Beautiful day and experience.
June 2015
We really enjoyed this lunch cruise. The food was very good. The staff was extremely friendly and very accommodating. The DJ narrated the sightseeing and played music. Everyone on board seemed to be having a good time.
September 2014
I am so glad you asked. We were 5 adults, 1 four and a hall year old and twin two year olds. I was celebrating a big birthday with my family in the DC area.and thought the cruise would be a lovely way to end a fun weekend . It was a great choice for us! I don't recall seeing that there would be reserved tables on you r contact info but, it was welcomed when we went on board not to have to search for an empty table and manage the kiddies. By the way, they absolutely adored the flights of steps and would rate their ascents and descents a solid 5 STARS. As a family we had been eating out all weekend and found the food in many places very good but the service lacking. You were all very organized, friendly and totally customer service oriented. From the photogs on deck and then Drew on board , all servers and the Baquet Manager helped to assure on cruise was great fun and exceeded my expectations. PS the food was yummy , too. Thank you all for a wonderful birthday celebration!! Andrea P. And family
August 2014
The lunch cruise tour was awesome. My entire family really enjoyed the time we spent on the boat. The employees were great, the food was marvelous. And the DJ was wonderful, he had a dynamic voice, he can dance and d j at the same time. He help made to trip magnificent. So I thoroughly would recommend this tour, it was worth while. We enjoyed it so that the time just flew by us, that was just how much fun we had. My hat's off the cook, the DJ, and the whole staff. If I ever travel to D C again, this will be one of my stops. Oh, we were from Mississippi, and it was my birthday and they really made me feel special. Thanks again!

Enrique G Puerto Rico
March 2014
Excellent. The crew, the music and the food was excellent.
December 2013
This tour was our Thanksgiving family outing with our Daughter, her husband and our three year old granddaughter. The food was delicious, the scenery was super and the dancing with my grand daughter was awesome. We had a awesome time and recommend this cruise to all.
December 2013
Good food...great boat...friendly crew....fabulous weather....
July 2013
This was a real shocker! When we got up to get ready for our lunch cruise it was pouring down rain and it was still raining when we go to the boat. But the cruise was still on, and all the people did an incredible job; the food was great, the boat was great, the service was great, and the entertainment was great! In fact, everything was GREAT!! Oh, and it did stop raining and turned out to be a nice day. Every person who lives in D.C. or visits D.C. should do this lunch cruise it's GREAT!!
Advertisement
Advertisement