Explore some of the most famous landmark locations around Washington, DC on this guided, full-day sightseeing tour. Travel to Mount Vernon, George Washington's beloved plantation home in Virginia, then visit Arlington National Cemetery to witness the Changing of the Guard, the Tomb of the Unknowns, the Marine Corps War Memorial and more. Along the way, see many historic 17th- and 18th-century homes in Old Town Alexandria and hear colorful stories and learn little known facts about all the monuments, statues and buildings in the area.
Highlights
Day trip from Washington DC to Mount Vernon and Arlington National Cemetery

Great-value, full-day tour in the state of Virginia
Explore Mount Vernon — George Washington's plantation home
Pass by Alexandria's famous Christ Church, attended by George Washington and Robert E. Lee
See many historic 17th- and 18th-century homes in Old Town Alexandria
Visit the Tomb of the Unknown Soldier at Arlington National Cemetery
Stop for a photo opportunity at the Iwo Jima Memorial

Recent Photos of This Tour
Washington DC Supersaver: Mount Vernon and Arlington National Cemetery Tour
What You Can Expect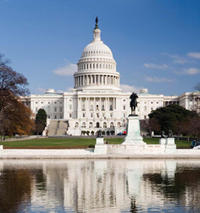 On this full-day trip from Washington, DC, travel from Union Station to Mount Vernon, George Washington's beloved plantation in Virginia. Tour the mansion and the Donald W. Reynolds Museum and Education Center, featuring 23 galleries and theaters where visitors learn about Washington through interactive displays, an action adventure movie, short films produced by the History Channel and more. Visit the final resting place of George and Martha Washington and walk through the beautiful gardens and restored landscapes.
After lunch at Mount Vernon (not included), proceed to the Tomb of the Unknowns at Arlington National Cemetery for the Changing of the Guard ritual by members of the U.S Third Infantry. Stop to see the John F. Kennedy Eternal Flame, then continue on to the US Coast Guard Memorial and the United States Marine Corps War Memorial, better known as the Iwo Jima Memorial, the gravesite of John Joseph "Black Jack" Pershing, one of America's most famous Army officers, Arlington House (the Robert E. Lee Memorial) and more.
The tour ends with a return trip to Union Station.
May 2016
This trip was wonderful. Learned a lot. The changing of the guards is not be missed very moving ceremony.
April 2016
Our bus driver/tour guide, Wayne, was amazing! Informative, funny, courteous, helpful, and most of all professional. My sister and I had a wonderful time from start to finish. I would definitely sign up with Viator on my next adventure!
April 2016
This was a great tour. The whole experience was great. Mount Vernon was nice to see the country side. Arlington National Cemetery was very moving tour. The changing of the guard was a very emotional experience. The whole tour was more than my husband and I expected.
April 2016
Excellent trip with knowledgeable driver. The museum at Mt. Vernon was interactive and delightful for a 74-year-old grandmother, a 44 year-old daddy and a 10 year-old grandson. We all enjoyed the tour of Mt. Vernon as well as Arlington. We stayed totally engaged the entire time.
April 2016
We had the best tour guide ever! I would say that it would have been nice to have a little more time at Arlington. We ran out of time and weren't able to see the things we wanted there.
martaleida United States of ...
April 2016
Outstanding experience. Well worth your time and money.
April 2016
The bus driver driver was knowledgeable and tried to show us as much as possible on route to mt Vernon and Arlington.
January 2016
Our Driver was excellent! Definitely a great trip.
Sarah B United Kingdom
January 2016
Absolutely fantastic tour with a very funny and knowledgeable driver /guide, Tony.
Mount Vernon was very surreal and beautiful place which had lovely grounds.
Arlington cemetery was also breathtaking and the changing of the guard brilliant. Well worth a visit to cemetery if visiting Washington.

November 2015
Had a great time on this tour. Our driver was excellent and we didn't feel rushed. Although our time at Arlington Cemetery didn't feel long enough so much to do. Our bus driver said we could stay longer, but would need to take the train back. Many of the passengers did just that, I would highly recommend that too. The best part was visiting Mount Vernon. Make sure to wait in line by the garden to get a tour of the inside of his home, we almost missed it. Also, as you head back to the food court, don't forget to stop by the small museum inside. Unfortunately, we missed it and didn't get to see some of Washington's belongings, including his dentures!
Advertisement
Advertisement