Spend a day at Zealandia, a premier wildlife attraction located just minutes from central Wellington. At Zealandia: The Exhibition, you'll take a trip through natural history with an interactive state-of-the-art showcase of the moa and Haast's eagle that once roamed New Zealand. Your admission ticket also grants you access to the Sanctuary Valley, a predator-proof 550-acre (225-hectare) eco-sanctuary and safe haven for endemic animal species, including the country's rarest birds, reptiles and insects.
Highlights
Admission to both ZEALANDIA: The Exhibition and Sanctuary Valley in Wellington

See an amazing exhibition showcasing New Zealand's natural history and world-renowned conservation movement

Be amazed by the lifelike models of prehistoric and extinct animals

The option to join free talks provided by ZEALANDIA'S rangers daily between 12 and 3pm

Explore New Zealand's native birds, reptiles and insects in Sanctuary Valley
What You Can Expect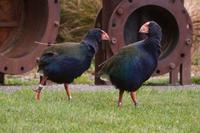 Use your admission ticket to Zealandia — an eco-restoration facility located just 10 minutes from downtown Wellington — and discover New Zealand's natural history at your own pace. With your visitor guide and map in hand, you have all day to explore Zealandia: The Exhibition and the Sanctuary Valley.
At the state-of-the-art exhibit, travel through 1,000 years of ecological change to a time before humans arrived in New Zealand. Come face-to-face with prehistoric giants of the bird world via lifelike models including a 10-foot-high (3-meter) flightless moa and its fearsome predator, the Haast's eagle.
On the big screens, observe the changing face of New Zealand as centuries of introduced people, animals and plants disrupted ecosystems, and learn about conservation efforts toward ecological restoration at insightful ranger talks offered daily. Then step outside into the Sanctuary Valley, which supports more than 30 species of native birds and reptiles, including tuatara, saddleback, hihi and takahe.
Itinerary
Complimentary Shuttle Bus Time TableTo Zealandia from Wellington

i-Site: 9:30am, 10:30am, 11:30am, 12:30pm, 1:30pm, 2:30pm
Te Papa: 9:35am, 10:35am, 11:35am, 12:35pm, 1:35pm, 2:35pm
YHA: 9:40am, 10:40am, 11:40am, 12:40pm, 1:40pm, 2:40pm
Rydges: 9:50am, 10:50am, 11:50am, 12:50pm, 1:50pm, 2:50pm
Novotel: 9:55am, 10:55am, 11:55am, 12:55pm, 1:55pm, 2:55pm
Top Cable Car: 10:00am, 11:00am, 12:00pm, 1:00pm, 2:00pm, 3:00pm
From ZEALANDIA returning to i-Site

ZEALANDIA: 10:15am, 11:15am, 12:15pm, 1:15pm, 2:15pm, 4:00pm, 5:00pm
Please note all times are approximate
February 2016
Spend a very enjoyable couple of hours at Zealandia, mostly in Sanctuary Valley. Unfortunately due to time we were unable to spend time in the exhibition. Shuttle Bus is free which is wonderful but unfortunately we just missed one and had to wait an hour for the next. Just make sure you get a timetable when booking so you have lots of time to enjoy this beautiful site.
bknute72 United States of ...
February 2016
This was a beautiful park to walk around and view the birds as well as the forest. We took the cable car up the mountain, then the free shuttle to the park. Spent a couple hours here, could have spent many more exploring all the trails. Well worth the money.
December 2014
Wonderful day out for the two of us, but would suit all ages. We would have liked more time to walk the longer trails too. We arrived via the free shuttle from Wellington's I-Centre and arrived in time to join a free guided walk with one of the volunteers. This should not be missed as there is so much information given about preparing the Zealandia site and the ethos behind it. The place was beautiful and it was a joy to see all those birds - some thought extinct and some just not seen in the area for decades. We booked Zealandia on-line and did it while in port on a cruise ship, and it really is easy to get to and from. At the end of the day we were dropped at the top of the funicular but chose to walk straight down via the streets, having been through the beautiful Botanic Gardens numerous times before. I would highly recommend Zealandia to any visitors.
February 2014
Truly a highlight. I'd recommend this one to everyone.
Joseph W Australia
January 2014
This was good value. The museum had an excellent display of NZ flora and fauna and the walk around the park very interesting.The free shuttle there and back made it an excellent way of understanding NZ
Headwaysalon Australia
January 2013
June 2012
A nice and interesting trip. I didn't allow enough time on this occasion. I will allow more time on the next occasion.
Advertisement
Advertisement