Gain entry to Zealandia at night and take a guided tour of Zealandia: The Exhibition, which showcases New Zealand's natural history. Interact with a life-size model moa and Haast's eagle — both extinct — and learn about the country's conservation efforts to preserve other native species. Located just minutes from central Wellington, Zealandia includes a night tour of Sanctuary Valley, a fenced eco-sanctuary and safe haven for endemic animal and bird species such as the nocturnal little spotted kiwi.
Highlights
Nighttime visit to Zealandia in Wellington

Guided tour of Zealandia: The Exhibition
State-of-the-art interactive facility

Lifelike models of extinct animals

See rare native New Zealand animals in their natural habitat

Search for elusive kiwi and the many other nocturnal animals as your guide leads you through the Sanctuary Valley in the dark

What You Can Expect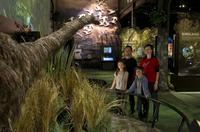 Discover New Zealand's natural history on a nighttime visit to Zealandia, an eco-restoration facility just 10 minutes from downtown Wellington. Find your way there for a 2.5-hour guided tour that includes Zealandia: The Exhibition and Sanctuary Valley.
Get a firsthand look at prehistoric beasts and other endemic native animals that once roamed the islands. At the state-of-the-art exhibit, you can interact with lifelike models of the now-extinct moa — giant flightless birds — and a fearsome predator: the Haast's eagle.
After learning about these long-lost giants of the bird world, be riveted by a light and sound show that takes you through at least 1,000 years of change. Then walk through a predator-proof fence into the Sanctuary Valley, listening for birdsong in the 550-acre (225-hectare) eco-sanctuary. Follow your guide in search of nocturnal creatures such as the kaka, weta, tuatara and the elusive kiwi as you make your way by flashlight.
June 2016
Hard to explain how much I appreciated this tour. The 500-year vision of Zealandia is amazing and I truly hope that they will achieve it. Our guides were very knowledgeable and enthusiastic about what they do and what they believe! Great tour!
January 2016
If you do one thing - do this tour if you visit Wellington. It is memorable, inspirational and very stimulating whether you manage to spot a kiwi or not. I was bowled over by the variety of NZ bush wildlife we heard and saw. In fact just enjoying our night senses was a thoroughly thrilling experience and our guide was fabulous. You will not be disappointed. Do wear good shoes and wrap up, though.
June 2015
We saw 4 kiwi. I work with a girl from NZ, she hasn't even seen that many in real life! Great experience.
April 2015
Would highly recommend if you want to see Kiwi's. That was what I was going for and it worked out quite well! Saw some other birds and stuff as well but you could also see them during the day I guess. Also got a discount for the day time after doing the tour!
April 2014
Super tour. We had a fabulous guide, very knowledgeable. So thrilled to see 4 Kiwi!
February 2013
This was a wonderful experience. We only met one kiwi but to see one in the wild was amazing! Have already recommended toe trip to several travellers that we have met along the way!
April 2012
We loved our visit to Zealandia. There were only a few in our group and the guide was wonderful. We learned about their efforts to preserve the unique species of the island. We saw kiwis in two different areas plus tuatara, Takahe, and many others. Would highly recommend the night tour of the sanctuary.
November 2015
Great evening tour. Saw several birds including a kiwi and glow worms, eels etc. this is a wonderful project for all of NZ.

August 2012
The vision for Zealandia is superb. I found the introduction and film a trifle long, being keen to get into the valley among the birds. I would liked to have been able to sit down and listen quietly to the sounds of the bush sounds at some point(s). Otherwise it was an amazing experience; after 67 years I saw a kiwi hunting in the wild.
Advertisement
Advertisement