Take your sightseeing to the skies on an exhilarating zipline tour through the unspoiled Whistler-area wilderness. With your choice of two different tours, select the ideal experience for your taste. Breathe in crisp mountain air as you cruise above white-water rivers and the alpine forest of Blackcomb Mountain and Whistler, spotting local wildlife and learning about mountain ecology. A most adventurous way to learn!
Highlights
Zipline adventure in Whistler
Choice of routes and zipline lengths
Breathtaking bird's-eye views of the Whistler forest
Enjoy fantastic aerial views
Multiple times offered throughout the day
Ideal choice for families
Informative, friendly and professional guides
Recent Photos of This Tour
Zipline Adventure in Whistler
What You Can Expect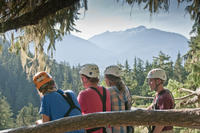 This zipline tour operates in a true old-growth temperate rainforest, where there is spectacular scenery and amazing views to take in along the way. Your inspiring journey through the forest happens via a combination of suspension bridges, treetop observation platforms, ground based trails and ziplines.

You'll check-in and meet your guides at the Carleton Lodge in the main village across from the Whistler Gondolas. All guests will be fitted with a custom Ziptrek harness and climbing helmet.

The ziplines are gravity fed, so you do not have to worry about controlling your own speed. Nor do you have to concern yourself with braking, as Ziptrek's proprietary braking systems allow for a smooth deceleration and finish on each zip. Two tour guides will accompany you on your tour, one guide to connect (launch platform) and one guide to disconnect (landing platform) each and every person. All tours have the ability to zip hands free and/or upside down for even more of a rush!

Choose from the following two route options:

Bear Tour: 5 Ziplines, 4 Tree-Top Bridges, 2.5-3 Hours
Five incredible ziplines varying in length from 400 feet to over 1,000 feet long connected via a network of canopy bridges and boardwalks. The Bear Tour is perfect for families, groups and those who have never ziplined before. Save $20 by booking Non Peak times Spring to Fall

Eagle Tour: 5 Ziplines, 4 Tree-Top Bridges, 2.5-3 Hours
On the Eagle Tour, you'll get to venture up the Whistler Gondola to your first zipline and then end your adventure by zipping all the way to Whistler Village. A 2,400-foot awe-inspiring dual zipline makes this tour perfect for those who have already experienced ziplining or are seeking even more heart-pounding adrenaline! Save $20 by booking Non Peak times Spring to Fall
Itinerary
What to bring:
Dress for the day's weather but be advised that mountain weather can change quickly and unexpectedly. In summer, shorts and T-shirts are often suitable. In winter, we recommend guests wear the same gear they'd wear for a day of skiing — but without the ski boots. Layers work best. Some platforms have heaters to allow guests to warm up between zips.
Wear hiking boots or athletic type footwear — dress shoes, high-heels and sandals are not permitted.
Health, Safety and Physical Requirements:
Participants must be a minimum of 65lbs/30kgs (Bear Tours) or 75lbs/34kgs (Eagle Tours) to a maximum of 275lbs/125kgs. Children less than 65lbs can zip tandem with a guide. Please arrange through Ziptrek's Guest Services immediately following your reservation.
Minimum age is 6 years old.
Be prepared for light physical exertion and be aware that the tour includes climbing stairs and some hiking.
No smoking, drugs or alcohol are permitted on the tour at any time.
Guests must be able to walk unassisted for the duration of the tour.
Unfortunately, no one who is pregnant can participate
December 2015
Brilliant experience. Super cool and friendly employees. Loved it.
August 2015
Highly recommend, excellent and unique way to take in the fantastic views. Both tour guides Amanda and Micheal were excellent and knowledgeable.
August 2015
great zipline tour. well organized, great guides. would do it again.

July 2015
This was an amazing Zipline. One of the best I have done. If you want an rush this is the one for you.
July 2015
Fantastic experience. Very well organised from booking to undertaking. The reminders days before very helpful. A must do
June 2015
A great afternoon outing. It is fast and high and once you start criss crossing the river you can't stop! Staff were phenomenal and the other guests were super. It is the safest scariest thing I have done! Strap your harness on and have fun zipping!
May 2015
Very interesting. Only three people went there so the tour guides guided us several other ziplines not originally covered in our service. Worth taking!
September 2014
February 2014
Awesome! Staff were great and the location is awesome. Highly recommended :-)
December 2013
I had a lot fun! Christina and Nat were absolutely helpful and fun!!
Advertisement
Advertisement