Location:

Whitehorse, Canada

Duration:

4 days

(approx.)
Make the most of the longer days and enjoy nights under the stars on this 4-night Yukon summer adventure. Spin along mountain biking trails through the Whitehorse Valley for fine views over Grey Mountain. Hike though the UNESCO–listed Kluane National Park as your guide talks of the region's heritage. Board the Midnight Sun Express for a day on the White Pass & Yukon Railway, and admire mighty glaciers on route to Skagway. Paddle your canoe along the Yukon River as eagles soar overhead, and enjoy free time in Whitehorse.
Highlights
4-night stay at cozy and inviting Boréale Ranch
Mountain bike along easy, rolling hills for spectacular views of Whitehorse
Fuel up for some of your daily activities with a fruit smoothie made from a bicycle-powered blender!

Feast on locally inspired meals

Admire Yukon's midnight sun from your personal yurt
Paddle along the clear emerald water of the historic Yukon River

Trek through Kluane National Park to enjoy the views of the impressive Mount St Elias

Accommodation and most transport and meals included

Complimentary shuttle service to and from the airport runs from 8am–9pm daily
What You Can Expect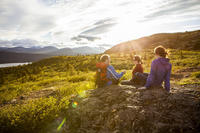 This 4-night trip encourages you to act like a local during what many Yukoners consider their favorite time of year: the summer solstice! With nearly 20 hours of daylight, you will be amazed at how much energy you have during a variety of fun activities—hiking, cycling, canoeing—departing from Boréale Ranch in Carcross, Yukon. Throughout the trip, most meals and snacks are provided, particularly on the days that require physical activity. At the end of each day, enjoy a locally sourced dinner with the group, and stay at the main lodge as long as you like. When you're ready, retire to your private yurt to wind down and enjoy the mountain scenery. See the Itinerary below for details. Endless Yukon summer days make for great memories. Book now!
Itinerary
Day 1: Carcross–Whitehorse–Carcross (L, D)
If your flight arrives after 8am, enjoy complimentary shuttle service from the Erik Nielsen Whitehorse International Airport to the 16-acre (6.5-hectare) Boréale Ranch in Carcross, Yukon. At 10am, join others in the main lodge of this scenic resort for a brief orientation about the days ahead. Listen to the exciting details over a freshly roasted cup of coffee courtesy of Midnight Sun Coffee Roasters. Afterward, get outfitted for your mountain bike excursion that starts at 1pm!

Accompanied by a guide, take off from your yurts for a flat, 7.5-mile (12-km) ride to Whitehorse. Arrive at Grey Mountain for easy cycling along a network of trails. It's a local haven for hiking and mountain biking, with gentle paths that weave through a boreal forest. The 1.5-mile (2.5-km) ride to the summit affords spectacular views of the Whitehorse valley and the coastal mountains, a welcoming distraction as you pedal up the slight incline. Along the way, stop for a lunch that may include artisan sandwiches, samples of Yukon sausages, smoked salmon, Arctic char, fruit, vegetables, nuts and dessert. Throughout the journey, your guide points out native wildlife and plants.

When you arrive back at the ranch later that day, kick back and enjoy appetizers and well-deserved beverages (alcoholic drinks are available at your own expense). Chat with fellow travelers about the afternoon ride as dinner is prepared for you. You can expect organic and locally sourced food, such as wild meat and fish, locally grown vegetables and homemade bread. After dinner, stick around the lodge or head into your yurt to relax in private.

Overnight: Private yurt at the Boréale Ranch

Day 2: Carcross–Whitehorse–Carcross (B, L, D)
After a hearty breakfast (be sure to try the bicycle-churned smoothie!), grab a cup of coffee and embark on a 2-hour drive out to Haines Junction, the gateway to Kluane National Park, for a hike that is catered to the group's skill level. Kluane (pronounced Klu-ah-nee) boasts views of Canada's top five highest peaks, including the mighty Mount Logan and Mount St Elias. Throughout the 3- to 4-hour trek, your guide delves into the natural and cultural history of the UNESCO World Heritage site. Along the way enjoy a lunch similar to your first day, and take in views of Mount St Elias.

When you arrive back at the ranch, enjoy another well-deserved evening of appetizers, beverages and dinner. Hang around the lodge until you're ready to retire to your yurt.

Overnight: Private yurt at the Boréale Ranch

Day 3: Carcross–Skagway, Alaska–Carcross (B, D)
Gear up for a full day on the historic White Pass & Yukon Route railway. Fuel up with breakfast before your early morning departure by motorcoach from the White Pass Depot. Ride along the South Klondike Highway to Fraser, BC, to board the Midnight Sun Express. Be sure to bring your passport for this train excursion that takes you over the coastal mountains into the gold rush town of Skagway, Alaska.

Look out at glaciers, gorges and waterfalls from your vintage passenger coach on the 28-mile (45-km) adventure into Skagway. Your guide points out remnants of the Klondike Trail and other gold rush history en route to the White Pass summit at an of elevation 2,865 feet (873 meters). The train snakes over the mountain to arrive in Skagway for a 2-hour stay. While visiting the historic Alaskan town, enjoy lunch at your own expense and sightseeing. When it is time to head back to the ranch, board a comfortable motorcoach for a 3-hour ride back in time for dinner and relaxation.

Overnight: Private yurt at the Boréale Ranch

Day 4: Carcross–Whitehorse–Carcross (B, L, D)
After breakfast, your small group heads into downtown Whitehorse for a canoe ride on the famous Yukon River, once the only transportation route connecting the surrounding northern communities. Arrive inWhitehorse to get your gear, and then paddle downstream to the spot where the Takhini and Yukon rivers connect. Expect to see eagles, hawks, gulls and ravens playing in the wind tunnels created by the tall sand cliffs that tower over the river. Along the way, your small group stops for lunch on the riverbank.

After paddling on the river for about three hours, return by shuttle to Whitehorse. You will have time to explore Whitehorse's downtown area with gift shops, museums and historic buildings. From there, hop in your provided transport back to Boréale Ranch for dinner and relaxation.

Overnight: Private yurt at the Boréale Ranch

Day 5: Carcross–Whitehorse (B)
Finish your 4-night solstice experience with one last continental breakfast and delicious Midnight Sun Roasters coffee. Once you're all packed up, your guide transports you back to the airport in time to catch your flight back to reality!

Please note: For more information on shuttle services and accommodation, please see Schedule.
Advertisement
Advertisement