Explore the wealth of historic highlights in Xi'an, including its UNESCO World Heritage-listed Terracotta Warriors, during this 3-day, 2-night private tour. Join your expert private guide as you travel by private vehicle to the city's numerous cultural and historical attractions, including its Ancient City Wall, Big Goose Pagoda, Shaanxi History Museum and, of course, the iconic Terracotta Warriors found in Emperor Qin's Mausoleum. Your private Xi'an excursion also includes 2 nights at a 4-star hotel, breakfast on the second and third days, entrance fees and round-trip transport from the rail station or airport.
Highlights
2-night private tour of Xi'an
Discover the Terracotta Army at the Mausoleum of Emperor Qin, a UNESCO World Heritage Site
Visit Xi'an's top cultural attractions, such as the Ancient City Wall and Big Wild Goose Pagoda
Tour fascinating exhibits at the modern Shaanxi History Museum
Gain insight into Xi'an's Tang Dynasty as you tour the ancient city
Your private guide ensures an informative and enjoyable experience
Round-trip airport or railway station private transfers plus accommodation and breakfast included
What You Can Expect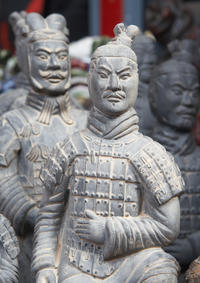 Immerse yourself in the fascinating history of ancient China as you enjoy a 3-day, 2-night private guided tour of the city of Xi'an. This exploration of one of the country's oldest cities, including a chance to see its UNESCO World Heritage-listed Terracotta Warriors, is sure to delight history lovers as well as anyone interested in Chinese cultural heritage.
Start your trip on the first day with arrival at either Xi'an's airport or one of its rail stations, after which you'll enjoy an included transfer to your 4-star accommodations in the city. You'll spend the rest of day one with your private guide, exploring the Shaanxi History Museum along with the Ancient City Wall, and taking some time to visit the Bell Tower and Drum Tower that form part of Xi'an's ancient defensive fortifications.
Spend the morning of your second day investigating the UNESCO World Heritage-listed Terracotta Warriors, followed by an afternoon trip to Big Wild Goose Pagoda. After breakfast on day three you'll have free time to explore the city at your leisure before proceeding back to the airport or train station to continue your trip.
A full listing of each day's itinerary is detailed below.
Itinerary
Day 1: Xi'an
After making your way to Xi'an by plane or train, you'll be picked up and transferred to your 4-star hotel from either Xi'an Xianyang International Airport or any of the Xi'an railway stations.
Once you've checked in, start your private tour of Xi'an with a guided visit to the Shaanxi History Museum, one of the most comprehensive museums in all of China. Explore some of the 300,000 cultural relics on exhibit, including murals, paintings, pottery and coins, and learn from your expert guide about the Tang architectural style in which the modern museum was built.
Continue your tour to the Ancient City Wall of Xi'an, erected in the 14th century during the Ming Dynasty. One of the oldest and best-preserved city walls in China, it's a fine example of the country's ancient defensive fortifications, which were constructed until the last imperial era of the Qing Dynasty.
The Xi'an city wall forms a rectangle around the entire city, and each corner consists of gateways and defense towers. Take a short walk from the South Gate to the picturesque Bell Tower and Drum Tower located next to the old Muslim quarter, home of the Grand Mosque. Gaze in awe at several large bronze-cast bells from the Tang Dynasty. Listen as your guide explains the significance of the watchtowers and battlements before transporting you to your hotel for an evening at your leisure.
Overnight: 4-star Ramada Hotel in Xi'an or similar
Day 2: Xi'an (B)
After breakfast, spend the morning visiting the UNESCO World Heritage-listed Terracotta Army (also known as the Terracotta Warriors and Horses), located 21 miles (35 km) outside of Xi'an. Your guide will take you to Emperor Qin Shi Huang's Mausoleum, where you'll see some of the estimated 8,000 life-sized soldiers, 130 chariots with 520 horses, and 150 cavalry horses constructed to guard China's first emperor in the afterlife – most of which remain buried.
One of the most significant archeological excavations of the 20th century, the tomb dates back to 210–209 BC. Your guide will inform you about the history of this funerary art as you tour the museum complex, which features extensive exhibits and artifacts. Learn about the various terracotta figures, which vary in height according to their roles, with the tallest being the generals.
In the afternoon, proceed to the Big Wild Goose Pagoda, a 212-foot-high (65-meter-high) Buddhist pagoda. Built in 652 during the Tang Dynasty, the pagoda has seven floors that contain a large number of sutras and Buddha figurines. Explore the interior with your guide and learn about the renowned Master Xuanzang (Monk Tripitaka) who brought the artifacts to China from India.
Overnight: 4-star Ramada Hotel in Xi'an or similar
Day 3: Xi'an (B)
Enjoy breakfast and spend your day at leisure. You are free to depart the hotel at any time, when you'll be transferred back to the airport or train station to continue to your next destination.
March 2014
Absolutely love the historical tour of Xian. The biking on the wall and the warriors will always be remembered. Our guide was friendly, with lots of local knowledge.
Advertisement
Advertisement