There's no better way to immerse yourself in local Xi'an culture than taking a small-group cooking class! Whether you're a beginner cook or an expert chef, this fun and informative cooking course will get you sautéing, stir-frying and steaming the way the locals do. Don't miss this opportunity to learn how to cook traditional Chinese favorites, including dumplings!
Highlights
Cooking class with a local Xi'an family
Learn a variety of traditional Chinese dishes, from meat-based to vegetarian
Spend time with a local family cooking, chatting and learning
Small-group ensures a more intimate and personalized experience
Friendly English-speaking guide
Share this experience with your own family!
Recent Photos of This Tour
Experience Xi'an: Dumpling Making and Family Cooking Class
What You Can Expect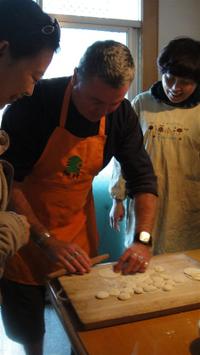 As a traveler, visiting museums, temples or large tourist attractions is not enough to learn about the country you're visiting. Cuisine plays an important role in understanding a country's culture, and there's no better way to indulge in a region's cuisine than to try and make the food yourself!
With a small group of no more than six individuals, you'll visit the home of a local family who will teach you how to make traditional Chinese dishes. Depending on time constraints, learn how to create one or two delicious, authentic Chinese dishes, such as Yangzhou fried rice with barbecue pork, shrimp and egg yolks; fried sauce noodles with wheat noodles and ground pork; Beijing shredded pork with sweet bean sauce; or one of the best-known rib dishes in China, sweet and sour spareribs.
Of course, you will also learn how to make dumplings -- a fun and easy process for both children and adults. If vegetables are more your style, learn how to make home-style tofu, among other things. (Please be advised that vegetarian dishes must be specified at the time of booking). Wash your delicious meal down with two glasses of local beer.
Don't worry about having to memorize the steps, because you will be given a recipe to take home with you! Best of all, you and your English-speaking guide will get to chat with the family and learn about Chinese culture straight from the locals.
Anonymous
April 2015
This was a wonderful time to come over to a local's home and be able to share a good meal and warm hospitality. The food was delicious and was a fun to see how quick food is made compared to my attempts! Enjoyable experience overall.
Anonymous
April 2015
Chef. Helen was very professional and did a good job explaining "how to" cook each dish. She was patient with us and took her time to show us how to make dumplings. The food was delicious experience; highly recommend this tour, very personal and nice.
July 2014
Excellent experience and kind Mrs Helene who made us feel really at home.....
Anonymous
January 2013
Delicious food! Hen hai chi. Can't wait to try at home in Australia!!
January 2013
We have attended many cooking classes in various countries but this class was different as we had the wonderful experience of being in a local home. It was a lots of fun - don't change anything. Thank you & best wishes.
Advertisement
Advertisement