Discover the history and culture of China during a full-day tour to the Terracotta Warriors and Banpo Neolithic Village, two of the Xi'an region's top attractions. Tour Banpo Neolithic Village in the morning, and take the afternoon to marvel at the Terracotta Warriors and Horses Museum, a UNESCO World Heritage Site. Visit a local market, have a Chinese lunch at a restaurant and hear about the sights from your informative guide. Your tour includes lunch, transportation, entrance tickets, and hotel pickup and drop-off in Xi'an.
Highlights
Full-day historical tour from Xi'an including the Terracotta Warriors and Banpo Neolithic Village

Get an in-depth look at Xi'an's interesting history - great for history buffs!
Visit a local Chinese market
Recent Photos of This Tour
Full-Day Tour of the Terracotta Warriors and Banpo Neolithic Village from Xi'an
What You Can Expect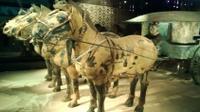 Take a ride in an air-conditioned bus and travel back in time to prehistoric China! On this full-day guided tour from Xi'an, your first stop will take you 6,000 years in the past to Banpo Neolithic Village. For approximately one hour, tour the village and learn about the matriarchal community of the Yangshao culture through the various relics and exhibitions offered. This site was excavated in the 1950s and visitors can still see the houses, stables, cellars, kilns, graves, pottery and tools that highlight the everyday life of this ancient civilization.

Move along the historical timeline with a visit to the Terracotta Warriors and Horses, one of the most significant archaeological excavations of the 20th century. These warriors were created to guard Emperor Qin Shi Huang's tomb and protect him in the afterlife. So far, this site is estimated to have over 8,000 soldiers, 130 chariots and over 600 horses, and excavation is still ongoing! Tour the necropolis with your guide for approximately 2 hours and admire the astounding magnitude of the site and the incredible detail of the individual figures. Then, spend about 40 minutes on a visit to Emeperor Qin's Mausolem.

Enjoy lunch at a local restaurant, where you can indulge in an authentic Chinese meal, exchange travel photos, and chat about the marvels you've just witnessed. After a satisfying lunch, make your way to the Terracotta Replication Factory, where you may purchase (own expense) a little terracotta army for yourself!

Return back to the 21st century as you end this tour with a ride back to your hotel by 5pm, giving you enough time to enjoy more activities around the city.
June 2015
our tour guide Sunny was very knowledge of the region and subject - spoke great English and made my wife and I feel very welcomed - bus was comfortable and lunch was also very good and plentiful. thank you.
November 2012
Seeing the Terracotta Warriors is a must see in your life. The day trip was well organised and the guide spoke very good English. Well worth the money.
September 2012
September 2012
We thoroughly enjoyed this tour. Our guide spoke reasonable english and was very informative. On the way back we wanted to visit the Muslim Quarter and they went out of their way to drop us near there instead of our hotel. This was a highlight of our trip to China.
June 2012
This was a very good tour. The only negative point was that the guide did not explain enough, was too quiet and nor forthcoming with enough information.
May 2012
The trip was very good and insightful. The warriors are quite the sight. Our tour guide was very informative and let us spend time browsing around and didn't rush us. I would have wished that we could have spent a little bit more time at the Pagoda.
September 2012
Pros:
- professional, informative guide
- the warriors were incredible, and we had a few hours there to enjoy them
Cons:
- two painful shopping stops in the morning, each lasting about thirty minutes
- we stopped at the car park outside Big Wild Goose Pagoda, had a quick look at it from outside the compound (5 minutes) and then continued on our way.
- the tea ceremony was, for all intents and purposes, another overpriced shopping stop.
- Banpo village was historically interesting (I suppose), but essentially just a big whole in the ground. Really didn't need to go there.
In summary:
Our day started at 8am and we didn't arrive at the Warriors until after 2pm. This would have been fine if we'd have spent time at Big Wild Goose Pagoda (as advertised), but the majority of our morning was occupied with mind numbing shopping stops and an excursion to the bland Banpo Neolithic village.
When we finally arrived at the Warriors, our guide was very informative and we had a good opportunity to explore and take photos at our leisure.
Of course, the day didn't end when we departed the Warriors - it was time for "refreshments." (A vastly overpriced tea ceremony - I would have been happy to grab a bottle of water on the way out.)
Would have been much more enjoyable if we'd have spent just half a day touring and removed all of the horrifically irrelevant stops.
Advertisement
Advertisement