Immerse yourself in the cultural majesty of two of China's national treasures on a full-day private tour of Xi'an. Encounter endangered giant pandas and many other rare animals in beautiful Xi'an Qinling Wildlife Park, and then marvel at the ancient wonder of the Terracotta Army, a UNESCO-listed landmark that commemorates China's first emperor. Satisfy an appetite for authentic Chinese food with a delicious lunch at a popular restaurant. Enjoy the undivided attention of your guide and convenient round trip transportation on this private tour, the commentary of which can be tailored according to your interests.
Highlights
Full-day private tour of Xi'an

Discover China's national treasures with your English-speaking guide

Visit the panda garden next to Louguantai National Forest Park to see adorable giant pandas and other endangered species

Tour the UNESCO World-Heritage listed Terracotta Army and Emperor Qin Shi Huang's Mausoleum
Enjoy a delicious lunch at a local restaurant
Entrance fees and hotel pickup and drop-off included

Recent Photos of This Tour
Private Tour of China's National Treasures: Giant Pandas and Terracotta Warriors in Xi'an
What You Can Expect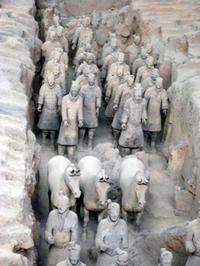 Depart from your Xi'an hotel in a private, air-conditioned vehicle and venture to the verdant Xi'an Qinling Wildlife Park. Admire the picturesque perimeter of rolling green hills and lush valleys as you gaze at adorable giant panda in accurate recreations of its natural habitat along with other species, like golden-haired monkeys, and capture photographs of the majestic mammals.
Next, take a seat in a charming restaurant to enjoy some authentic Chinese cuisine. Revitalized, head to Emperor Qin Shi Huang's Mausoleum to marvel at the Terracotta Army, a UNESCO World Heritage-listed collection of figures memorializing China's first emperor. Hear of the ancient origin of the sculptures, and how they were miraculously discovered during an excavation, then return to your vehicle for the relaxing journey back to Xi'an.
June 2015
We were unable to do the Panda portion of the tour due to the Park being closed but instead we added a visit to the City Wall, and Big Wild Goose Pagoda. Rosemary was amazing, in addition to having excellent language skills she was well versed in the history of the sites we visited and added to the overall experience by sharing her personal experience of growing up in Xi'An. The Terracotta Warriors are not to be missed but all of Xi'An is well worth the time. Our driver was safe and efficient and it truly was a day to be remembered.

May 2015
The Terracotta Warriors were amazing. Once in a lifetime dream come true. Our Tour Guide Jing Jing was the best. Fluent in English and very knowledgable. I wish she could have been our tour guide for the the whole trip. Unfortunately the Panda tour got canceled because the place was closed so we were able to go see a Tang Dynasty music show and have dumplings. It was great!!! Highly Recommend
December 2014
We had an amazing day with Willow and Mr. Wang in Xi'an! The day was perfect - Willow knew all about the pandas and when we needed to arrive. We were super lucky and got to see a bunch up close. Lunch was great too - we ate with Willow and Mr. Wang so they had great suggestions we would not have known about. And then the experience at the terracottas was just fantastic. Really such a great day - Willow even set up dinner at one of the Tung dynasty shows for us. Willow and Mr. Wang, the driver, went above and beyond for us. We had many tour guides on out trip and Willow was one of, if not, the best.
September 2014
Fantastic!!!!!! Our guide was excellent and very knowledgable. She spoke very good English and was wonderful to be with. We learned so much from this trip. Highly recommend taking a private tour.
September 2014
Sunny rang and introduced herself the day before the tour and suggested an earlier start time because of the Moon festival traffic - a wise choice! The Pandas were adorable and came out in the rain to see us. The terracotta warriors were stupendous and made all the more real by Sunny's engaging stories and factual information. Sunny was a joy and a flexible guide, keeping to tour timescales but without ever making us feel rushed. We enjoyed the best meal we have ever had as part of a tour and it made the whole day seem high quality and special. A long day but a fabulous tour - do it!
April 2014
For those who have an interest in Pandas we highly recommend this tour. The Panda Garden visited is not a zoo - so no kiosks etc - and they had many Pandas there. No youngsters though - but the site is a good alternative if Chengdu is not on the travel agenda. And our kids (age11 upwards) loved it. The tour started early to enable us to reach the Panda breakfast - so they were all active when we got there. The second part of the trip to visit the Terra Cotta Warriors was also great - the place is beyond imagination and qualify for one of the top historical and cultural wonders of the world.We had an excellent guide and also our own driver who safely took us around. And even with heavy rain during most of the day we enjoyed the trip very much.
Anonymous
April 2014
We booked a trip to visit the Panda park and the Terra Cotta Army yesterday - guided and managed by your company and the guide Jade. Just want to say that she was outstanding and had the right balance between being a guide and a host. Very skilled and very caring to a family of four from age 11 and upwards. This tour was well organized and I will highly recommend to anyone going to visit Xian. We had a great day even it rained all the time. Many thanks also to the driver Mr. Wong who safely took us there in slippery conditions. We had a fantastic day with your team and I will also recommend back to Viator whom I have used many times when travelling to different places around the world.
July 2013
The guide was brilliant. He was very knowledgeable and easy to talk to. The terracotta warriors were amazing!!! Had a great lunch tasting some delicious Chinese cuisine and the tour guide went over and above to make our day worthwhile.

December 2014
The walk in the National Park was amazing, if it was not raining, it would have been better. The lunch was great too. One would wonder how one king would built all these Terracotta Warriors? Our tour guide gave us guide whenever we need to.
One regret - in the trip, we were recommended by the tour guide and the driver to go for Tang Dynasty Dinner Show. A few times the invitation was extended to us, obviously we know we had to pay, so we ask for the price, a menu was given by the driver to choose which package of food and dance. And we were highly recommended to go for the show with dumpling dinner. At the almost end of our visit at Terracotta, we had the impression that we had to go back to the city soonest possible. So we asked the tour guide, may be we just go for the dance show, does the organizer has the package of just the show, we were told we have to stick with what we agreed earlier and rushed back to the city. Later on we found out that there is minimal package that not including dinner, and the dumpling dinner was the most expensive one. The dumplings were NOT delicious, I had a more detail comment about Tang Dynasty Dinner Show on Tripadvisor. Stick with the national park and terracotta Warriors, do not fall into getting the most expensive package of Tang Dynasty Dinner Show.
October 2014
Our tour was a surprise as there were just the four of us, the guide and our driver in the van.
The Guide was very knowledgeable and spoke excellent English. The Terracotta Warriors were breathtaking and far larger and greater in number than I expected. The Museums/exposition halls housing the 3 digs are very educational and well done. Our unch was the most delicious of any we'd had in China...an excellent choice with interesting and yummy dishes. The Pandas were an hour and a half away and were so cute. We saw 5 of them...some eating lying on their backs, and some were eating or sleeping in trees. While they were impressive, the grounds were not. They seem to have fallen into some disrepair and there is quite a bit of overgrowth of vegetation...have they fallen out of favor in terms of government subsidies and support? Overall the day was wonderful...A long day with (3) hour and a half+ segments in the car, but our driver was masterful in navigating the perils of driving in Xi'an traffic!!!
Advertisement
Advertisement