Find yourself touring an ancient Chinese site one moment and relaxing with a fish pedicure the next on this full-day guided tour to the Terracotta Warriors and the Huaqing Aegean International Hot Springs Resort and Spa from Xi'an! Your guide will lead you on a comprehensive tour of the Terracotta Warriors and Horses, some 8,000 figures that were buried with China's Emperor Qin in the late 200s BC. See the exhibits of Emperor Qin's mausoleum and then enjoy a home-cooked meal before heading to Huaqing Aegean, where you can kick your feet up at one of the many hot springs pools. Choose a morning or afternoon departure.
Highlights
8-hour tour from Xi'an to the Terracotta Warriors and Huaqing Aegean International Hot Springs Resort and Spa
Take a guided tour of the Terracotta Warriors and Horses and Emperor Qin's mausoleum
Relax and unwind at any of the hot springs pool options at Huaqing Aegean
Enjoy a family-style lunch or dinner at a local residence
Local English-speaking guide and hotel pickup and drop-off are included
Small-group tour ensures you'll receive personalized attention from your guide
Recent Photos of This Tour
Small-Group Tour to the Terracotta Warriors and Hot Springs Spa from Xi'an
What You Can Expect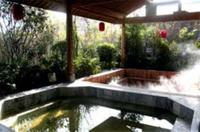 Don't miss this fun Xi'an experience that combines one of China's must-see attractions with well-deserved relaxation at a hot springs resort. As one of the oldest cities in China, Xi'an is home to many ancient relics, some of the most famous being the Terracotta Warriors and Horses, one of China's most celebrated archeological finds. This Terracotta Army, as it's also known, is made up of more than 8,000 soldiers, 130 bronze chariots and nearly 700 horses. On your tour, your expert guide will show you around the different pits that contain the army and tell you about its history.
Admire the impressive display of Emperor Qin's wealth as you see the exhibits of his mausoleum, and listen to your guide's stories about the emperor, his rule and his incredible funerary art.
Next, enjoy a delicious home-cooked meal at a local family's home before being driven to the Huaqing Aegean International Hot Springs Resort and Spa, one of the most popular hot springs resorts in Xi'an. The resort offers 26 different hot springs pools, including a lavender essential oil pool, jasmine pool, herb pool, tea pool, fish pedicure pool, aloe pool, cyclone and waterfall pool and more, all of which you can try! You'll have two hours here to sit back and unwind after your Terracotta Warriors tour. It's the best way to end the day!
June 2015
I happened to be the only person who signed up for this tour so I ended up getting a private tour without really signing up for one. The Terracotta Warriors were great and the guides estimate of spending 2.5 hours there was the perfect amount of time. I saw everything I wanted to see. I mentioned for lunch that I had a few dietary restrictions and they had no issues accommodating them. There was so much food and I definitely left full! The Hot Springs were relaxing but the English at the spa isn't great. You just have to be willing to get into a pool and see what happens. Most were hot and had plants floating in them but I did find one pool that had the fish that nibble at your feet. It was unexpected but a fun memory! I would have loved to stay there longer but I was there for 2 hours so I can't really complain. They were sticking to the schedule of having me back around 5pm.
Anonymous
April 2015
Thank you our guide Michelle and Viator! You did an excellent job with both English and the information you gave the time spent at each place was adequate. Lunch was delicious!!! The driver and his van were friendly, professional and clean. Thank you for having us.
Anonymous
April 2015
Michelle was very knowledgeable in the history of Xi'an, the terracotta warriors and the whole history of china. Timing was very good. There was enough time to see the exhibits, take pictures, and learn, without feeling rushed. Michelle knows paths that were less crowded and optimized time. Our driver was very safe. We highly recommend this tour. Lunch was delicious, one of our favorite meals in china.
July 2014
Fantastic.... You feel floating between history and relaxation in the spa....higly recommended
Anonymous
April 2013
This tour is something different from the normal sightseeing tour.....the warriors are amazing; lunch was delicious and yes hot spring was just what I need after a whole day walking.
April 2013
Fantastic tour, friendly guide, great lunch. Recommended
June 2015
A visit to see the Terracotta Warriors is a 'must do' on any trip to China and the Terracotta Warrior Museum did not disappoint. It's amazing and slightly crazy, when you know the history and shouldn't be missed. Lunch was in an ordinary house though described as a 'farmer's lunch' and though the surroundings were basic, the food was good, but not really what I'd been expecting. However, the visit to the Hot Springs visit was a disappointment. Unfortunately I was the only person on this tour and the guide left me to go into the Hot Springs alone. None of the staff spoke English and I don't speak Mandarin so I had no idea what was happening nor had any information about the various pools or massages. Given the lack of information, it felt like a wasted afternoon and all in all it was a disappointing day. If the guide had accompanied me and explained more of what was on offer I think I would have enjoyed it but as it was a confusing and disappointing experience.
Advertisement
Advertisement