Enjoy the delectable bites and cultural highlights of China on a 3-hour gourmet walking tour of downtown Xi'an. Appease an appetite for authenticity as you sample ten different types of local delicacy and gain fascinating insight into China's rich culinary culture with a knowledgeable guide. Visit authentic street vendors and rustic local restaurants in order to immerse yourself in the electric atmosphere of the city by night on this enriching epicurean tour of Xi'an.
Highlights
Gourmet walking tour of downtown Xi'an
Enjoy mouthwatering Xi'an delicacies on a night tour of the city
Visit several authentic street vendors selling delicious local food
Learn about Xi'an cuisine and culture from your friendly English-speaking guide
Recent Photos of This Tour
Xi'an Gourmet Walking Tour at Night
What You Can Expect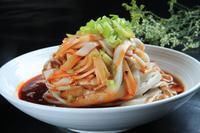 Greet your gastronomic guide at a central location beside the Bell Tower in Xi'an and embark on your culinary tour of the city's vibrant downtown district. Listen as your guide offers intriguing insight into the town's rich history and then take a seat at your first eatery, Fanji Restaurant.
Sample the restaurants specialty, rou jia mo, succulent grilled bread stuffed with minced pork, and sip a refreshing rice wine before wandering past the Drum Tower to Muslim Street, an enclave famed for its cosmopolitan community of Chinese Muslims. Enjoy the colorful sights and enticing aromas of street food stalls and sip a bottle of sweet plum juice as you watch candies being made.
Next, head to Jia San Restaurant to pleasure your palate with guantang baozi, steamed buns bursting with flavorful gravy. Savor the flavor of succulent barbecue at another street stall and wash it down with a palate cleansing drink of bingfeng, similar to orange soda. Devour shredded pancaked and sesame fillets at another esteemed eatery and then return to Muslim Street to conclude your tour with a delectable persimmon pancake.
After 3 hours of feasting, bid your guide and group farewell at a central Xi'an location and make your own way back to your accommodation.

ElizabethD United Kingdom
June 2015
Great fun and delicious food. I was the only one on the Gourmet Walking Tour but this didn't stop my guide, Ada, being fun, informative and enthusiastic. She made sure I had plenty of photos to remember the tour and took me to some great places to eat. Very highly recommended.
Anonymous
April 2015
Michelle was great, Very friendly and enthusiastic. We got to try heaps of different foods. Would highly recommend Michelle and Tour.
January 2015
We met Michelle at the meeting point she took us for a walk through the muslim area, it was full of color and sounds. Michelle helped us try lots of new things. She was a wonderful tour guide making our evening fun.
December 2014
This was a great tour! It was a small group, which meant more direct contact with the tour guide. We walked down the Muslim Market and had a bunch of food based on the guide's suggestion, plus we got to try whatever else we wanted! It was nice to have someone who could speak Chinese with us so we could communicate with all the vendors. I would definitely recommend this to any adventurous eater.
April 2014
A great way to try the street food and restaurants of Xian and the Muslim area. We met our Tour guide which spoke great English and explained and went out of her way to make sure we sampled all the different foods. We let her pick and order menu items so that we could try everything and everything we tryed was great. Would not of gone to the area with out taking this tour and would of been disappointed if we had not taken the tour. We could of spent more time just walking around but got so filled up on food.
March 2014
Excellent tour! I wanted to experience a foodie tour while in Xi'an, and Viator delivered. My guide, Michelle, was friendly, knowledgeable, and organized. She suggested great food stalls and took care of everything. I would highly recommend this to anyone looking to experience a great food tour in Xi'an!
January 2013
So many delicious food. So much fun. So full. Unforgettable experience
January 2013
Excellent guide, very accomodating. Great tour!
June 2013
I really enjoyed this tour. My guide spoke excellent English, and I loved that I was allowed to choose what I wanted to try/taste along the street. Most of the food was delicious and new to me even though I live in China! The atmosphere of the Muslim district of Xi'an is vibrant and colourful; well worth a visit. I would have enjoyed it more if I wasn't the only one on the tour, but I had fun despite this. I would recommend this tour to solo travellers and families alike.
Advertisement
Advertisement