Ensure your stay in Xi'an begins and ends the right way with a cost-effective and convenient round-trip airport transfer service. When your plane touches down at Xi'an Xianyang International Airport, avoid the stress of finding a taxi and navigating public transport with this easy and efficient service that takes you straight to your accommodation. Similarly, when your time in Xi'an comes to an end, enjoy the ease of direct transportation to the airport in advance of your departure flight.
What You Can Expect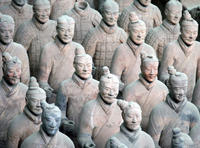 After collecting your luggage, greet your courteous driver in the arrivals lounge of Xi'an Xianyang International Airport and climb aboard your comfortable, air-conditioned vehicle. Travel in style to your Xi'an accommodation and begin your stay in an easy and efficient manner. When your time in China comes to an end, meet your driver at your hotel and travel directly to the airport to arrive well in advance of your departure flight.
Simply enter your details when you book, pay in advance and present your voucher to your driver. Transfers are available 24 hours a day, 7 days a week, so it doesn't matter what time your flight arrives or departs.
September 2015
pick up was on time and very pleasant
September 2014
Excellent! The guide that accompanied the driver was very knowledgeable and on the ball. We learned a ton just taxing in to and from the airport.
April 2014
This worked out great for us, as we arrived the driver was waiting for us, grabbed our luggage and wisked us off to our Hotel which was about an hour plus away. The City is a bit crazy when it comes to traffic and we would of never made it by driving. The cars were clean
J. S New Zealand
June 2011
I'd been traveling with a friend for ten days prior to flying to Xi'an on my own, so I was a tad nervous about getting to my hotel, thus a transfer seemed a great idea... and it was.
Having experienced many other taxi rides on this trip, having this one undertaken with a chatty guide (in English) took the stress out of the situation and eased my transition into solo traveling.
But... taxis *are* a lot cheaper, so it is a trade off, if you're on a budget.
*sigh* ~ if only such had been available for Chengdu!!!!

January 2011
very efficient. the driver and the guide were excellent. despite being late arriving, they were there holding a sign with my name. guide answered a lot of questions for me in the car on the way to the hotel.
Stephen W United Kingdom
October 2008
Excellent service; was there when I arrived and gave me a good introduction to Xi'an on the way to my hotel. Prompt pickup service as well. I would definitely use this service again if I went back to Xi'an.
December 2014
Very prompt. Excellent guide for greeting. Very very good English. Gave a lot of tips about getting around and what to see. Car could have been nicer. Overall extremely happy.
October 2011
As I was visiting Xian on my own I jhought it better to make it as stressfree and possible and booked the airport to hotel trip. There was a misunderstanding about my return flight, but Linda, my guide , couldn't have done more to sort everything out
July 2011
Just a small problem immediately solved after a phone call to the office, once the guide had wrong travelers names.
May 2011
GOOD WAY TO GET TO YOUR HOTEL AND BACK. BEING MY FIRST TRIP TO CHINA
IT TOOK THE WORRY OUT OF THE PROCESS.
Advertisement
Advertisement